---

EMAIL INTERVIEW Jim Hanna & Ken Sinclair
Jim Hanna, Vice President, Optimum Energy
Mr. Hanna brings over 25 years of experience in developing innovative information technology products and systems. He was one of the founders of Applied Voice Technology, Inc., a pioneer in the voice messaging industry, which went public in 1994. He served as Vice President of Product Development. He also has extensive experience as a systems integrator in the design and delivery of large scale information systems and networks. He led projects serving an array of industries for Touche Ross & Co, Technology Solutions Company and eLoyalty, working with start-up as well as Fortune 500 companies. He holds a Bachelors Degree from the University of Colorado, Boulder.
---
Optimization Solutions
Utilizing standard interfaces and protocols for ease of interoperability with standard HVAC controls, while creating a web-accessible performance assurance solution that monitors results over the Internet from an operations center supported by expert engineers.











Sinclair: What makes the Optimum Energy solution so unique?
Hanna: Optimum Energy uses enterprise software development methods to create reliable, high-volume optimization software for commercial building HVAC systems. It delivers the software in a standard hardware platform to create an optimization appliance that easily connects to existing Building Automation Systems (BAS). The software also utilizes standard interfaces and protocols for ease of interoperability with standard HVAC controls, and creates a web-accessible performance assurance solution that monitors results over the Internet from an operations center supported by expert engineers. This gives Optimum Energy's chiller plant optimization solution the ability to assess the cooling demands of a central plant, and vary the operation of the components using variable-frequency drives (VFDs) to modulate the operating speed of parts of the plant, thus ensuring the facility only uses the minimum amount of energy necessary to meet demand.
Sinclair: What is the significance of using VFDs?
Hanna: The components of an HVAC system are driven by motors. Typically, these motors operate the system's components at full speed at all times, even when the plant is operating at less than full capacity. VFD's make it possible to vary the speed of electric motors in real time. But VFDs don't improve efficiency, they are just enablers. It's the control strategy that determines the proper speed for the components that creates the efficiency. Here's how it all works: Through the addition of VFD's and Ultra High Performance HVAC technology the chillers, pumps and tower fans can be varied so that as the building demand increases and decreases the speed of the motors, pumps, fans, etc. increase and decrease accordingly to deliver just the amount of cooling needed to meet building demand.
Sinclair: In recent weeks you've started talking about OptimumHVAC. What does that mean?
Hanna: OptimumHVAC is Optimum Energy's control logic solution that incorporates patented Hartman Technologies with the usability and scalability of enterprise business-to-business software. It delivers a level of plant energy performance that sets a new standard for the industry – Ultra High Performance HVAC. OptimumHVAC is integrated, fully relational and intelligent. That means the optimization is automatic and your building engineers will be able to see system performance in real time, via our unique dashboard performance assurance monitoring system. This gives the ability to analyze HVAC performance and remotely troubleshoot with the Optimum Energy team anytime, anywhere.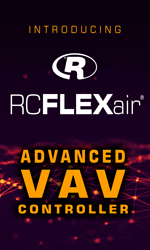 Sinclair: How is the technology implemented?
Hanna: Our technology represents a radical change from current industry employed methods – we don't want to make drastic changes to current building infrastructure. In fact, the solution is software that comes ready to install in a proven industry standard control appliance. OptimumHVAC replaces an outdated control strategy called PID with a relational control strategy. Any required hardware installation is contracted out by the building owner to either a mechanical or controls contractor. The optimization controller is then connected to the BAS and system operation is verified through a commissioning process.
Sinclair: On average how long does it take for Optimum's solution to reach profitability?
Hanna: Overall, profitability depends on the climate where the building is located. Plants run for hours therefore the number of motors and components being controlled as well as other building variables such as physical structure and technological design must be considered as well. With that said, OptimumHVAC still sees typical payback between 18 and 36 months based on the ability to save between 30-60 percent in HVAC energy consumption.
Sinclair: Implementing the Optimum solution is an investment for a company. Have you seen any change in a company's commitment to implement in light of today's economic climate?
Hanna: Actually, we have been a beneficiary of higher fuel costs and tighter operating budgets. As a property owner or manager, or even a tenant you're well aware of rising energy costs and governmental mandates. Green initiatives are becoming widely accepted and the pressure to do something about our energy consumption is a hot topic among both public and private sectors making this a very good industry to be in right now.
---


[Click Banner To Learn More]
[Home Page] [The Automator] [About] [Subscribe ] [Contact Us]