---

Wireless on off auto pneumatic switching control


George Fincher
President - Sales and Marketing
Energy Controls Co.
What does the Wizard of Oz and the Strawman have in common with pneumatic thermostats?















Pneumatic controls have proven their ability to control, but they have no brains. Not having individual on-off control can lead to a considerable amount of energy waste. When you leave an area you can turn off the lights but you can not shut off the pneumatic thermostat. The PESC-F100 is like a wireless light switch that turns the pneumatic thermostat off or on. We use the basic energy management strategy, the time tested energy-saving sequence called, Turn It Off!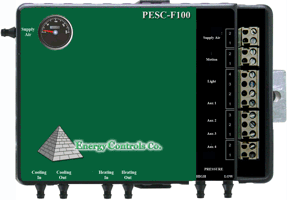 The PESC-F100 is a wireless pneumatic switching device. This simple device can be installed in the ceiling in 15 minutes by an apprentice. Along with the energy savings, it communicates valuable information wirelessly back to the building operator's computer. This enables them to diagnose and monitor their HVAC thermostatically controlled zones. The device simply shuts off the Heating/Air-conditioning or it allows the existing pneumatic thermostat to control like it has for years. If the facility decides to take out the existing pneumatic system and upgrade to an all electric system, it will accept a module adaption and will be compatible with future upgrades.
At the Air-Conditioning and Heating International Convention in Chicago, it was estimated that there are 32 million pneumatic thermostats in operation today. Through the use of a more efficient means of automatic thermostat control there is potential for some $1.6 billion in energy savings per year. Energy Controls Company introduced the control at the convention to the movers and shakers and brains of the industry. Their acceptance and praise has motivated us to move forward with the PESC-F100.

This device is an alternative to costly digital control system (DDC) retrofits of pneumatic systems which can cost $2000 or more per thermostatic zone.
We utilize energy harvesting technology by EnOcean to power the module and wireless, send/receive module by another giant in the industry, Atmel Corporation. Both modules provide power and control to the three way switching valves that turn off and on the control air to the end devices. These devices are usually existing pneumatic valves or damper actuators.

The server that is used for communication is The Wizard and is produced by BlueAir Engineering. It receives the wireless communications and can integrate easily with existing building automation systems, or it can be used as a stand-alone control. It also works with both BACnet and Lonworks interfaces.
Estimated installation cost for the owner of the facility is $500 per thermostatic zone with an average payback of one year. There can be additional savings from reduced maintenance diagnostics and monitoring capabilities.

In a typical VAV application, a wireless room sensor is usually mounted next to the existing pneumatic thermostat. The PESC-F100 is located in the ceiling and can easily monitor CFM airflow and Supply Air, which are two very important features to the building operator. Without means to monitor and store the values, a technician is required to visit the area using a ladder and devices to measure the supply air temperature. Device historical data logs also provide valuable information about the systems past performance. This data collection and storage capability feature saves thousands of dollars of labor costs each year. A picture is worth 1000 words; please see the following link http://energy-controls.com/install.html
Features:
Individual zone schedules with holidays

Pushbutton override on room sensor

Tenant after hour billing opportunities

Complete shut off of air (CFM), heating, and cooling in unoccupied mode.

Will not become obsolete and is backwards compatible to future all electric upgrades.

Temperature set point limitations.

Room thermostat continues to control the temperature if it loses communications
The PESC-F100 uses both the existing pneumatic thermostat and a new wireless temperature sensor that communicates back to the PESC-F100. If communication somehow is compromised, the existing pneumatic thermostat is not affected by it and continues to control in the auto position. This means it could be used in an Operating room or the President's office. In fact it would probably be installed in the most important areas first because it's monitoring capabilities and that it utilizes the time tested pneumatic thermostat for its control.

Wireless communications through open ceiling areas or below the ceiling.
Quite often it's "clear sailing" in the ceiling areas making the communications very simple and robust. This also makes the installation of the device much simpler, less intrusive to the occupants, and more affordable since there is no cabling involved.

Trend logs/data logs for after hour billing, supply air, room air, lighting, motion, CFM, alarms are some of the monitoring features. Information is valuable. The historical data from monitoring these conditions saves thousands of dollars in energy and labor.

The PESC-F100 is not susceptible to contamination that is in many older pneumatic systems.
Older HVAC systems pneumatic control lines are usually always contaminated with some oil, moisture and dirt. The PESC-F100 pneumatic on-off auto switch does not have small orifices and is not susceptible to contamination.

Compatible with demand response programs.
The PESC-F100 can reduce electrical consumption in demand response programs, many public utilities will provide additional funding for the installation.

Wireless energy harvesting power supply
Energy harvesting technology eliminates the need for batteries. That means that once the PESC-F100 is up in the ceiling, there will be no need to change batteries. This also allows for a much quicker and affordable installation cost due to not having to run low voltage cable to the controller.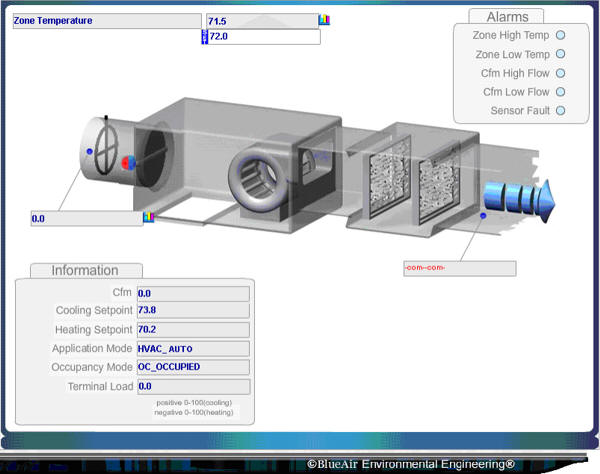 The PESC-F100 control saves energy a number of ways similar to an existing DDC energy management automation system.
DDC energy management automation system is an all electric computerized monitoring control system that is widely used to replace existing/or new pneumatic systems when energy savings are required. The PESC-F100 allows an economical alternative to ripping out existing pneumatic control systems.

Existing pneumatic control systems do not have the ability to start or stop the air-conditioning and heating for individual thermostatically controlled zones. Large fan systems typically utilize a time clock where entire floors or building are shut down or started to accommodate various occupied/unoccupied requirements. By individually customizing timeclock schedules for each room thermostat, significant energy cost savings are realized.

The greatest energy savings come from simply shutting off the air, cooling and heating. Just like the lights are shut off when someone leaves the area. The PESC-F100 control can shut the air off to individual zones.

Limiting the set points prevents the thermostat from being left at 50 to 90°.or some other non-optimal setting. It seems even if there is a locking cover on the thermostat somehow, someway, someone is able to adjust the set point. For each degree that you're able to raise/lower the thermostat represents approximately 3% savings of the mechanical costs for that area or zone. The PESC-F100 control can limit the pneumatic thermostat in a narrow, adjustable range; say from going below 70° and above 75°.

The PESC-F100 control can also establish a dead band instead of having one set point. You can establish set points limits for heating and cooling. Existing pneumatic thermostats typically have one set point as an example 72° but with the PESC-F100 control you can establish a heating setpoint of 70°(off above) and a cooling setpoint 74°(off below) having a dead band of 3°. The bands of 4° and 5° represent additional savings. With dead band type control the room is heated to 70° than naturally increases in temperature to 74° before energizing the costly cooling system.

Conference rooms are quite often left unoccupied with air-conditioning and heating running for no reason. The conference room's schedules can be programmed to allow air conditioning and heating prior to occupancy. If you seldom use the conference room or do not want to follow a scheduled regiment then you simply have to push the sensor override button to obtain air conditioning and heating for a couple of hours. The PESC-F100 control also enhances the temperature of the conference rooms by limiting the cold temperature extremes that are inherent with turning off the lights in unoccupied areas.

Each PESC-F100 controller can have its own individual schedule allowing you to shut off the air, cooling and heating when unoccupied. Buildings with varying occupancies have a much greater opportunity for savings. Most buildings have 10% to 30% of unoccupied space daily. Having the ability to totally turn off the air from 10% to 30% of your facility each day is a tremendous savings. It's not uncommon to find some facilities that have to run their complete building or floor on a Saturday just to accommodate a small percentage of occupants.

Holiday schedules can be individually implemented and customized throughout the facility. Some areas of the facility people arrive earlier or later and have different heating requirements than other areas. This is where optimize start programs can vary the start times according to a particular areas ability to heat up. Some areas of the facility may require 4 to 6 hours of pre-heating time where other areas may only require an hour or less of pre-heating time. Quite often some areas have preheated and are starting in the cooling process prior to occupancy. The optimize start programs can eliminate this costly and daily waste of energy. Optimize start programs can learn a particular zone's ability to heat up and then start the heating process just in time for the room temperature to meet its setpoint for the actual occupied time.

The PESC-F100 controller and software can be utilized to communicate (optional) with the rooftop/main HVAC system to eliminate the guesswork with trying to provide the appropriate temperatures and air volume to the condition spaces. (This important communications not only saves money but helps protect the expensive Rooftop/Main HVAC system from constant breakdowns and repairs due to running in low load conditions.)
Listen up HVAC contractors, would you like to be an exclusive territorial dealer.
What if there was something that you can do in this economy to increase sales with minimal investment?

What if your company had a HVAC control that would get your sales force right through the front door of the large commercial facilities?

What if there was a simple HVAC control that would provide an ongoing relationship with the decision makers, movers and shakers of the large facilities?

What if your company had a salesman's dream come true? Something that the facility's owner can't say no to for the basic reason it's going to make them money.

What if you were an exclusive territorial Dealer that would have a competitive advantage to hundreds of thousands of dollars of additional work that would make the facility money?

What if there was a control that could provide a typical pneumatic control system with approximate $250,000 worth of energy savings in 5 years? Approximate one-year payback.

What if your company had a control that is as simple as a wireless light switch and had no competition?

What if your company was the exclusive territorial Dealer for the most exciting control to come out in 20 years?
We are accepting applications. Please visit our website at www.energy-controls.com. Apply to be a Dealer and receive username and password required for additional dealer information.
---


[Click Banner To Learn More]
[Home Page] [The Automator] [About] [Subscribe ] [Contact Us]