---
Understanding Specifications
A breakdown of your typical temperature controls spec
Part 1 of 3



Steven R. Calabrese
Control Engineering Corp.
In this, the first of a three-part series on control systems specifications, we'll take a general look at how specifications are structured, and what you can expect to find in a spec (and where!). First, a little background on the standard framework of construction specifications.















CSI is the Construction Specifications Institute, creators of the familiar spec format that we've all come to know and love. In 2004 the format was revamped, and the divisions were expanded from 16 to 50. Although there are iterations of the old "sweet sixteen" still floating about in the construction biz, I suppose eventually everyone will be using the new format. You can find out more about the new format by visiting CSI at www.csinet.org.

Section (Division) Number

The temperature controls portion of any project specification is generally found as part of the mechanical systems spec. Traditionally, this was in Division 15, but now with the updated format, the Heating, Ventilating, and Air Conditioning (Mechanical) specification is found as Division 23. Hence the temperature controls section can be typically found at the end of this Division. With the ever-increasing realm of the Building Automation System (BAS) contractor's responsibilities, a networked DDC specification may be given its own division, separate from the mechanical contractor's division. The CSI format does have division numbers that are reserved, so I wouldn't be surprised to see the controls contractor's work given its own number, at least on a larger project.

Section Headings

The section headings vary with the engineer, and also with the type of system specified. For a simple stand-alone electric/electronic system, the heading may simply be Temperature Controls. For a fully networked, fully integrated DDC system, the heading may be more indicative of such a system. Below are some of the variations of temperature controls section headings. Bear in mind that the simple term "Temperature Controls" is a catchall for mechanical system controls, encompassing temperature, pressure, humidity, and other types of control typically associated with HVAC systems.

AUTOMATIC TEMPERATURE CONTROLS (SYSTEMS)
BUILDING AUTOMATION SYSTEM
DIRECT DIGITAL CONTROL SYSTEMS
HVAC INSTRUMENTATION AND CONTROLS
TEMPERATURE CONTROLS (SYSTEMS)

Major Parts

The temperature controls section is broken down into four standard parts, relatively consistent among all engineers who write specifications. They are defined as follows:

PART 1 – GENERAL
PART 2 – PRODUCTS
PART 3 – EXECUTION
PART 4 – SEQUENCE OF OPERATION & POINTS LISTS

Arrangement of Information

Information is arranged in outline form, and varies slightly among engineers. The typical setup is as shown below:
PART 1 – GENERAL
1.1 MAJOR TOPIC
A. Statement…

B. Statement…

1. Sub-statement
a)
b)

2. Sub-statement
Specification Description, Part by Part

Now we get into the "nitty-gritty" of the typical temperature controls specification. For each part, we will work through the major topics found in most specs, and work to understand what each "segment" means, what's important, and what's maybe not so important. This portion will give a very general outline of a typical controls specification, and will omit many details that typically are included, for the purpose of focusing on what's most important to the reader.

PART 1 – GENERAL

DESCRIPTION OF WORK or SCOPE

This segment details, in point form (i.e. A, B, C, D, etc.), the overall scope of the project. It should be written to provide a general overview of the project and of its requirements, without going into too much detail. The list should summarize the scope of work as it pertains to the major mechanical systems and equipment.

Also in this section, it should be specified as to the level of technology required for the project. Stated as "This contractor shall provide…", this can range from "a stand-alone electrical/electronic control system" to "a fully integrated Direct Digital Control (DDC) Building Automation System (BAS)", and anything in between. In addition, other technology requirements should be included, for instance, open communications protocol, BACnet, LonWorks, etc. An engineer may wish for the control system to interface with a packaged piece of equipment's microprocessor-based controller directly, via a common protocol or a gateway.

Finally in this section, it should be noted to "provide all required engineering, programming, supervision, parts and equipment, installation labor, technical support, and commissioning services for a fully functional temperature control system as described herein".

RELATED DOCUMENTS (RELATED SECTIONS)

This segment (if included) lists other documents related to the project (engineer's drawings), as well as other places within the overall project specification that may contain related information. This may read "all portions of Division 23 and Division 26", in which Division 23 is the Mechanical section, and Division 26 is the Electrical section.

WORK INCLUDED (WORK BY OTHERS)

This segment begins to define the "demarcation of responsibilities" between the controls contractor and other related trades. Grey areas are hopefully picked up and accounted for here, such as whose responsible for line stat wiring of exhaust fans, interlock wiring, 120-volt power to T/C panels, VAV box control power, etc.

FURNISHED BUT NOT INSTALLED / FURNISHED BY OTHERS

This segment continues with the division of responsibilities, more specifically with whose responsible for what components. This has mainly to do with components that can justifiably fall under more than a single trade's responsibility. For example, smoke detectors and starters can fall under either Division 23 or Division 26, depending upon the engineer's preference, common practice, and other factors.

This segment also typically makes a distinction between the controls contractor and the mechanical contractor, and if they are not one in the same, this is quite pertinent. There will be items that will typically be furnished by the controls contractor, for installation by the mechanical contractor. These items include properly sized control valves, properly sized control dampers, flow switches, sensor immersion wells, airflow measuring probes, etc. There should be a phrase reading like "Mechanical contractor shall provide all required pressure taps, and install all immersion wells, flow switches, airflow measuring stations…".

This segment may also specify that certain control items are furnished (and installed) by the mechanical contractor, such as thermostatic control valves, and sometimes control dampers (actuators installed by the controls contractor).

Lastly, this segment may make reference to packaged equipment, with a line such as "Mechanical contractor to provide any controls associated with packaged equipment, for installation and wiring by the controls subcontractor.

COORDINATION WITH OTHER TRADES / RELATED WORK SPECIFIED ELSEWHERE

This segment (if included) is closely related to the two previous segments, perhaps detailing more the installation of components relative to more than one trade. For example, the installation of starters and smoke detectors may be the responsibility of the electrical contractor, but the location of these devices may be best selected by the temperature controls contractor. Other items that require coordination: power for control panels (electrical contractor to provide circuits at the breaker panel…), VAV box air balancing (balancer shall balance boxes with portable service tool provided by the temperature controls contractor), etc.

DEFINITIONS AND ABBREVIATIONS

This segment (if included) simply lists out common terms and abbreviations, with a description of each.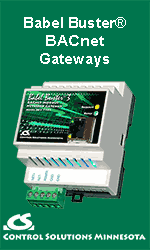 QUALITY ASSURANCE

This segment, among other things, stipulates contractor requirements, such as, the minimum number of years the contractor has been in business, the minimum number of installations the contractor has performed, the contractor's experience level, service capabilities, locational requirements, etc.

Also included in this segment, is Applicable Codes and Standards, by which the contractor must conform to. Though the requirement for conduit for low voltage wiring may not be explicitly specified here, it will at least be implied (as to whether or not it's needed) by referring to the appropriate codes or standards. More likely, the EXECUTION part of the specification (PART 3) will detail the requirements for conduit, if they're to be found anywhere. This segment may simply carry the catchall clause "…in strict accordance with national and local electrical codes, and with the electrical section of these specifications…".

APPROVED CONTROL SYSTEM CONTRACTORS (AND MANUFACTURERS)

Often included under the previous heading (QUALITY ASSURANCE), this segment lists out pre-qualified, pre-approved companies. The segment may list local installers, or more commonly, will list manufacturers with the clause "Contractor qualified and certified to install…". The segment may allow for an "alternate bid for other…", or may include the phrase "or approved equal (in writing, via addendum by engineer)".

Sometimes this segment is included not here but in PART 2 – PRODUCTS. This being the case, the segment would simply list out manufacturers, and allude to the requirement for a qualified contractor to perform the installation.

SUBMITTALS

This segment includes guidelines regarding temperature controls submittals. Submittals must generally be turned in to the engineer, for approval, before any physical work can take place. This segment will specify how many copies must be turned in (4, 6, even 10 copies), and how quickly they must be received by the engineer after the contract has been awarded.

The submittal packages will be specified to include (but not limited to) one or more of the following: Riser diagrams (system network architecture), Description of Control, controller, sensor, and end device product information, wiring diagrams, valve and damper schedules, and Points Lists.

WARRANTY

This segment simply states that the Work (both labor and materials) is to be warranted and free from defects for a period of 12 months after final completion. Also included are the contractor's responsibilities during the warranty period.

AS BUILTS

This segment includes guidelines regarding "closeout documentation", which includes (but is not limited to): final wiring and control diagrams, Sequence of Operation, program documentation and project CDs, and operation & maintenance (O&M) manuals.

TRAINING

This segment, whether included here or later on in the spec, lists the requirements for end-user training. A typical networked DDC system will be specified to require upwards of 40 hours of user training, provided by the control systems contractor. This is normally broken down to where the final sessions are required to take place in "the opposite season". This segment will also typically detail what the training should cover.

SOFTWARE RIGHTS

"The owner and the party providing the software will enter into a software license agreement…"
Tip of the Month: This month's tip is to remember to come back next month for the second installment in this three-part series on control systems specifications, lest ye miss out on PRODUCTS!
---

[Click Banner To Learn More]
[Home Page] [The Automator] [About] [Subscribe ] [Contact Us]