---



Leveraging IoT Solutions to Make Commercial Buildings "Smarter"

While this industry has been on a journey of increased visibility and openness between systems, the adoption is slowed by the complexity and thus deployment costs.





Christine Boles,
Director, Smart Building Solutions
Intel
According to Gartner, smart commercial buildings will be the sector with the highest use of Internet of Things (IoT) technology in the next year. Why? IoT applied to buildings makes it easier to solve real operational issues with greater insight within and between building systems. As more buildings adopt IoT solutions, more property owners in commercial real estate could be pressured to update their properties in order to stay competitive within the marketplace and meet occupant expectations.

While this industry has been on a journey of increased visibility and openness between systems, the adoption is slowed by the complexity and thus deployment costs. Ultimately, IoT solutions makes data more visible and useable between systems. With an ecosystem of solutions on its open standards-based platform, the Intel Building Management Platform (BMP) is addressing these concerns by working with a number of different IoT solution providers to deliver tailored solutions for small – and medium – sized buildings. Intel's smart building solution, integrated with Candi PowerTools, provides a secure, management platform that allows applications seamlessly access to things and the data they generate within smart buildings. This will improve building visibility and manageability, giving owners the tools they need to reduce operational costs, increase energy efficiency and satisfy tenant needs.

Intel Building Management Platform (BMP) – How it works:
Intel offers a breadth of hardware and software products to its ecosystem of solution providers and integrators who create and install end-to-end solutions for smart buildings
To make it even easier for IoT application in buildings, Intel developed the Intel BMP. This platform connects to a broad set of systems and sensors within the building, and then takes the data it collects, filters it, and securely transfers it to the cloud (or on-premise) servers while facilitating required protocol translations needed in between. Since the system is pre-integrated and connected, it reduces development time and effort for solution providers and enables them to deploy a wide range of applications.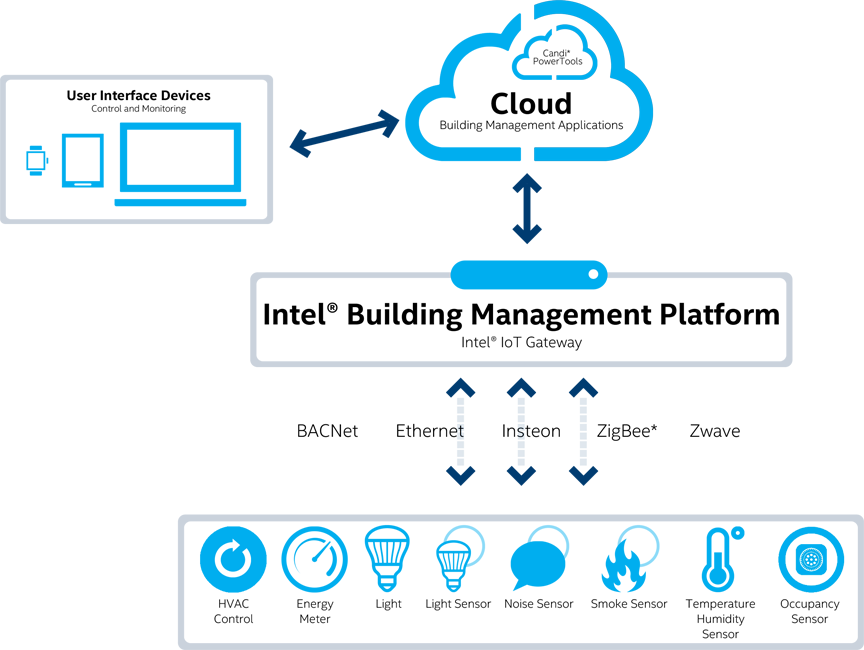 When considering moving to an IoT system, consider the following benefits:

1. Ease the integration and use of data across your building's systems
Although there are many building automation systems already in use in commercial buildings, they often control different building assets like lighting, HVAC and security through completely separate entities. This can complicate building management due to a combination of incompatible systems with different interfaces.
Taking an IoT approach brings the data out to the applications that can use them now and applications that will be added in the future. For example, Intel BMP enables its solution providers like Lucid to connect and collect data from a broad set of legacy systems and sensors, using data securely collected and presented in a cloud.
When building systems are connected seamlessly and actively collecting and transmitting data, building management interfaces like the Lucid BuildingOS® empower building operators with detailed insights on building performance. As a result, staff members are equipped with real-time analysis based on interoperable systems, enabling them to make quick, data-driven decisions that will contribute to the bottom line.
2. Cut utility costs with energy efficient programs

According to the EPA, 30 percent of the energy used in an average U.S. commercial building is wasted, providing a huge incentive to reduce energy consumption. The EPA's Building Technologies Office (BTO) is targeting a 20 percent energy-use reduction in commercial buildings by 2020, and even greater savings by 2030.
When building assets are not monitored, owners and operators may find themselves facing wasted energy, time, and productivity. All three contribute to a rise in operating costs that can cripple profitability. IoT can help address this by making it easier to add sensing or gather asset information that can be analyzed and translated into necessary actions to improve energy utilization.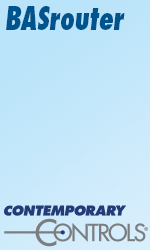 3. Increase efficiency and reduce maintenance costs
If scheduled maintenance only occurs after a system fails, repair costs and lost time quickly add up. Analysis of building system data makes predictive maintenance possible, alerting owners and operators to potential equipment issues before they happen.
Too often, building and property managers are using data that is out-of-date to make decisions. Use of IoT solutions to gather data, and analyze can help drive actionable decisions to quickly put in a maintenance request or order a new device before a system fails, significantly reducing time and cost.

4. Improve Business Productivity
Providing tenants a clean environment (air, temperature, lighting) and an easy way to find facility services (conference rooms, ATM, café, parking, restrooms) is an important aspect to smart buildings as it helps increase productivity among tenants.

Some small and mid-size buildings such as food service businesses, require a finer grain environment management or equipment monitoring for mission critical operations such as temperature and humidity, leading to less wastage for the business owner. By connecting the right sensors through standard connections and presentation of data, Intel® BMP can provide access to data insights for applications that provide analytics for assets, space utilization and environment management.

Intel's ecosystem provides a breadth of solutions today. To accelerate the focus on the application and use of the data from across systems, Intel BMP will be made available generally starting October 5. By taking advantage of smart building solutions using Intel® BMP, building managers can improve efficiencies for sustainable operations and productive businesses for tenants of small and medium-sized properties.
To learn more about the Intel's IoT solutions for smart buildings, please visit http://www.Intel.com/iot/smartbuilding



---

[Click Banner To Learn More]
[Home Page] [The Automator] [About] [Subscribe ] [Contact Us]