---
Integration Experts and Visionaries Receive Buildy Award at the Industry's Only Event for Networked Building Systems
DALLAS, TEXAS — Chosen by more than 450 of their peers, the four final Buildy Award winners representing the North American organizations and individuals who best support the vision of networked building systems emerged at the Industry Gala at BuilConn 2005, March 24, in Dallas, Texas. 2005 marks the second year for the Buildy awards program that was designed to increase awareness of the benefits of whole building integration and honor successful implementation strategies.












Within the four award categories—Vision, Best New Product, Best Integration Project, and Best Building—the winners are a dynamic representation of all facets of the integration process and have all demonstrated superior strategies for intelligent buildings.
"This year's Buildy winners are an impressive representation of the future of smart buildings, giving the industry a glimpse of the technologies, products and strategies that will become a standard for integrated and intelligent buildings," Anto Budiardjo, BuilConn organizer, said.
Ken and Jane Sinclair, editors and owners of AutomatedBuildings.com, were presented with the Vision award for their vision of whole building integration and interoperability through advocacy, promotion, educational and training endeavors. AutomatedBuildings.com is a dedicated Web site with the most thorough, extensive and respected source for information on integrated and interoperable building. With help from Ken's wife, Jane, AutomatedBuildings.com is the "must visit" site for all systems integrators that includes links to research, interviews with industry leaders, vendors, and the most up-to-date information in the industry. Ken is also the monthly building automation columnist for Engineered Systems magazine. In addition, Ken and Jane also find time each year to put on a series of free information seminars at the AHR Expo for ASHRAE. Ken was a founding member and a past president of both the British Columbia chapter of Association of Energy Engineers (AEE) and the Vancouver Island Chapter of ASHRAE. Ken has overseen 100+ computerized control conversions, working closely with the building operators to insure acceptance of this new technology.
The Best New Product award was presented to Tridium, Inc. in honor of the Niagara Appliance, a complete device-to enterprise (M2M) solution for manufacturers of equipment systems such as boilers, lighting systems, refrigeration, air handlers, chillers, etc. Manufacturers are under increasing pressure to provide customers with a wide range of new capabilities – built-in Internet connectivity; integration with building automation, factory automation, and other control systems; the ability to remotely monitor installed products to provide better customer service and new business opportunities; and the creation of service bureau software applications to support their installed base, etc. Niagara Appliance helps manufacturers achieve these goals, quickly and easily with a custom-tailored solution built on the proven Niagara Framework.
Presented to building consultant ControlNET for the Whirlpool Corporation in Benton Harbor, Mich., is the Best Building award in honor of the most progressive building technology supporting the vision of whole building integration. The Whirlpool Corporation wanted to upgrade its central data center from a mainframe environment to a server environment and install redundant backup systems for power and chilled water to make sure the mission-critical facility never failed. With plans for integrated controls to ensure better maintenance and rapid emergency response, they successfully overcame the challenge of tying together 15 types of equipment from multiple manufacturers, each of which used controls with multiple protocols.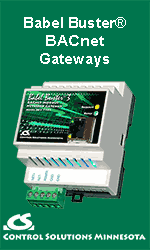 Finally, the Best Integration Project award was presented to MacDonald-Miller for the Tacoma Financial Center in Tacoma, WA, in recognition of the successful integration of a wide array of building systems and their operation over a corporate IT infrastructure. Systems integrator MacDonald-Miller successfully unified the disparate building systems at the Tacoma Financial Center into an IP-centric platform all while maintaining the customer's existing investment in a Barber-Colman NW 8000 system. Using the Richards-Zeta graphical programming software, the new infrastructure normalizes all disparate data from the existing system as well as all data for the RTUs, chillers and AHUs and distributes data via a customized Web site. The facility can now bring further value to the facility such as measurable energy savings, verifiable ROI, improved indoor air quality, increased system dependability, and decreased maintenance costs.
About BuilConn
BuilConn is a four-day forum uniting integrators, manufacturers, distributors, consultants and technologists from the disparate disciplines of the building systems industry to learn and discuss the trends, technologies and their applications for tomorrow's intelligent buildings. From Access Control and HVAC to Lighting, CCTV and IT, BuilConn is the only network infrastructure and integration event focusing on bridging the gaps between these sectors to deliver true Networked Building Systems.
The third annual event was held in Dallas, Texas, March 21-24, 2005 at the Adam's Mark Hotel Dallas. For further information, please visit www.builconn.com.
About Clasma, Inc.
Clasma, Inc. is a Dallas-based marketing, conference and media company specializing in providing services for the building systems and device connectivity industries. Clasma, Inc. is made up of marketing, technical and communication professionals who have between them decades of industry experience in product development and marketing. Clasma works with a vast network of associates around the world to provide its valuable services to the building systems industry. For additional information, please visit www.clasma.com.
---


[Click Banner To Learn More]
[Home Page] [The Automator] [About] [Subscribe ] [Contact Us]