---
New Amana® Brand DigiSmart™ Wireless Control System Offers First-Ever Centralized Energy-Management Capability for PTACs











New System Employs Wireless Mesh Technology, Allowing Facility Managers to Control Individual Room Temperatures—and Energy Costs—from a Single, On-site or Remote Location
HOUSTON, Aug. 1, 2006 — Goodman Company, L.P., a subsidiary of Goodman Global, Inc. (NYSE: GGL), maker of quality Amana® brand heating and air conditioning products and the leading domestic seller of packaged terminal air conditioners (PTACs), today announced the introduction of its new wirelessly networked DigiSmart™ Control System, an operations management tool designed to be used with the company's Amana brand PTACs. The first wireless PTAC management product of its kind, the unique DigiSmart system offers operations managers in hotels, nursing homes, schools, and other buildings that utilize PTACs substantial enterprise benefits, including energy, maintenance, and facilities management.
"Our new DigiSmart Control System will allow our customers to not only control the environmental conditions in individual rooms—it will also help them to manage their energy costs. Field studies of full-property installations indicate that a typical location may save up to 35% in energy costs," said Dave Craven, Goodman's director of advanced technologies. "Plus, this can be managed either on-site for a single property, or from one central location for multiple properties."
The new DigiSmart system represents a significant technological improvement in facilities management. The product, which Goodman developed in collaboration with Tridium, Inc., and Everex Communications, Inc., employs self-configuring, radio frequency (RF)-based wireless mesh technology. To create the wireless mesh, an antenna is simply plugged into the control board of each individual PTAC unit. The wireless mesh offers more stability than older hub-and-spoke networks by providing redundant communication paths. With the new Amana brand DigiSmart Control System, Goodman and its collaborators have used this wireless technology to create a network of all PTACs installed within a facility, enabling control of unit performance in individual rooms throughout a facility from a single control point.
The DigiSmart system includes in-room wireless thermostats and occupancy sensors, which Goodman developed with Everex, and a web-based control platform comprised of Tridium's JACE® controller driven by browser-based software built using Tridium's NiagaraAX® platform. The controller and the software work together to enable the DigiSmart Control to automatically discover all installed Amana brand PTAC units and wireless peripherals via the wireless mesh network and to communicate system information via web pages and reports.
"The DigiSmart Control System gives customers complete access to real-time performance information from all connected Amana DigiSmart PTACs, including unit health and maintenance status," explained Craven. "In addition, by building this system with Tridium's NiagaraAX platform, customers can easily network multiple buildings together via the Internet."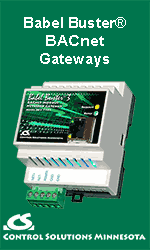 The DigiSmart Control System is easy to install or retrofit on previous Amana PTAC models.
For more information about the new Amana brand DigiSmart Control System and Amana brand PTACs, visit www.amana-ptac.com.
About Everex Communications, Inc.
Everex provides wireless gateway and sensor products targeted at the commercial, residential and mobile environments. Everex has positioned itself as a leader in wireless technologies including mesh networks, 802.11, 802.15.4 and cellular, providing products to the fleet management, building control, HVAC and energy management OEM markets. With over 50,000 ECT automotive gateways deployed, Everex has helped revolutionize the way service technicians in the field can communicate with their companies.
About Tridium, Inc.
Tridium, a global software and technology company, is the inventor of the Niagara Framework®, a software framework that integrates diverse systems and devices--regardless of manufacturer or communication protocol--into a unified platform that can be easily managed and controlled in real time over the Internet using a standard web browser. Niagara is an extensible platform that supports the rapid development of a wide range of Internet-enabled products and device-to-enterprise applications. The company is an independent business entity of Honeywell International Inc. Additional information about Tridium is available at www.tridium.com.
About Goodman
Houston-based Goodman Global, Inc. is the second-largest domestic unit manufacturer of heating, ventilation and air conditioning products for residential and light-commercial use. Goodman's products are predominantly marketed under the Goodman®, Amana® and Quietflex® brand names, and are sold through company-operated and independent distribution networks with more than 700 total distribution points throughout North America. For more information about Goodman, visit www.goodmanglobal.com.
---


[Click Banner To Learn More]
[Home Page] [The Automator] [About] [Subscribe ] [Contact Us]