---
Honeywell Introduces Fast and Flexible Compact Input/Output (I/O) Modules












Contractors Can Connect Modules without Extra Wiring
MINNEAPOLIS – Honeywell (NYSE: HON) launched an innovative line of Compact I/O Modules that eliminate the need for extensive wiring. Honeywell's groundbreaking "snap and click" technology allows contractors to simply "snap" together the new I/O modules without using extra wiring in the network.
"With Honeywell's Compact I/O Modules, you can link up to 15 modules – eliminating all the individual wiring that is usually required on the job," said Larry Andriunas, senior product manager, Honeywell. "Contractors now only need to run power and network wires once, which can significantly cut down on time and installation costs. And because Compact I/O modules have a low number of I/Os, contractors no longer have to pay for the I/Os they do not use."
I/O modules enable the monitoring and control of remote points in an HVAC system. The Compact I/O modules are also revolutionary because they save contractors so much space. "The small profile of the Compact I/O modules allows you to place it where other modules won't fit," added Andriunas.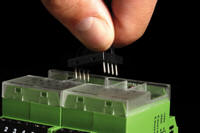 Honeywell Compact I/O Modules are part of Honeywell's robust portfolio of I/O modules, the most extensive line of modules available in the industry today. Honeywell Smart I/O modules can be used in all open LONWORKS® environments, and are ideal for a wide range of intelligent, distributed applications. Honeywell Distributed I/O Modules are LONMARK® compliant digital and analog modules that convert sensor readings and provide output signals used for operating actuators via LONWORKS standard network variables (SNVTs).
"Honeywell has 14 I/O modules to fit virtually all application needs, including Distributed I/O, Smart I/O and now, the new Compact I/O," said Andriunas. "Contractors can be confident that Honeywell has the I/O module needed to fit any application, and that it will work with other LONWORKS automation systems."
For more information, visit www.customer.honeywell.com/buildings.
---


[Click Banner To Learn More]
[Home Page] [The Automator] [About] [Subscribe ] [Contact Us]