---
Contemporary Controls Highlights BASautomation Products and Solutions at 2014 AHR Expo Booth #239


December 2013 — Visit with Contemporary Controls at booth #239 at the upcoming 2014 AHR Expo, January 21-23 in New York City, NY. Our exhibit will highlight our BASautomation product line with emphasis on our BAScloudVPN service, BASgatewayLX, and BAScontrol20 plus additional BAS products and solutions that help to complete your BACnet project by taking you from device to Internet including Sedona controllers, wired and wireless IP routers and Ethernet switches all of which help complete the important connection.

"The beauty of our BASautomation product line is that it helps systems integrators make a complete, integrated system that is cost-effective and resourceful," states Joe Stasiek, Contemporary Controls' Sales Manager.

Our BAScloudVPN remote monitoring service provides systems integrators remote access to job sites resulting in increased productivity and reduced costs ― by using less time and money travelling to resolve equipment and system issues. The BAScloudVPN consists of a virtual private network (VPN) server hosted by Contemporary Controls. Using a local Internet service, a systems integrator can open up VPN client software on his computer that provides a VPN tunnel connection to the BAScloudVPN Server. A similar VPN tunnel connection to this same BAScloudVPN server already exists at the remote site. Using a tool on his computer, the systems integrator can access controllers at the remote site in order to examine points of interest. The BAScloudVPN Server makes the necessary connection between the two VPN tunnels. Once a connection is made, systems integrators can service remote sites, as they were physically onsite. The BAScloudVPN provides an effective secure method of remote access without concern for intervening firewalls. Some additional advantages systems integrators can appreciate with using the BAScloudVPN service include OpenVPN compatibility, numerous usability scenarios, secure communications, flexibility and reliability, plus more.

For customers who need to establish a connection between BACnet/IP and Modbus networks, the BASgatewayLX will be on display. The BASgatewayLX connects BACnet/IP Ethernet to non-BACnet compliant networks such as Modbus Serial or Modbus TCP. Using the concept of virtual routing, up to 30 Modbus devices appear as individual BACnet devices. Using web pages and a resident database of common Modbus device profiles, Modbus registers can be mapped to BACnet objects.

"With the cooperation of Modbus device manufacturers, we've developed a library of Modbus device profiles that reside within the BASgatewayLX," said Joe Stasiek. "Having the library removes a significant burden from the system integrator commissioning the system. Custom device profiles also can be uploaded."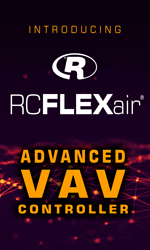 Our BAScontrol20 ― 20-point field controller with a direct connection to an IP/Ethernet network is perfect for structured wiring systems. The BAScontrol20 is BACnet/IP compliant with a B-ASC device profile. Having a resident Sedona Virtual Machine (SVM), the unit is freely programmable using tools such as Niagara Workbench or Sedona Workbench.

For remote Ethernet I/O applications, the unit can be configured with minimal effort using a web browser.

The BAScontrol20 provides a convenient mix of universal inputs, binary inputs and outputs as well as analog outputs. Models exist for both triac and relay binary outputs. The unit is ideal for unitary control or for expanding I/O points in the field via an Ethernet connection.

Before the show, make sure to visit our AHR preview to learn more about our BAS products and solutions.

At the show we are looking forward to seeing our existing customers and meeting new ones. Make sure to stop by our booth #239. For more information visit www.ccontrols.com


---


[Click Banner To Learn More]
[Home Page] [The Automator] [About] [Subscribe ] [Contact Us]