---
TAC Com-Trol® Introduces the Crysalis Enterprise Server











Product Expands the Crysalis Family of Commercial Refrigeration, HVAC and Lighting Controls
ROCKFORD, Ill. – February 1, 2007 – TAC Com-Trol, a product line of commercial refrigeration and building systems controllers for retailers, has expanded its powerful family of Crysalis™ solutions to include the Crysalis Enterprise Server™ (CES). TAC, a world leader in building automation, security systems and energy solutions, created the CES to centrally monitor and support multiple retail sites through an intuitive web-based dashboard. Specifically designed for corporate level monitoring and support, Com-Trol's CES is designed to handle the requirements of the largest of chain operations.
Based on the latest web-enabled technology, the CES includes a comprehensive set of features and functions to provide a powerful network environment. The CES features an enterprise-level operations dashboard, alarm management, historical data collections, and a relational database management system interface and reports subsystem.
Crysalis products enhance a retailer's ability to operate all heating, ventilating, air conditioning and refrigeration (HVACR) functions, conserve energy, protect food, monitor equipment, and lower overall operating costs. Crysalis and the CES enable complete integration between commercial refrigeration, lighting and building management controls, and the end-users' corporate network.
"Crysalis brings together the best of both worlds: Com-Trol's line of commercial refrigeration controllers and equipment, and TAC's line of HVAC control products," said Lonnie Laue, vice president, Strategic Accounts. "The new CES unites all these features to create a simple, cost-efficient and completely scalable system to meet a wide variety of supermarket and retail control requirements, now and in the future."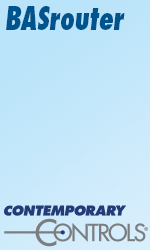 The Crysalis family of products now includes:
The Crysalis Enterprise Server (CES), organizing systemwide trend, demand and operating history with a web-enabled interface.

The CWEB Web Services Gateway, giving retailers access to their facility control systems and data exchanges with any web-enabled PC.

The CRTU Rooftop Controller, a LonWorks® -based controller providing precise control of the HVAC rooftop units (RTUs) and heat pumps typically used by retailers, along with economizer control to provide a wide range of control strategies for packaged RTUs and heat pumps, either in stand-alone mode or as part of a LON® -based network.

The LonWorks CVAV (Variable Air Volume) Controller, delivering a wide range of control strategies for pressure-independent terminal boxes.

The CS Sensors, for measuring room conditions and transmitting data to the controller.
In addition, all products in the Crysalis family are backward compatible with the complete line of existing TAC Com-Trol system components, including the popular 4K, 4K2e and 4500 controllers. This protects the investment of Crysalis customers, which includes major national food retailers across the United States.
About TAC
TAC is a leading provider of building automation solutions based on Open Integrated Systems for Building IT. TAC's mission is to provide added value through building environment services for indoor climate, security and use of energy, delivered with advanced technology to end users and property owners throughout the world. With over 80 years of experience in the HVAC, building automation and security arenas, TAC employs more than 5,000 people worldwide, with partners and branches in 80 countries. TAC's parent company, Schneider Electric, is the world leader in automation and electricity management, with 92,000 employees worldwide and operations in 130 countries. Visit www.tac.com for more information.
---

[Click Banner To Learn More]
[Home Page] [The Automator] [About] [Subscribe ] [Contact Us]