---
Honeywell Begins Momentum Conference For Top Contractors and Distributors











Conference Includes Launches Of Eight New Products
PHOENIX, February 5, 2007 – Today Honeywell (NYSE: HON) welcomed more than 350 distributors and contractors from across the country to its inaugural Momentum Conference at the Pointe South Mountain Resort in Phoenix, Arizona. Momentum is the definitive conference for Honeywell's commercial HVAC contractor and distributor community, providing an opportunity to evaluate the latest HVAC technologies, participate in a wide range of training sessions and get hands-on experience with new Honeywell products.
"The first thing Momentum does is bring contractors, distributors and Honeywell together to share ideas not just about products, but also about business strategies and the industry itself," said Tony Sugalski, vice president and general manager, Honeywell Building Control Systems. "We're kicking off the informative sessions today, but really, the conference began last night when many of our customers joined us for our Big Game Kickoff Party. Momentum is designed to be insightful and informative, but we've built in time for socializing as well."
Keynote speakers and a panel of industry experts are on hand to lead sessions and provide perspectives on the future of the industry. Keynote speakers include Pat Williams, senior vice president of the NBA's Orlando Magic and one of America's top motivational speakers, and John Sweeney, an improvisational actor and owner of the Brave New Workshop, who has presented his corporate training curriculum to a wide range of Fortune 500 companies. A panel of industry experts, including representatives from the media, Air Conditioning Contractors of America, distributors and contractors, will headline a "Building Technologies of the Future" discussion, including an overview of what's coming and ways for contractors to stay on top of technological advances to keep their businesses up-to-date and growing.
"We want to serve our distributors and contractors with an overall perspective of the industry," adds Dave Molin, general manager, Honeywell Building Control Systems, "and we also want them to see how Honeywell is positioned to help them succeed. We have workshops and training opportunities throughout Momentum, and we're also launching eight new products that showcase Honeywell's commitment to continued leadership in building control systems."
Workshops at the Momentum Conference range from hands-on training for new products to business-building workshops, such as "Are You Open To Integration?" and "Growing Your Business With Honeywell Programs." In all, more than 15 workshops will be available to conference attendees.
A dinner and trade show each evening of the conference will provide contractors and distributors with another opportunity to review products and services firsthand as well as take advantage of special deals. "The distributors and contractors attending Momentum are among the industry's most committed," said Sugalski. "Along with the information provided at the conference, we want to reward their attendance with product offers that will only be available to attendees."
In addition to the speakers, workshops and trade show, Honeywell's commitment to the Momentum Conference is shown in the number of Honeywell executives in attendance. Along with Sugalski and Molin, Roger Fradin, president and CEO of Honeywell Automation and Control Solutions, Andreas Kramvis, president of Honeywell Environmental and Combustions Controls, and Daryll Fogal, vice president, Engineering & Technology, Honeywell Building Solutions are here. These Honeywell leaders will be meeting with contractors and distributors to stay in touch with "the field" and will also be available to meet with media members for both a press conference and one-on-one interviews.
For more information about the Honeywell Momentum conference, visit http://momentum.honeywell.com.
For more information about Honeywell products, visit http://customer.honeywell.com.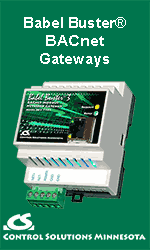 Honeywell International is a $30 billion diversified technology and manufacturing leader, serving customers worldwide with aerospace products and services; control technologies for buildings, homes and industry; automotive products; turbochargers; and specialty materials. Based in Morris Township, N.J., Honeywell's shares are traded on the New York, London, Chicago and Pacific Stock Exchanges. It is one of the 30 stocks that make up the Dow Jones Industrial Average and is also a component of the Standard & Poor's 500 Index. For additional information, please visit http://www.honeywell.com.
PRODUCTS
Honeywell Launches WebStat™ Controller Communicating Thermostat System That Combines Simplicity and Cost Savings - Intricate Building Automation Control Has Been Made Simple
WebStat allows a network of Honeywell T7350H LonWorks® enabled thermostats to be accessed anywhere in the world by using an intuitive thin client web browser. Honeywell WebStat offers standard building automation features such as alarming, trending, scheduling, and network accessibility, plus it offers operational efficiencies by enabling remote monitoring, alarming, floor plan visuals and thermostat assignment privileges for tenants, facility managers, and contractors. WebStat™ is an affordable automation system, targeted for smaller commercial buildings, with built in tools allowing for rapid engineering, installation, and commissioning.
Honeywell Introduces New Range of Current Sensors and Switches - Offer Higher Operating Range with a Low Trip Point
Honeywell (NYSE: HON) announced today a new line of current sensors and controls, now offering a higher operating range and an extremely low trip point. Honeywell current sensors are rated at 250 amps, enabling customers to meet high-amp situations without the need for a transformer. In addition, Honeywell current switches deliver a low trip point of 0.12 amps.
New Honeywell Excel 800 Plant Controller Offers Powerful, Programming and Simplified Installation - Honeywell Introduces Its Most Powerful Plant Controller
Honeywell (NYSE: HON) today announced the release of the Excel 800 Controller, the most powerful plant controller in the XL5000 product line. The Excel 800 features twice the memory capacity of the company's popular Excel 500 controller, giving contractors and design engineers more flexibility to design and control complex applications.
Honeywell Packs Advanced Control Capabilities Into the Compact New Spyder™ Controller - Advanced Control In The Body Of A Unitary Controller
Honeywell (NYSE: HON) announced today the availability of a new unitary controller platform that adapts to complex H.V.A.C. (Heating, Ventilation, Air-Conditioning) applications.. New Honeywell Spyder™ Controllers offer the flexible programming that was previously only available on plant controllers, enabling contractors to utilize a smaller, cost competitive controller while saving installation, programming and servicing time.
New Honeywell T775 Controller Eliminates Need for Add-On Parts - All Needed Features Are Built In
Honeywell (NYSE: HON) today introduced the T775 Series 2000 Standalone Controller with many self-contained features. With a built-in, menu-driven, easy to use display, internal transformer and more, the T775 can provide control for a variety of applications without requiring contractors to stock and piece together separate modules.
New Honeywell T7351F Commercial Thermostat Combines Advanced Features with Keypad Programming - Easy-To-Use Model Upgrades Popular T7300
Honeywell (NYSE: HON) today announced the release of the new Honeywell T7351F commercial thermostat. An upgrade of the popular T7300 model, the T7351F adds new features while simplifying programming. Remote sensing capabilities have been enhanced and, like the 365-day programming and advanced dehumidification features, can be programmed directly from the built-in keypad.
New Honeywell WEBsAX™ Energy Suite Provides Organized Energy Data - Helps Building Managers Make Informed Energy-Usage Decisions
Today Honeywell (NYSE: HON) announced the release of Honeywell WEBsAX™ Energy Suite, an energy-usage tool that monitors energy meters to help building owners and managers understand what elements are most affecting their bills. From operation reports on individual pieces of equipment to average daily usage profiles, WEBsAX Energy Suite provides 16 standard reports that can be reviewed to the smallest detail or as a broad- spectrum summary for an at-a-glance look at trends.
New Honeywell WEBsAX™ Security Allows Security System Management Via The Internet - Building Owners Can Check Status And Manage Access Without Being Onsite
Honeywell (NYSE: HON) today introduced WEBsAX™ Security, a security management system that works within the Honeywell WEBsAX building control architecture or as a standalone system. Building owners and managers using WEBsAX Security will get access control, intrusion detection, alarm preferences and other security options, and can manage it all through an Internet browser.
---


[Click Banner To Learn More]
[Home Page] [The Automator] [About] [Subscribe ] [Contact Us]