---
Adept Systems Launches Most Inexpensive, Smallest Ever LON/IP Router for Building Automation Market











EAGLE MOUNTAIN, UTAH — January 30, 2007 — Adept Systems, a technology leader in LonWorks® control networks, announced today the immediate availability of the GRouter4™, LON over IP router. The GRouter4™, is a configurable standards based, ANSI 709.1/852B, LonTalk® to IP Router.
The GRouter4™ is the latest advancement in Adept System's venerable line of standards based LON over IP routing products. The GRouter4 brings an innovative compact design for optimal scalability and cost effectiveness. The GRouter4 further widens Adept's leadership in price performance for ANSI 709.1/852 routers.
Adept is still the only manufacturer to offer LON over IP routers with the choice of either 10/100 Base-T Ethernet (CAT 5) or 802.11b WiFi wireless internet protocol network interface. The GRouter4 continues this tradition. The LON port can be either FT-10 or RS-485.
The GRouter4 is the smallest LON/IP router on the market. It is oriented to use only 35mm of Din rail space with its integrated DIN rail clip. The GRouter4 is industrial temperature rated (-40 to 85º
C) and is ROHS and CE mark compliant. The terminal block now uses bigger 5.0mm terminals to make it easier to daisy chain. As an option these may be pluggable.
Also new is a reboot log that uses the its real time clock to record uptime and a list of power cycle or reboot times. The web interface allows remote display of the log.
To improve granularity and scalability, the GRouter4 no longer includes a bulky internal power supply. Instead Adept offers a compact Din Rail mounted external 18-72 V input power supply that can be shared by up to 12 GRouter4s. The cost for a GRouter4 plus power supply is less than a GRouter3. Together they take less total DIN rail space than a GRouter3. This modular approach has enabled Adept to significantly reduce the per channel cost of LON to IP connectivity while increasing granularity and scalability.
Adept Systems, the author of the C Reference Implementation of the ANSI 709.1 protocol, runs the LonWorks protocol stack on a powerful 32-bit ARM processor instead of relying on the 8-bit Neuron® chip used in most LonWorks devices. "Running our own version of the protocol stack allows for greater performance and more flexibility in our products," said Dr. Samuel Smith, Adept Systems' president and founder. "We are completely committed to being the price-performance leader in our target markets. Our IP-enabled line of open ANSI 709.1 products will bring the strength and flexibility of the Internet to LonWorks networks."
The GRouter4 router was designed to be compliant with existing LON router network management and configuration software to make upgrades easy for system's integrators. IP communications are based on the open ANSI 852 and 709.1 standard specifications. This enables interoperable LON over IP routers and tunneling repeaters.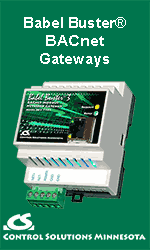 GRouter4 is designed for seamless integration into existing LonWorks® control networks and is highly interoperable with existing management tools, nodes, gateways, and routers, such as, the i.LON® 600. It supports a direct IP connection to LNS or LonMaker® running on a PC.
The GRouter4 also interoperates with and/or replaces legacy "Router- LL" systems.
Each LON/IP router can be configured to send to and receive from multiple other routers using selective forwarding. This allows more effective and efficient networks by reducing the number of routers needed to interconnect the 709.1 channels. Routers communicate by using either IP uni-cast or IP multi-cast. Adept's routers are currently the only 852 compliant router to support 852's IP multi- cast mode
Adept's routers provide unique features that solve problems for systems integrators. For example, the routers have a flood mode where two or more routers will be "invisible" to other LON network components and network management tools. This allows seamless connection of remote channels over a LAN or the internet such that they all appear as members of the local subnet. This is useful with legacy network controllers or embedded network configuration tools that are unable to configure routers. Multi-cast support makes flood mode efficient and scalable.
The on-board web server for remote configuration simplifies installation, especially in multi-building sites. The web configuration page includes service pin and reset buttons to enable remote commissioning in either Normal or Manual mode. The new look web interface includes full functionality for all configuration options and also allows in system upgrades of the firmware using the IP connection.
For more information visit www.adeptsystemsinc.com


---


[Click Banner To Learn More]
[Home Page] [The Automator] [About] [Subscribe ] [Contact Us]