---
Sontay Embraces Tridium with New Wireless Sensor Expansion
Following the successful launch of its award-winning SonNet range of wireless temperature and relative humidity sensors, Sontay has introduced a new Tridium NiagaraAX driver for its SonNet network radio receivers. This latest innovation will enable quick and seamless integration with Tridium's range of JACE controllers as part of a NiagaraAX framework for building control systems and opens up the system to BMS protocols such as BACnet, LonTalk and Modbus.
Tridium's NiagaraAX is an open, Java-based framework which integrates diverse building services systems, control devices and communications standards, including LONWORKS®, BACnet, Modbus and others into an interoperable, web-enabled application environment. The new driver ensures Sontay's RF-RXS receivers serve up a Tridium compatible web interface where SonNet wireless sensors are used on a project. This allows engineers to gather measurement data from the sensors and also perform radio network management services, such as, auto-commissioning and setting device configuration parameters as part of a building's Tridium NiagaraAX framework.
Sontay offers two receiver types which feature the new Tridium NiagaraAX driver. The RF-RXS DIN with rail mounted housing provides a serial connection to COM1 or COM2 of a Tridium JACE unit. Alternatively, the RF-RXS-N is an internally mounted JACE option card version of the same product.
Sontay customers have already seen the cost savings that can be made when installing a SonNet system rather than traditional wired sensors. This equates to up to 30% on the total installed cost. The next phase in SonNet product development will offer even further savings in equipment and commissioning such as circa £100 per I/O which will no longer be required with the latest version.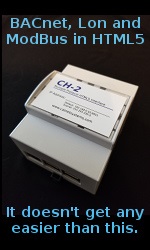 "SonNet is a breakthrough in wireless sensor technology and we are delighted to announce this innovation which will ease integration with the increasingly popular Tridium's NiagaraAX framework," says Sontay's Managing Director, Trevor Palmer. "Ensuring everything within a control system works together and that the system can be understood as a whole is vitally important for accurate measurement. We have been thrilled with the level of uptake SonNet has received but we feel that with this new addition the advantages of SonNet are opened up to a wider audience."
By eliminating the need for structural cabling during sensor installation for an HVAC control system, SonNet sensors greatly reduce engineering time and installed project cost. This enables faster and easier installation on new buildings, where project timescales for controls installation can often be extremely pressurised. It also opens up the opportunity for control specialists to retrofit energy efficient HVAC controls into existing commercial and public buildings, so reducing fuel costs and cutting carbon emissions. Using SonNet also brings building owners and facilities managers enhanced site flexibility allowing for building layouts to be changed on a regular basis without the need to re-wire sensor configurations accordingly.
With its self-healing tree topology, SonNet eliminates concerns with reception and reliability often associated with existing 'point-to-point' wireless systems. If a sensor detects a problem with the signal, it will automatically re-route to find the strongest available path to the receiver. Interference with other radio devices in the same frequency spectrum also been addressed through a proprietary algorithm which continually adapts to site conditions. In 2011, SonNet won the hotly contested Technical Innovation of the Year – Products Award at the Building Controls Industry Association (BCIA) Awards.
Sontay products and control solutions are designed to help improve building management system performance reduce energy and maintenance costs and increase occupant comfort levels. For further information on the Sontay product range, contact sales@sontay.com



---

[Click Banner To Learn More]
[Home Page] [The Automator] [About] [Subscribe ] [Contact Us]