---
Distech Controls Honored at 2014 AHR Expo Product of the Year Awards - Booth #123

New Integrated Room Control Solution to receive honorable mention in Building Automation category
[Brossard, QC, January 14, 2014] — Distech Controls, an innovation leader in energy management solutions, announced that the company is to receive an honorable mention at the upcoming AHR Expo. Selected by a panel of judges made up of ASHRAE members, Distech Controls' Programmable VAV Controllers with the Integrated Room Control (IRC) Solution has been recognized in the Building Automation category.
The IRC Solution is an end-to-end offering for the control of HVAC room terminal equipment, Lighting, and Shades. This unique, modular solution simplifies design, installation and integration of multi-application systems. The IRC Solution is designed to deliver optimal energy savings, at the lowest total install cost, with occupancy-based control strategies, daylight harvesting based on light level sensing and natural light optimization. The energy savings are such that a study by the Hannover University of Applied Sciences and Arts in Germany demonstrated energy savings in excess of 30% on HVAC and up to 60% on lighting with control products like the IRC Solution.
What makes this solution of synergies unique is that it can easily be adjusted by users. The Integrated Room Control Solution can be handled with the Allure EC-Smart-Vue, communicating sensor, the EC-Remote wireless personal remote control, as well as the free "Smart-Sense Room Control" mobile app. This variety of room devices and convenience of a mobile app addresses the requirements of LEEDŽ Credit 6.2: Controllability of Systems—Thermal Comfort.
This recently introduced innovation will be showcased at the 2014 AHR Expo in New York City, the world's largest HVACR exposition and conference. Judges evaluated the products submitted based on innovation, application, value to the user and market impact. Those recognized represent the most innovative new products among the thousands that will be displayed at the 2014 AHR Expo.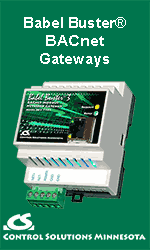 "Distech Controls is honored to be recognized by the AHR Expo Innovation Awards in the Building Automation category," said Etienne Veilleux, President and CEO of Distech Controls. "The Integrated Room Control Solution is a true representation of our dedication to achieving energy efficiency through innovation," Veilleux added.
The 2014 AHR Expo will be taking place between January 21st and 23rd, 2014. Distech Controls invites those attending to come visit their booth, #123, to learn more about the Integrated Room Control Solution in addition to a selection of the company's latest innovations.
About Distech Controls:
An innovation leader in energy management solutions, Distech Controls provides unique building management technologies and services that optimize energy efficiency and comfort in buildings, all the while reducing operating costs. We deliver innovative solutions for greener buildings through our passion for innovation, quality, customer satisfaction, and sustainability. Distech Controls serves multiple market segments through its worldwide business divisions, service offices and a superior network of Authorized Partners. www.distech-controls.com


---
[Home Page] [The Automator] [About] [Subscribe ] [Contact Us]