---
Digital Realty Trust Implements TAC BAS
Best-in-Class Andover Continuum Building Automation System from TAC Provides Increased Energy Efficiency, Lower Operational Costs and Enhanced Building Management Capabilities to Digital Realty Trust Tenants











San Francisco – June 26, 2006 – Digital Realty Trust, Inc. (NYSE: DLR), the leading owner and manager of corporate data centers and Internet gateways, is implementing a next-generation building automation system (BAS) across its portfolio of properties to provide tenants with enhanced building management capabilities that deliver significant benefits in areas such as energy efficiency, operational costs and ease of management. TAC (www.tac.com), a world leader in building automation, security systems and energy solutions, is overseeing the deployment of its Andover Continuum™ BAS, a best-in-class integrated building automation, energy management and card access/security solution.
The new BAS solution will be implemented in 13 Digital Realty Trust properties this year, and the rollout will continue to the remainder of the company's 49 Internet Gateways and Turn-Key Datacenter Facilities in North America and Europe in the future. This building automation system will also be implemented as necessary in future properties that are acquired by Digital Realty Trust, providing a unified building automation environment across all properties worldwide.
"We have worked closely with TAC to design a customized BAS solution that provides tenants with significant enhancements in terms of energy efficiency, advanced environmental controls, ease of use and proactive building management capabilities. No other company in the industry is utilizing a building automation system this advanced, and it expands the growing number of benefits and amenities that tenants can get only from Digital Realty Trust," said Michael F. Foust, Chief Executive Officer of Digital Realty Trust. "TAC is the most widely-respected supplier of integrated systems for building automation, and we look forward to continuing to work with their team for the rollout of this system across all of our properties."
This next-generation BAS will allow tenants in Digital Realty Trust properties to remotely monitor conditions in their data center as well as actively manage temperature, humidity, access control, lighting, equipment alarms, maintenance orders and security. TAC's Andover Continuum BAS allows tenants to manage data center implementations across multiple properties on a single dashboard, and the system's reporting tools are customizable to deliver alarms and status reports in a number of ways to meet customer needs: via email, pager, cell phone and/or via IP to workstation or Web page.
"Digital Realty Trust came to us with a simple goal: to implement a new building automation system that fully meets the needs of tenants in terms of advanced technology, integration across properties, flexibility and user-friendly interfaces and reporting," said Rodman St. Amand, Director, Strategic Accounts at TAC. "Their understanding of their tenants' specific needs has been an ideal guide for the TAC team in planning this project, allowing TAC to customize this implementation to maximize the benefits that Digital Realty Trust's tenants will get from the system. This truly is the best and most usable BAS available, and this rollout is great news for everyone responsible for managing datacenter implementations in these properties."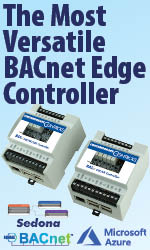 "This system is a big plus because it allows our tenants and the Digital Realty Trust operations team to be very proactive about facility management, and it will also result in huge gains in efficiency," said Chris Crosby, Senior Vice President of Sales and Technical Services at Digital Realty Trust. "In conjunction with the BAS, we are also integrating the Security Access Control System (SACS) and a Computerized Maintenance Management System (CMMS), which will allow our tenants the ability to utilize a Web-based dashboard for monitoring and managing all aspects of their installations – from energy usage to security controls to performance metrics – across all the properties where they have equipment. The system will also allow us and our customers to proactively and preemptively address issues that the system alerts us about, nipping things in the bud before they ever become a problem."
For more information about TAC's Andover Continuum BAS, visit http://www.tac.com/Navigate?node=2901. For more information about Digital Realty Trust's Internet Gateway and Turn-Key Datacenter Facilities, visit www.digitalrealtytrust.com.

About TAC
TAC is a leading provider of building automation solutions based on Open Integrated Systems for Building IT. TAC's mission is to provide added value through building environment services for indoor climate, security and use of energy, delivered with advanced technology to end users and property owners throughout the world. With over 80 years of experience in the HVAC, building automation and security arenas, TAC has over 4,000 employees worldwide with partners and branches in 75 countries. TAC's parent company, Schneider Electric, is the world leader in automation and electricity management, with 85,000 employees worldwide and operations in 130 countries. For more information, visit www.tac.com/us.

About Digital Realty Trust, Inc.
Digital Realty Trust, Inc. owns, acquires, repositions and manages technology-related real estate. The Company's 49 properties contain applications and operations critical to the day-to-day operations of technology industry tenants and corporate enterprise data center tenants. Comprising approximately 10.0 million rentable square feet, including 1.2 million square feet of space held for redevelopment, Digital Realty Trust's property portfolio is located throughout the United States and Europe with one property in Canada. For additional information, please visit the Company's website at www.digitalrealtytrust.com.

---


[Click Banner To Learn More]
[Home Page] [The Automator] [About] [Subscribe ] [Contact Us]