---
McDonald's to Save Energy and Increase Operations Efficiency with Echelon's Technology











SAN JOSE, Calif., Jul 10, 2007 (BUSINESS WIRE) -- Echelon Corporation (NASDAQ:ELON), a leading provider of networking technology that is used to manage and reduce energy consumption, today announced that McDonald's Corporation has chosen its LonWorks(R) technology to network its restaurant kitchen equipment in order to create the "kitchen of the future," which aims to lower energy consumption and increase operational efficiency. McDonald's is encouraging its kitchen equipment manufacturers to include Echelon's power line technology in new equipment for its restaurants.
"We are committed to being a market leader in environmental responsibility and energy management, so it's great to have a proven platform that we can use to address such an important issue," said Bob Langert, McDonald's vice president of Corporate Social Responsibility. "Echelon's technology will also enable our franchisees to create restaurants that are easier to operate, facilitate preventive maintenance and provide new services while saving energy."
McDonald's is using Echelon's power line networking technology to provide communication and data exchange between various pieces of kitchen equipment in its restaurants to allow the development of business process improvement applications, manage energy use, and reduce maintenance costs. This communication occurs over existing power lines, making for easy installation and retrofitting of equipment while enabling McDonald's to install the equipment without tearing out walls. McDonald's tested various alternative technologies, including radio frequency (RF), but found Echelon's power line technology to be the most reliable and cost-effective solution.
Echelon's i.LON(R) Internet Server will be used to collect data from McDonald's kitchen equipment, reducing labor costs spent on gathering data and creating reports while reducing potential data compilation errors.
Food safety issues are a concern in the industry and smart equipment can provide the data needed to support Hazard Analysis and Critical Control Points (HACCP) requirements of health departments. This will save labor costs now spent on reading thermometers and creating reports.
"Open, standards-based technologies are very important for McDonald's because we believe the food service industry will follow suit and realize the benefits of networked equipment, including streamlined operations and energy reduction," said Bernard Morauw, senior director, Worldwide Equipment Systems for McDonald's Corp. "The LonWorks platform allows multiple manufacturers around the world to have clear open standards to provide integrated solutions to McDonald's restaurants."
The LonWorks enabled "smart kitchen" equipment could easily integrate with other existing or planned building sub-systems, such as heating, ventilation, and air conditioning (HVAC) systems and lighting systems that are also based on the LonWorks protocol, in order to extend energy management capabilities throughout the entire restaurant. Such measures are an element that can facilitate LEED (Leadership in Energy and Environmental Design) certification for the restaurants, and further reduce energy use.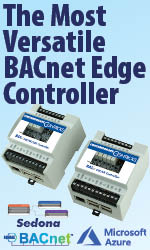 "McDonald's has always been a market leader at the forefront of innovation and we are pleased that Echelon's technology is part of McDonald's commitment to environmental leadership. By choosing a LonWorks solution, they are laying the foundation for ongoing energy savings for years to come," said Ken Oshman, Echelon's chairman and CEO. "LonWorks technology is a robust, future proof solution that will allow McDonald's to continue to find new applications for improving business. The use of LonWorks technology by McDonald's is a testament to its flexibility and reliability."
About McDonald's Corporation
McDonald's is the world's leading local restaurant with more than 30,000 locations serving 52 million customers in more than 100 countries each day. More than 70% of McDonald's restaurants worldwide are owned and operated by independent local men and women. For the second year in a row, McDonald's has been selected for inclusion in the Dow Jones World and Dow Jones North America Sustainability Indexes. These indexes recognize companies that are industry leaders on a broad range of economic, environmental, and social issues. McDonald's is one of the very few food service retailers to be honored. More information regarding McDonald's can be found at http://www.mcdonalds.com.

About Echelon Corporation
Echelon Corporation (NASDAQ:ELON) is a networking company that provides products and systems that can monitor and save energy, lower costs, improve productivity and enhance service, quality, safety and convenience by networking together everyday devices in utility, buildings, industrial, transportation and home control systems. Tens of millions of smart devices based on Echelon's LonWorks products and Networked Energy Services (NES) systems are in use around the world today bringing benefits to consumers and industry. More information about Echelon can be found at http://www.echelon.com.

Echelon, LONWORKS, i.LON, and the Echelon logo are registered trademarks of Echelon Corporation registered in the United States and other countries. The McDonald's trademark is owned by the McDonald's Corporation. Other product or service names mentioned herein are the trademarks of their respective owners.
---

[Click Banner To Learn More]
[Home Page] [The Automator] [About] [Subscribe ] [Contact Us]