---
BACnet Elevated to New Heights at ASHRAE Annual Meeting
ATLANTA – BACnet is "elevated" to a new level through a proposal regarding use of building controls for elevators.











The proposal to ANSI/ASHRAE Standard 135-2004, BACnet -- A Data Communication Protocol for Building Automation and Control Networks, was reviewed during ASHRAE's 2007 Annual Meeting. Standard 135 the only open, consensus-developed standard in the building controls industry.
The proposal would expand BACnet's coverage of building systems to incorporate support for "elevators," an industry term that includes lifts (vertical or near-vertical transport) and escalators (horizontal or near-horizontal transport).
Drafted in cooperation with elevator expert Dr. Albert So of the City University of Hong Kong, the proposal adds elevator systems to the HVAC, fire/life-safety, lighting and physical access control systems already supported by BACnet or for which support is in development.
"Over the years I'd heard comments that BACnet might even someday support elevators," said BACnet committee chairman Bill Swan, "but I never expected to see it. Yet here it is, another building system to be built upon the BACnet's communications platform."
During the meeting, the committee recommended five new addenda to be released for public review later this fall September 14th, including:
• Addendum k, which addresses issues of supporting different character sets, particularly important in regions other than North America
• Addendum l, which expands the current system for specifying one general BACnet operator workstation to cover four different kinds of workstations with varying applications and capabilities
• Addendum m, clarifications and minor improvements to aid BACnet manufacturers
• Addendum n, refining the interoperable mechanisms for backing up and restoring devices' configuration
• Addendum o, to provide standardized support for Internet "NAT" firewalls.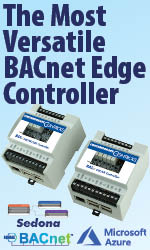 The committee's Life-Safety and Security working group has also developed the second public review draft of Addendum j to BACnet-2004, to support physical access control in BACnet. The BACnet committee has recommended the draft for public review.
Of the six addenda in public review this spring, working groups considered their responses to comments received for four addenda, including:
• Addendum g, a new means for securing BACnet network communications using encryption and authentication
• Addendum h, a collection oh miscellaneous refinements to the BACnet standard
• Addendum i, a set of lighting control system extensions
• Addendum j, physical access control
Two addenda related to testing BACnet devices passed public review and will be incorporated into the upcoming republication of Standard 135.1, Method of Test for Conformance to BACnet. This standard provides the basis for the BACnet testing laboratories in North America and Europe.
The BACnet committee continues to work on items such as developing standard profiles for various building automation devices, CCTV control, incorporating wireless capabilities, and integrating buildings and the energy utilities.
ASHRAE, founded in 1894, is an international organization of some 50,000 persons. ASHRAE fulfills its mission of advancing heating, ventilation, air conditioning and refrigeration to serve humanity and promote a sustainable world through research, standards writing, publishing and continuing education.
---

[Click Banner To Learn More]
[Home Page] [The Automator] [About] [Subscribe ] [Contact Us]