---
BACnet Technologies Well Positioned for Smart Grid Initiatives















ATLANTA – At ASHRAE's Annual Conference in Louisville last week, the BACnet committee and its working groups considered how BACnet technologies can be used to aid development of standards to help Smart Grid efforts- as required by the Energy Independence and Security Act (EISA) of 2007- led by National Institute of Standards and Technology (NIST).
The BACnet committee's long-standing Utilities Integration Working Group has been engaging utility companies and working with national labs on grid related technologies like real-time pricing and automated demand response for many years. This group, which is being re-chartered as the Smart Grid Working Group (SG-WG), is well positioned to lead BACnet's efforts as the nation moves toward creating an interoperable Smart Grid.
The leader of the Smart Grid Working Group is also the leader of NIST's Building to Grid (B2G) Domain Expert Working Group. "We look forward to continuing collaboration among ASHRAE and NIST, Lawrence Berkeley National Laboratory, and other public and private industry organizations as the working group expands its focus to include all aspects of building integration into the Smart Grid, which includes not only communications with utilities and other grid service providers, but also efficient energy system management in buildings and homes," says David Holmberg, the working group's leader.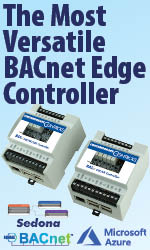 Aiding this effort is an update to the network security specifications for the BACnet protocol. The committee moved forward for publication an addendum that adds state-of-the-art digital signatures and encryption (SHA-256/HMAC and AES) to enable the creation of FIPS-compliant secure communications. This technology will be available on all BACnet media types and joins the capabilities of the certificate-based SSL/TLS that can be employed when using BACnet Web Services (BACnet/WS). Together, these technologies will serve the high security needs of the Smart Grid initiatives.
BACnet has been communicating on standard IP networks for more than 10 years now. To ensure that BACnet continues to integrate well into corporate infrastructures and to expand it into the emerging market areas enabled by ubiquitous IP networking, the committee has formed a new working group to investigate the opportunities for adopting more key capabilities and best practices from the Information Technology industry. This group will be working to facilitate the continued convergence of the IT and Building Automation infrastructures.
During the conference, the committee advanced ten addenda to final publication stage, created four new addenda for first public review, and revised six addenda for additional public review.
"With these activities, BACnet is showing its key strengths," says Dave Robin, chair of the committee. "It is both a mature technology and an ever-changing one. Driven by an open consensus-driven industry effort, BACnet always adapts to changing needs without losing the stable core that has ensured interoperability since 1995."
ASHRAE, founded in 1894, is an international organization of some 50,000 persons. ASHRAE fulfills its mission of advancing heating, ventilation, air conditioning and refrigeration to serve humanity and promote a sustainable world through research, standards writing, publishing and continuing education. For more information visit www.ashrae.org
---


[Click Banner To Learn More]
[Home Page] [The Automator] [About] [Subscribe ] [Contact Us]