---
Longwatch Enhances Video System















Improvements add "eyeballs" to HMI/SCADA systems

Norwood, MA—July 15, 2009—Longwatch added new features and functions to its Video System Version 5.0 to make it easier for users to integrate cameras in local and remote areas, combine video data with a wide variety of plant information, and enable operators to access video data from HMI terminals, cellphones or on a PC via the Internet.

The enhancements integrate local and remote video systems, using existing plant infrastructure such as fiber and wireless networks, and a distributed system architecture that delivers scalability, performance and fault tolerance. The new Longwatch Viewer and Video Historian bring a new level of data integration capability that links video with a wide variety of plant information, such as process alarms and events, maintenance messages, batch tracking and historical trends.

Video Viewing and Archiving

The new Video Historian links to the plant's HMI/SCADA system, making it possible to store video with real-time plant data, so that operators can see what happened during various events. For example, a video capture can be commanded during a batch step to record an operator's actions when adding ingredients to a reactor. The Video Historian can then play that sequence back at any time, along with images from similar batch sequences, so that engineers can analyze the differences among operators under various process conditions. The Historian can display up to four videos simultaneously. The Video Historian also features the new Longwatch Viewer which provides an intuitive and easy platform to help the user retrieve, annotate, view and analyze video and process information.

When viewing data in real time, users can command a camera from the HMI to start, pause, stop, pan and zoom. Real-time video can also be controlled based on external inputs, conditions detected in the camera image, or commands from a process control system.

The enhanced Longwatch Viewer, a web-based user Interface, allows live or archived videos to be viewed over the Internet on a PC, handheld wireless PDA or a cellphone. Improvements to the Viewer include new viewing, filtering and grouping modes.

A new Digital Video Recorder function allows a user to search on-line for any video files stored in the distributed Video Engines, the Video Control Center, or an external computer. A new Clip on Demand function enables an operator to create a video clip from Live video via a simple command on the HMI screen.

User Data Field Tagging allows a user to add tags to clips to annotate items such as equipment ID, Batch ID, etc. Tag data can be obtained easily via OPC functions.

Improved Camera Support

Longwatch expanded the number and type of IP cameras it supports. It provides Pan-Tilt-Zoom for several camera models, including Axis, Pelco and IVC; supports specialty cameras such as the A Series infrared camera from FLIR; and supports video analytics from cameras that have the capability. Video analytics means that the camera itself determines that an anomaly exists in its field of view, and it automatically tracks the object. If the camera itself cannot support video analytics, similar capability is provided in the Longwatch Video Engine.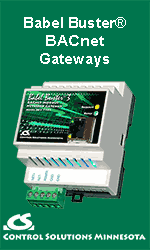 To simplify configuration of remote cameras, Longwatch added the IP Camera Toolkit. In most cases, a simple edit of two lines of command text provide the necessary configuration. Longwatch can also support any camera with H.264 video compression protocol and/or HTTP/MJPEG or RTP/RTSP-MPEG4 streaming.

A new System Integrator's Toolkit contains new ActiveX controls that support the new video capabilities of Version 5.0, including integrated Live video, DVR search and playback.

Steve Rubin, president of Longwatch, explains that the enhancements have been added as an evolutionary process: "We have video systems installed in water/wastewater, power and process control facilities, and our customers asked for these improvements," says Rubin. "Although we started out doing video surveillance, the 'data mapping' capabilities we've put into the product really make it powerful for plant monitoring, just like SCADA/HMI. Together, we've grafted eyeballs on their SCADA/HMI systems."

About the Video System

The Longwatch Video System consists of multiple cameras in local or remote locations; one or more computers running the Longwatch Video Engine software that acquires video data from up to 24 cameras per computer, stores it locally, and transmits video clips on demand or event to an HMI/SCADA system via a plant network, wireless or cellular connection; and Video Control Center software in the control room that acquires data from Video Engines, and manages the video and event database, and provides a convenient centralized point of on-line configuration and maintenance.

About Longwatch

Longwatch, Inc. was founded by industrial automation and software veterans with the goal of simplifying video delivery over existing SCADA, HMI and distributed control networks. The result is the Longwatch Video System, a portfolio of products that enables SCADA system users to view events and easily verify alarms at local and remote sites using both legacy and new networking infrastructures. The system integrates video and system alarms on the same display for fast, reliable operation and decision-making. www.longwatch.com


---


[Click Banner To Learn More]
[Home Page] [The Automator] [About] [Subscribe ] [Contact Us]