---
Updated June 11th
Honeywell Wins Best of Show Technology Award at Annual TFM Show®
MINNEAPOLIS - Honeywell (NYSE:HON) Building Solutions has received The TFM® Show's Best of Show Information Technology Award for its building automation technology platform, Enterprise Buildings Integrator(tm) (EBI). The company was recognized for having the most innovative technology product in facility management at the show. The TFM Show, a total facility management event, is an educational conference and exhibition for facility professions.
Honeywell EBI is a technology platform that integrates all building systems and subsystems, including security, digital video surveillance, access control, life safety, and heating, ventilation and air conditioning (HVAC). It provides a single point of access to monitor and control all building systems and equipment. The integration capabilities and advanced features of the EBI platform reduce energy usage and improve productivity of building operations.












For additional information, please visit www.honeywell.com. Honeywell Building Solutions is part of Honeywell's Automation and Control Solutions group. For more information about Building Solutions, access www.acs.honeywell.com.
---
International Code Council Adopts Electronic Monitoring of Fire Extinguishers
NEW YORK, NY & ROCKLAND, MA – MIJA, Inc., the makers of EN-Gauge™, the first and only multi-patented electronic monitoring capability for fire extinguishers and extinguishing systems announced that the International Code Council (ICC) voted unanimously to amend its International Fire Code® (IFC) in order to permit electronic monitoring of fire extinguishers in lieu of 30-day physical inspections. The new code language, which is endorsed by the National Association of State Fire Marshals (NASFM), does not mandate the use of electronically monitored fire extinguishers; instead it allows its use as an alternative to thirty-day physical inspections. IFC Section 906.2 was revised to include a second exception that reads, "The use of a supervised, listed electronic monitoring device shall be permitted in lieu of 30-day interval inspections, when approved." The IFC change takes effect January 1, 2005.
---
Trane C.D.S. Software Training
Model complex building geometries & systems to fine-tune the design of critical building features

Examine the program's time saving templates of construction types, weather data and more

Build schedules to control occupancy, lighting & misc. building load

Learn how to show the benefits of advanced HVAC technology on high efficiency equipment by comparing it's energy & economic benefits with those of a base system

Be smarter when choosing equipment that will provide the best comfort at the lowest cost to the building owner

Find out how to customize utility rate information & turn it into actual dollar figures when choosing a system

Earn 3.2 CEU's for completing all four classes/8 hours a day.
July 12, 13, 14 & 15th in St Paul, Mn. Contact sganschow@trane.com for further details.
---
Andover Controls Receives Supplier Excellence Award
Andover, Mass. - Andover Controls Corporation, a leading high-tech manufacturer of "Smart Building" control systems for HVAC, security management, and digital video surveillance applications, was recently presented with a "Supplier Excellence Award - Strategic Alliance" by Public Service Enterprise Group (PSEG). PSEG presented this award in recognition of superior service Andover Controls' System Integration Services (SIS) Group provided to their company, while at the same time reducing costs and achieving measurable performance results for PSEG. PSEG is a publicly traded, growing energy and energy services company headquartered in New Jersey.
For more information on Andover Controls visit www.andovercontrols.com.
---
HVAC for the non technical
We have put together a one day seminar for the person who wants to know about the systems that control the comfort we expect in the buildings we work in, without going to an 18 week course at night. It is a unique overview of the air conditioning world for those who would like to understand why HVAC mechanics are billing $89.00 an hour. The seminar is easy to understand and follow with enough information to be able to use a building automation system and be able to understand what's going on inside that building. Not technical in nature and was developed with the sales person, property manager, maintenance manager, facility staff and Air Conditioning Dispatchers in mind.
Evaluate true value of a building HVAC

Better market building space

Be able to prioritize a tenant complaint

Whether you buy, sell or just maintain buildings, this course is for you
For more information visit http://home.earthlink.net/~rriedell/hvac4u2/
---
CABA Launches New Flagship Magazine
The Continental Automated Buildings Association is pleased to introduce iHomes & Buildings as the association's new official publication. The first edition is now available at http://www.caba.org/ihomesandbuildings/ABAQ_0204.pdf
The new magazine will provide up-to-date research and information on trends and products and services within the home and building automation industry and systems integration sector. This publication will now be provided in print and online to over 30,000 industry professionals.
---
NTS Selection Makes Ember Chip Platform the Golden Suite for IEEE 802.15.4 Interoperability
Testing and benchmarking giant chooses Ember as test bench for standards compliance, performance and interoperability
BOSTON — Testing and quality assurance giant National Technical Systems, Inc. (NTS) chose Ember Corporation's 802.15.4 compliant and ZigBee™ ready hardware platform as its standard for evaluating wireless mesh networking products. This designation means Ember will set the performance, interoperability and compliance thresholds for all hardware and software built to take advantage of emerging wireless technologies such as ZigBee.
---
The 2005 World Sustainable Building Conference in Tokyo (SB05Tokyo)
27-29 September, 2005
A variety of stakeholders such as researchers, designers, engineers, officials, contractors, manufacturers, clients, users and students are
expected to attend the conference and exchange information on the latest research and activities related to sustainable buildings.
Abstract submission: June 10-September 1, 2004 only through the website http://www.sb05.com
Abstract length: within 500 words of plain text with no graphics in English.
---
CABA's Intelligent & Integrated Buildings Council (IIBC) meeting notice
The next meeting of the IIBC will be June 2nd, 2004 from 1:00 p.m. to 4:30 p.m. PDT collocated with the Realcomm 2004 conference. The meeting will be held in the Pacific Suite J room at the San Francisco Marriott.
---
Premier Gated Community Uses AXCESS Inc. RFID Vehicle Access Control System
Automatic Vehicle Identification Means "Hands-free" Rolling Vehicle Access Residents
Dallas, TX. – AXCESS International Inc. (AXCESS - OTCBB:AXSI), an RFID and digital video solutions provider for physical security and asset management announced its wireless tagging system, ActiveTag™, is being used by Pinnacle Country Club in Rogers, Arkansas to automatically control vehicle access and improve the speed of access for residents. The tagging system provides automatic identification and validation of authorized vehicles, thereby improving security and reducing the time it takes to enter and exit the facility.
---
Viconics Inc Obtains ISO 14001 Environmental Management Certification
Viconics Inc, Montreal, Canada, has announced that they have received ISO 14001:1996 certification. This standard certifies that Viconics has implemented an environmental management system which addresses key environmental issues such as energy usage, proper waste disposal, recycling initiatives, etc. Viconics is committed to protecting the environment while minimizing the usage of its finite resources. This certification is in addition to ISO 9001:2000 quality system certification that the company had already received in Jan 2003, making it one of the very few control manufacturers to have both certifications.
---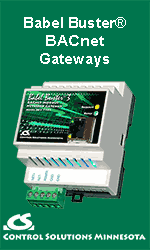 Controls: The New Wave in Lighting
Automatic lighting controls are now installed in most new buildings. Why?
Energy savings. According to New Buildings Institute, lighting controls can reduce energy use by 50% in existing buildings and at least 35% in new construction.
Productvity. According to research conducted by the Light Right Consortium, giving dimming control to occupants can result in greater satisfaction and performance on the job.
Technology. Lighting technology has continued to grow in capabilities while increasing in reliability. The current drive is toward elimination of complexity.
Want to learn more? We offer free educational resources. http://www.aboutlightingcontrols.org/
Lighting Controls Association/National Electrical Manufacturers Association
---
Sensors Web Portal
International Frequency Sensor Association (IFSA) Newsletter (ISSN 1726-6017)
http://www.sensorsportal.com
No.5 May 2004 -This monthly e-newsletter, written by the editors of Sensors & Transducers Magazine (ISSN 1726-5479), delivers the product and research news and updates you on happenings in the sensor science and industry.
---
Eagle Technology Web Site Provides Richer Experience, New Protected Customer, Dealer Sections
MEQUON, WI - Computerized Maintenance Management Software (CMMS) developer Eagle Technology, Inc. announces a complete redesign of its company website at www.eaglecmms.com. The new site incorporates bold graphics, faster uploading times, and quick access to content and downloads. The redesign features completely new navigational tools and enhanced information request forms. The newly redesigned site aims to serve plant and facility managers looking for ways to decrease maintenance costs, as well as maintenance professionals interested in how to streamline maintenance operations at work.
---
PGS Energy Training
Understand electric power, spark spreads, natural gas, "green" trading, and forward energy markets. For early June's live phone and web seminars, visit
http://www.pgsenergy.com/online/
---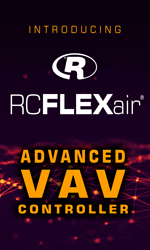 Guide to Light Measurement Solutions
Gigahertz-Optik's 2004-2005 application & product guide covers the complete program of instrumentation employed in the 'measurement of light and measurement with light'. Full specifications for UV-Vis-NIR radiometers, photometers, color meters, integrating spheres, power/noise/pulse analyzers, uniform light sources, reflectance/transmittance meters, optically diffuse materials, calibration standards and services are included. The 196-page guide contains descriptions of hand-held mobile and bench top systems designed around specific research, industrial, medical, environmental and OEM applications as well as 40 pages of tutorials. The application and product guide is provided free on demand.
---
SimplexGrinnell Launches Architectural and Engineering Partnership
SALT LAKE CITY, Utah - SimplexGrinnell announces the formation of a national team of fire and life-safety systems professionals focused on supporting the architectural and engineering community with design and specification services. The SimplexGrinnell A&E Partnership, an initiative that reflects a strong corporate-level commitment to meeting the needs of architects and engineers, was introduced at NFPA World Safety Conference & Exposition in Salt Lake City.
---
Lightswitch Wizard
The Lightswitch Wizard is a daylighting analysis tool that has been developed to support daylighting-related design decisions in commercial buildings during an early design stage. The tool offers a comparative, reliable, and fast analysis of the amount of daylight available in single offices and classrooms as well as the lighting energy performance of automated lighting controls (occupancy sensors, photocells) compared to standard on/off switches. Blinds are either manually or automatically controlled. Predictions are based on pre-calculated RADIANCE simulations which are coupled with an empirical model that mimics manual lighting and blind control.
For more information visit http://www.buildwiz.com/lightswitch/
---
Computex Taipei June 1-5 2004
Jungo will be showcasing its OpenRG software platform for residential/SOHO gateways, voice gateways and wireless devices. Jungo will also feature a technology preview of its RG-TV embedded software platform for multimedia appliances including video streaming, digital media server, time shifting and PVR.
---
SMC Introduces the EMY2 Electric Rodless to its Family of Guided Actuators
Tustin, CA – SMC Corporation, the world's largest manufacturer of pneumatic automation products has announced the release of the EMY2 electric guided slide table actuator. The EMY2 combines the smooth operation, flexibility, and high positioning accuracy of a stepper motor actuator with the quick setup, simple actuation, and low cost of its pneumatic equivalent. The EMY2 features a user-friendly control box for manual operation, and can be actuated using just two PLC outputs like a solenoid valve--one for move left, another for move right, and both for move to center. It also provides four status outputs and five LEDs for at-a-glance visual indication. Magnetically triggered hall effect sensors can also be mounted along the length of the actuator for additional position verification.
---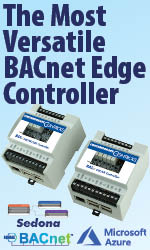 Seventh International Conference On Multi-purpose High-Rise Towers and Tall Buildings
The Seventh International Conference International Federation of High-Rise Structures (IFHS) will be held in Dubai, in the United Arab Emirates (UAE), March 14-16, 2005. The Conference will provide the opportunity to promote and explore various developments in the design, and construction of High-Rise Towers and Tall Buildings, at present and in the future.
---
New CD Tools from Siemens
BUFFALO GROVE, Ill. Siemens Building Technologies, Inc.has developed two new CD tools to help customers understand variable frequency drive (VFD) technology and provide a simple method of calculating harmonic voltage and current distortion when using VFDs in building applications.
The VFD "A to Z" TM CD-ROM is an educational tool that explains Siemens SED2 VFD capabilities. It includes multimedia presentations and technical training videos on the SED2 family of products, conventional and e-bypass options, harmonics basics, and a documentation library. The SED2 Harmonee TM - Harmonics Calculator Tool CD is a powerful harmonics analysis tool that provides comparative and critically important data on the full harmonic spectrum and harmonic order values. It compares expected results with worldwide harmonics standards including IEEE519-1992 and gives the user the ability to compare harmonics generated by other comparable 6- pulse drives versus the Siemens SED2 VFD product family. It also compares conventional drives with and without the use of filtering devices to reduce harmonics such as line reactors.
Both CD tools are available at:
http://www.sbt.siemens.com/hvp/components/requestlit/
---
Perth Public Transport Authority Selects Honeywell For Urban Rail Safe Project
Honeywell Digital Video Manager(tm) at core of Centralised CCTV Monitoring System
SYDNEY - Honeywell (NYSE:HON) Building Solutions announced that it has received a $7.1 million order from the Public Transport Authority of Western Australia (PTA) for the design and construction of a centralised closed circuit television (CCTV) monitoring and digital recording system for Perth's urban railway network. The new system is part of the Western Australian Government's multi-million dollar TrainSafe Program to increase patron confidence in safety and security when traveling on Perth's urban rail network. The order will see Honeywell connecting to 800 cameras across the network within the next 12 months, providing 24-hour, live vision to a monitoring room staffed by three to six officers based at a central, secure location.
For additional information, please visit www.honeywell.com.
---


[Click Banner To Learn More]
[Home Page] [The Automator] [About] [Subscribe ] [Contact Us]