---
Trend's TouchView-W Combines Wireless Monitoring with Sophisticated Technology and Intuitive Interface
Redmond, WA (June 27, 2011)—Trend Control Systems USA (www.trend-americas.com) today launched the TouchView-W, a BACnet®- based communicating sensor-controller with built-in humidity sensor and an integrated wireless receiver. The wireless receiver communicates to different combinations of sensors for occupancy and detection of doors and windows, and reports directly to preloaded applications. The TouchView-W offers incredible value with several input and output (I/O) points, 11 pre-programmed applications and an intuitive interface.

"The TouchView-W's factory-loaded applications and I/O combination—along with its built-in humidity sensor—are designed to fill a building owner's most common needs," said Gene Jarvi, Trend's product marketing manager. "Its flexibility and easy use makes the Touchview-W a particularly ideal tool for anyone who wants simple, cost effective control of their environment."
The addition of the wireless receiver to Trend's traditional TouchView controller minimizes installation costs of the physical install of the product by eliminating the need for multiple wire runs. Eleven pre-loaded applications simplify programming and engineering time while enabling additional energy savings. The decrease in both wiring requirements and programming efforts reduces commissioning times and increases cost savings for building owners.
As a configurable controller, the TouchView-W is ideally suited for specific and common jobs. Each application supports passive infrared (PIR) and Space Temperature setbacks, making the TouchView-W the perfect solution for any installation users require an easy-to-use interface to control their environment, including retail, restaurants, offices, dormitories, apartment homes and many more.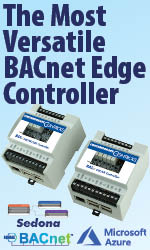 The TouchView-W is Trend's answer to a simplified direct digital control (DDC) system for small buildings. It can be installed as a stand-alone solution, or users can network multiple TouchView–W units to form a simplified, centralized DDC system with Trend's 963 Supervisor at the front end. The TouchView–W operates and schedules independently, and, when the timing is right, can be brought online as part of a BACnet communicating system.
The TouchView is available through authorized Trend Technology Centers (TTCs). For product ordering and technical information, contact your local Trend TTC, call Trend at 425.897.3900 or visit www.trend-americas.com.

About Trend Control Systems
For more than 30 years, Trend Control Systems www.trend-americas.com has offered reliable, easy-to-use products that support the life of any building and reduce life-cycle costs. With a worldwide distribution and support network in more than 50 countries, Trend Control Systems solutions easily integrate into other building systems, including lighting, fire and security/access. Trend Control Systems products include a complete line of fully programmable controllers containing both onboard web technologies and the standard BACnet protocol. For more information, visit www.trend-americas.com.









---


[Click Banner To Learn More]
[Home Page] [The Automator] [About] [Subscribe ] [Contact Us]