---
Alerton Releases Version 1.1 of Envision for BACtalk
New Version Supports BACnet Multi-state, New Breed of Modular Alerton Controllers












Redmond, WA - Building automation pioneer Alerton (www.alerton.com) announced that version 1.1 of its Envision for BACtalk software is now available. Envision for BACtalk is operator workstation software for building automation systems. Alerton added support for multi-state objects and made enhancements for tighter integration with its recently released BACtalk control modules (BCMs) and VLX. The BCM is a modular router and global controller solution for open systems, and the VLX is an expandable field controller with scalable input and output modules.
In addition to the support for new Alerton products, the development team updated key features to work with BACnet multi-state objects. According to Bob Thomas, the site head for new product development in Redmond, updated features include Alerton's custom data displays, data backup and restore, and zone scheduling. Unlike analog values, which vary in a numerically predictable way, and binary values, which are either on or off, multi-state objects generate a series of values based on a device's logic. Envision for BACtalk 1.1 is available now through authorized Alerton dealers.
For further information and materials:
http://www.alerton.com/Products/BACtalk/Management_Level/ebt.asp
---
Alerton Debuts BACtalk Control Modules:
Modular Design for Open Systems Applauded as Unique in Building Automation Industry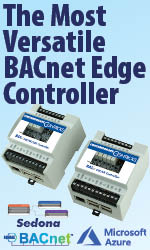 Redmond, WA - Building automation systems pioneer Alerton officially announced the release of its BACtalk control modules (BCMs), which the company rolled out at the International Air-Conditioning, Heating and Refrigerating Exposition in Anaheim, CA on January 26, 2004.
The BCM offers a scalable, modular global controller and router solution for BACnet building automation systems. The modules mount to a 35mm DIN-rail and connect to one another in series with a ribbon cable, simplifying hardware installation. Up to seven integration and control modules can be combined in series with a single power supply module, the BCM-PWS.
BCMs available on initial release include the BCM-ETH, which supports a single BACnet Ethernet and a single BACnet MS/TP network; the BCM-MS/TP, which supports a single BACnet MS/TP network; and the BCM-MDM, which offers a pre-configured V.90/56K modem for alarm dial-out and remote operator workstation connectivity. Modules for integration to other protocols and network types are currently under development. BCMs for Ethernet and MS/TP connections are BACnet/IP compatible, enabling automation system interoperability throughout enterprise networks and wide area networks (WANs). BCMs are available now through authorized Alerton dealers.
For further information and materials www.alerton.com/Products/BACtalk/Integration_Level/bcm.asp
---


[Click Banner To Learn More]
[Home Page] [The Automator] [About] [Subscribe ] [Contact Us]