---
Tour Andover Controls Introduces Andover onSiTE™ Solution for Small Buildings












System brings energy savings, lighting efficiency, and Web monitoring to chain retailers and small offices
DALLAS – Tour Andover Controls, a world leader in building automation, security systems and energy solutions, introduces Andover onSiTE, a pre-packaged, web-based control solution for small buildings. The system is designed to bring energy savings, lighting efficiency, and the convenience of web-based monitoring to owners of multiple, similar properties, such as chain stores, branch offices, and small office buildings. With Andover onSiTE, owners of smaller facilities experience the benefits of a comprehensive building and energy management system that are usually reserved for large buildings.
Andover onSiTE has built-in functions for heating, ventilating and air conditioning (HVAC) control, lighting control, and power monitoring. The product family includes a building controller, a network of thermostats and remote sensors.
Using Andover onSiTE, up to 32 SiteStat® model thermostats can be networked to a single controller for gas, electric or heat pump applications. SiteStats are compatible with most HVAC equipment, and easily retrofit old wiring applications. Operators can schedule thermostat temperature setbacks by day, night, day-of-week, or date, and even define holiday and weekday temperature schedules for the entire year. The system can also limit occupants to adjust the temperature within a limited range of degrees to reduce thermostat tampering. Temperature setbacks start automatically as soon as a building alarm is armed, and parking lot lights can be turned on and off at sunset and sunrise all year long.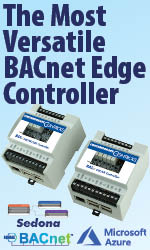 The Andover onSiTE controller allows operators to monitor and control building functions remotely using a standard web browser. Remote scheduling, setpoint changes, alarming, built-in reporting, and graphical trends are all available via the Web. The controller installs using simple wiring diagrams and no additional software is necessary to complete the installation.
Additional information about Andover onSiTE can be found at www.andoveronsite.com.
About Tour Andover Controls
Tour Andover Controls' parent company, Schneider Electric, is the world's leading specialist in power and control. With the acquisition of Andover Controls by Schneider Electric in August 2004, TAC and Andover Controls combined to create the foundation for Schneider Electric's growth platform in the building automation industry. The company also recently acquired Abacus Engineered Systems, a leading provider of facility energy solutions and consulting engineering services. Tour Andover Controls provides added value through building services for indoor climate, security and use of energy, delivered with advanced technology and integrated solutions for building IT. The new combined company has 2,700 employees worldwide with partners and branches in 75 countries. More information is available on the Internet at www.tac.com and www.schneider-electric.com.
---

[Click Banner To Learn More]
[Home Page] [The Automator] [About] [Subscribe ] [Contact Us]