---
Contemporary Controls R&D Manager Speaks on the Benefits of Managed Ethernet Switches at the Building Automation Conference 2007











R&D Manager Bennet Levine Discusses How Important Managed Features Such as Rate Limiting and Others Play in Building Automation Systems
Downers Grove, Illinois (March 12, 2007) Managed Ethernet switches add up to big benefits in building automations systems (BAS). That's the key point of a presentation given by Bennet Levine, R&D Manager for Contemporary Controls, at the Building Automation Conference 2007 in Baltimore, MD, March 21st 22nd. Levine is among two other presenters who will speak on March 21st in Track 1–Session 1 beginning at 10:30 a.m., focusing on managing technology.
Levine says in today's changing BAS market, managed switches offer engineers more benefits as an effective solution unlike Plug-and-Play (PnP) switches. "Although PnP switches provide many features for Ethernet networks such as full duplex communications, auto-negotiation, auto-MDIX, etc., many users are finding that the features of managed Ethernet switches help BAS to better integrate into IT networks . This is becoming more important as Ethernet continues to grow in importance in building automation systems and that much of BAS Ethernet communications occur over the facility's IT network."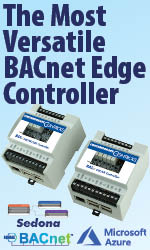 In his presentation titled, "Benefits of Using Managed Ethernet Switches in Building Automation," Levine will examine these managed features in detail and their importance plus illustrate examples of specific ones. The features to be discussed include configurable network parameters, SNMP, port mirroring, VLAN, redundancy, QoS, fault relay, trunking, rate control, port locking, and configuration methods & network diagnostics.
Levine will also briefly review the company's www.basautomation.com web site dedicated to building automation issues relative to networking.
He will conclude his talk by informing conference attendees about additional online material relating to Ethernet technology. The virtual Industrial Ethernet University (IEU) offers objective, content-rich education on Ethernet, especially as it relates to installations on machines and in factories. Levine will mention that any student or professional may visit www.ieu.cc to sign-up. The curriculum has 19 courses referring to Fast Ethernet, the Spanning Tree Protocol, Hubs vs. Switches, Fiber Optics, Real-Time Ethernet and much more. Best of allthere is no cost involved.
In addition, Levine will mention the "ABCs of Ethernet Technology" which were published to help customers understand the key principles behind how their Ethernet network functions. These documents may be found by visiting www.ctrlink.com/abcs_of_ethernet.htm. Levine will stress that as time goes on, more documents will be published to share new knowledge and broaden the company's presence as a resource for learning Ethernet technology.
---


[Click Banner To Learn More]
[Home Page] [The Automator] [About] [Subscribe ] [Contact Us]