---
Lantronix EDS4100 Evolution Device Server Makes it Simple for IT Administrators to Manage M2M Devices
M2M crosses into the data center as IT departments become responsible to manage device assets











IRVINE, Calif., May 2, 2006 – Lantronix, Inc. (Nasdaq: LTRX), a leader in device networking and data center management technologies, today announced the EDS4100 (Evolution Device Server), the first device server making it possible for IT-certified administrators to connect non-traditional IT equipment to corporate networks. As the world of machines cross into the data center, Lantronix EDS4100 incorporates the new Lantronix Evolution™ Operating System, which provides the highest levels of security available, standards-based protocols and a powerful development platform that allows for unlimited control of attached equipment and customization opportunities.
"Machine-to-machine communications provides customers the ability to capture data immediately without manual intervention and can dramatically improve business efficiencies while streamlining operations. While a wide range of industries have taken advantage of network-enabled equipment on the factory floor, in the healthcare environment, or for purposes of enhancing public safety, the next evolution of machine-to-machine communications is the integration of devices to the corporate IT infrastructure," said Marc Nussbaum, CEO of Lantronix. "As the first in a series of enterprise-grade infrastructure solutions from Lantronix, the EDS4100 breaks new ground, providing customers the solutions to build easily managed, large-scale device networks."
The Lantronix EDS4100 allows IT professionals to connect non-computer devices with the same protocols used to connect traditional networking equipment, such as servers, routers and switches. It includes an extensive suite of enterprise-grade, open standards-based security such as SSL 3.0 and SSH2 encryption protocols ensuring the newly connected devices do not become a source of vulnerability to the existing network. The new device server also incorporates "Cisco Like" Command Line Interface (CLI) capabilities. Since a majority of network engineers are familiar with the Cisco CLI, IT professionals can add and configure device servers to existing networks quickly and easily. This simplifies the integration of device data to enterprise backend systems and with a full functioning web server and SNMP (Simple Network Management Protocol), the EDS4100 provides maximum flexibility for configuration.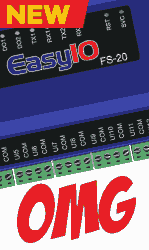 The EDS4100 comes equipped to support XML and RSS for configuration and information transport. Specifically, XML is useful for backing up and restoring configurations, which can be easily changed and distributed to multiple devices making the EDS4100 easy to maintain on a corporate network. With RSS capabilities, the EDS4100 allows for customers to monitor logs created on the device server.
"Our products have catered to OEMs and engineers for a number of years and continue to be an ideal solution for adding device networking capabilities," said Mark Prowten, senior product marketing manager for Lantronix. "With the increased features and the availability of the Evolution software development kit, we have provided the opportunity to get creative and customize the EDS with different applications."
The EDS4100 is fully IEEE 802.3af PoE (Power over Ethernet) compliant, which can dramatically lower overall material and installation costs. In addition, EDS4100 is RoHS-compliant. Mandated by the European Parliament and Council of the European Union, RoHS (Restriction on Hazardous Substances) requires that manufacturers reduce the usage of certain substances in electrical and electronic equipment by July 2006.
The EDS4100 will be available worldwide in June 2006 through Lantronix partners and distributors. For more information, please visit: http://www.lantronix.com/device-networking/external-device-servers/.
---


[Click Banner To Learn More]
[Home Page] [The Automator] [About] [Subscribe ] [Contact Us]