---
LONMARK Dominates BuilConn's Buildy Awards











Palm Springs, CA—May 24, 2006—Winning top honors this year, LONMARK International received the Best Building "Buildy" for the Boeing Long Beach Assembly facility at the fourth annual BuilConn® event, held May 16-18, 2006, in Palm Springs, CA. Buildy award winners are chosen by their peers in an open ballot and celebrate the most progressive building technologies and endeavors supporting the vision of whole building integration. LONMARK® members took home Buildy honors in the categories of Best Building, Best Integration Project, and Visionary of the Year.
Best Building - Boeing Long Beach Assembly
The facility is reaping the benefits of LONMARK open systems with a highly integrated and ever-expanding project. The project saves Boeing tens of thousands of dollars annually by incorporating more than a dozen different manufacturers' products integrated into several buildings on the campus. The Boeing facility includes lighting, HVAC, security, fire/life safety, energy management, and occupancy in one fully integrated system using off-the-shelf LONMARK-certified devices.
A unique feature of the user interface is a real time, running tally of the energy consumption savings since Boeing installed the first LONWORKS® system upgrades several years ago. Jeff Haberman, Boeing facility project manager, noted that he and his entire team are extremely honored to receive the Best Building award. He considers the Boeing facility to be an exceptional showcase of the LONMARK community and is a testament to the plug-and-play philosophy that makes whole building integration a reality.
Best Integration Project - University of North Carolina-Chapel Hill
This year's winner of the Best Integration Project went to Cyrus Technologies, a LONMARK Associate based in Ft. Lauderdale, FL, for the University of North Carolina-Chapel Hill project. George Huettel, President of Cyrus, current LONMARK Americas board member, and recent board chair, accepted the award on behalf of his team. The extensive project integrates the campus control system into the IT backbone using open standards such as web services, XML and SOAP. The project will incorporate emerging standards such as oBIX for building XML as they become finalized. The oBIX technical committee is chaired by Toby Considine, UNC Chapel Hill's IT manager and Cyrus' main supporter. When asked about the LONWORKS integration proposal from Cyrus, Considine replied that he wanted only an open system on his campus, nothing closed or with a vendor lock. LONWORKS provided him with the best possible option.
Vision - Jack McGowan
Jack McGowan, President of New Mexico-based Energy Control Inc. and longtime LONMARK member, is this year's winner of the Vision award, an honor bestowed upon an industry professional who best demonstrates a vision of whole building integration and interoperability through advocacy, promotion, educational and training endeavors.
Energy Control has many LONWORKS projects to their name, but one of the biggest for them is the New Mexico State campus where they have been helping the facilities group with ongoing campus enhancements to help reduce rising energy costs. Naturally, the university wanted an open system and LONWORKS is a crucial part of their plan. McGowan has long been a leader in the marketplace and expert in the benefits of open control systems and is well known for his lectures on energy cost savings, system engineering and design.
Several other LONMARK projects and members were selected as finalists: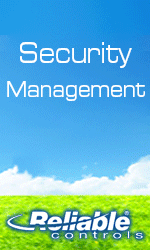 Control Technologies Inc. was honored for the New York City Schools' "Children First" project, one of the largest ongoing LONMARK integration projects in the world. NYC Schools manages over 1600 buildings, most of which are still running pneumatic systems. When NYC Schools wanted to upgrade these antiquated systems, they saw the need for an open standard and turned to LONMARK for guidance. Now they have multiple competitive bidders for each building project, all using a standard LONWORKS architecture and infrastructure design. In a secondary contract, they have embraced the "Facility Master System Integrator – FMSI" concept, where one contractor is handling the integration of all of the various buildings into their enterprise management system. Control Technologies of Burlington, VT, won a three-year contract to provide the integration, develop the front-end graphics standards, guide the commissioning process, and interface with NYC Schools' massive IT infrastructure. According to Bill Benson of NYC Schools, the cost benefits are substantial. No longer are they locked into a single, sole source vendor for every building. They can bid each project independently, but have a common mechanism for remote monitoring, control, diagnostics, and alarming. Terry Reynolds, a partner with Control Technologies and LONMARK Americas board member, commented that by helping NYC Schools reap the benefits from this two-tier spec, they will enjoy tremendous flexibility, cost savings, and long-term benefits.
LONMARK International was selected as a finalist for the Initiative award for the LONMARK Open Systems Certification Testing program. The program, which will roll out later this year, is focused on creating a benchmark for qualified system integrators and installers. The certification program mirrors several other certification programs in other industries where individuals can add different levels of capabilities to their resume. There is a growing need for education in the marketplace to help deliver more qualified integrators. This is the first step in a long-term plan that will include advanced and specialty certifications and could also include training programs and company-level certifications.
With five top honors this year, LONMARK is hot on the trail of winning the minds and hearts of the industry.
About LONMARK International
Since its inception in 1994 and new corporate structure in 2003, LONMARK International has become a major driving force in the establishment of interoperable guidelines for building, industrial, transportation and residential/utility automation. LONMARK International is committed to educating the market on the value of open, interoperable systems and provides tools, resources, and support for its members. LONMARK affiliates span the globe with local presence in the Americas, Asia, and Europe.

LONMARK International has over 350 member companies worldwide. LONMARK membership is open to any manufacturer, distributor, engineer, system integrator, or end-user interested in the development, specification, and use of open, interoperable products utilizing ANSI/CEA 709.1 and related standards.

Products that have been verified to conform to the LONMARK interoperability guidelines are eligible to carry the LONMARK logo. More information can be found at www.lonmark.org.
---


[Click Banner To Learn More]
[Home Page] [The Automator] [About] [Subscribe ] [Contact Us]