---
Frost & Sullivan Lauds Richards-Zeta's Revolutionary Building Management Platform











Palo Alto, Calif. — May 1, 2007 — Based on recent research in the building automation systems market, Frost & Sullivan has selected Richards-Zeta (RZ) as the recipient of the 2007 North American Frost & Sullivan Award for Product Innovation.
This Award is in recognition of the company's radical Mediator platform, which simplifies connectivity and integration in buildings. The product is distinctive for its fluid and open communication capabilities for building intelligence systems. By employing IP, the Mediator enables two-way communication over a TCP/IP network among controls, sensors, devices, and systems within a facility.
RZ has only one agenda – to open up building automation systems by using the interoperability of its technology. As it aims to offer new technology based on the needs of system integrators, RZ has created open sourced systems as defined by the Information Technology (IT) industry, providing a gateway for converging all data to an IP platform for seamless information sharing.
Preparing for technological evolutions in building systems, RZ has based its products on standards as proposed by IT. This has enabled the company to not only to normalize all data – proprietary as well as open – into one single standard that is accepted globally, but also leverage from third party applications such as HTML, XML, and Flash for building control applications.
"RZ's Mediator is a PC running on a Linux operating system that has hardware and software embedded in a single package for easy adaptability," says Frost & Sullivan Research Analyst Jorge Moreno. "The software is vital to the functionality of the Mediator, which is designed to interpret data and convert it into one universal protocol providing information to users for timely decisions making."
The Mediator collects data from various sources, which use disparate protocols, and converts all that information into a format such as XML. This method enables it to integrate into a user's existing infrastructure and helps the client to leverage all existing assets in the building.
This platform offers tremendous value to clients that cannot afford to replace their infrastructure and is a big help to facility managers, as it enables them to consolidate sub-systems into one comprehensible system. "RZ developed event management, alarm management, graphing, and user administration tools that are embedded in the Mediator architecture," notes Moreno. "These are brand new features, but use the same open source configuration RZ's customers have come to rely on."
With the event manager alarm tool, an operator can analyze and reveal the time, place, and source of an alarm trigger. This information, which is accessible through a web browser, clarifies whether the source of the alarm was due to a dirty filter, high CO2 exposure, or failing AC system and helps operators to act accordingly.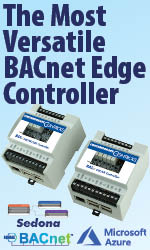 Meanwhile, the Log browser feature configures node paths into a Microsoft Excel spreadsheet. This tool makes it easier for operators to view and adjust various attributes such as return air temperatures, kilowatt-hours, and space temperature without the need for any special software.
Each year Frost & Sullivan presents this Award to the company that has demonstrated excellence in new products and technologies within their industry. The recipient company has shown innovation by launching a broad line of emerging products and technologies.
Frost & Sullivan Best Practices Awards recognize companies in a variety of regional and global markets for demonstrating outstanding achievement and superior performance in areas such as leadership, technological innovation, customer service, and strategic product development. Industry analysts compare market participants and measure performance through in-depth interviews, analysis, and extensive secondary research in order to identify best practices in the industry.
About Richards-Zeta (RZ)
Richards-Zeta Building Intelligence, Inc. (RZ) possesses over 20 years of BAS (Building Automation Systems) expertise, which is not only essential to understanding the market opportunity posed by migrating building systems to an IP centric solution, but is also critical to the development of this multi-billion dollar industry. RZ is a manufacturer of a complete line of DDC Controls as well as the RZ Mediator Multi-Protocol Exchange (MPX) platform which, as middleware, provides for the convergence of multiple disparate building systems onto the IP network. Richards-Zeta has a legacy of first to market innovations, including perfectHOST®, the industry's first all in one graphical programming and graphical user interface package, now an integral component of the Mediator's OMEGA® platform, a web-based graphical user interface. For more information on Richards-Zeta please go to: www.richards-zeta.com.
---


[Click Banner To Learn More]
[Home Page] [The Automator] [About] [Subscribe ] [Contact Us]