---
TAC Announces Access Controllers for the Andover Continuum Line to Meet Worldwide Demand for Elevated Security











BOSTON - April 24, 2007 - TAC, a leading provider of open, integrated systems for building automation, has announced the ACX Series controllers – the industry's most powerful, all-in-one access controllers designed for both critical government and public sector security applications. This is the latest in a series of Andover Continuum™ product introductions designed to address the growing worldwide demand for elevated security solutions.
"The ACX Series is a competitively priced and flexible access control system for any building," said Jon Williamson, senior product manager for TAC. "In addition, it provides advanced security features for commercial and government building owners who are concerned with enhancing their security measures."
The ACX Series provides access control for one to eight doors over the Ethernet and supports up to 480,000 personnel records. The controllers are web-enabled for distributed applications and easy installation and control.
"The new ACX Series is part of a major initiative by TAC to deliver elevated security levels to the marketplace in response to customer demands and emerging government standards," said Williamson. "TAC launched this effort in December 2006 with the introduction of the latest Andover Continuum software, and the Netcontroller II – an enhanced network-managing controller. With the addition of the ACX Series, building owners now have a flexible, modular system that offers heightened security in a number of areas."
With the ACX Series, users have the ability to:
• Adjust access rights automatically when condition or threat levels change. The condition level may be set manually at a workstation or automatically through program control.
• Lock down areas in response to potential threats, including sealing off areas, disabling card readers and other measures. Lockdown can be initiated manually or automatically.
• Apply encryption via 192-bit Internet Protocol Security (IPsec) and Internet Key Exchange Protocol (IKE) to ensure tamper-proof communications between Andover Continuum controllers and workstations.
Along with the other recent Andover Continuum introductions, the new ACX Series is designed to conform to new U.S. government standards under Homeland Security Presidential Directive 12, and the related Federal Information Processing Standards (FIPS) 201.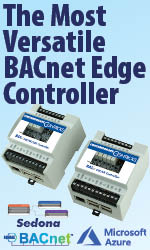 "The FIPS 201 project is the U.S. government's effort to combine physical and logical security, with the goal of dramatically increasing the security of issuing credentials to employees," said Rich Anderson, president of the security consulting firm Phare Consulting, who worked with TAC in developing its elevated security offerings. "In meeting the requirements of this standard, TAC is at the forefront of delivering a state-of-the-art, standards-based security solution to the general marketplace."
According to Anderson, FIPS represents the first time there has been a uniform standard for millions of badges covering both building access and computer login. "As a result, I expect an open standard similar to this one to be widely adopted by commercial building owners in response to growing concerns about security," he said.
Williamson said that TAC is continuing to develop elevated security solutions and will announce additional new products later in the year.
About TAC
TAC is a leading provider of building automation solutions based on Open Integrated Systems for Building IT. TAC's mission is to provide added value through building environment services for indoor climate, security and use of energy, delivered with advanced technology to end users and property owners throughout the world. With over 80 years of experience in the HVAC, building automation and security arenas, TAC employs more than 5,000 people worldwide, with partners and branches in 80 countries. TAC's parent company, Schneider Electric, is the world leader in automation and electricity management, with 105,000 employees worldwide and operations in 190 countries. For more information visit www.tac.com.
---


[Click Banner To Learn More]
[Home Page] [The Automator] [About] [Subscribe ] [Contact Us]