---
Contemporary Controls - Handy Info Sheet Simplifies Ethernet Redundancy












Downers Grove, Illinois - Redundant Ethernet is needed in any situation where a network failure could bring extreme environmental, safety or financial consequences. To help automation engineers navigate the complexities of Redundant Ethernet systems, Contemporary Controls has published The Ethernet Redundancy Info Sheet. This document condenses a complex subject into a one-page document with color illustrations and simple bullets, covering the most important points. The Ethernet Redundancy Info Sheet shows Trunking, Mesh and RapidRingÔ topologies and explains the pros and cons of each form of redundant backup system.
The Info Sheet answers other important questions, including:
Definitions of redundancy and details on various implementations, including Spanning Tree Protocol and Rapid Spanning Tree Protocol; Ring Networks and Trunks

How network faults are sensed and corrected

Network recovery time and important factors that influence it

A simple chart that compares the different topologies and technologies
The Info Sheet is a great tool to keep in your desk or in a folder on your PC, and it is available for FREE instant PDF download. To obtain a copy, visit www.ctrlink.com/abc3.htm.
---
Interview: Networking Guru Eric Byres on Industrial Security, Organized Crime, and the Battle Between Automation and IT
Downers Grove, Illinois - Eric Byres of the British Columbia Institute of Technology (BCIT) Internet Engineering Lab reports dramatic changes in security issues that now face control engineers. In a recent interview, Byres said, "We have not started to take security seriously in this industry at all. There are a lot of reasons hackers might target industrial operations. Some of it is just because they could. People can do things like cause difficulties with your environmental procedures and operations, so they can sell your stocks short."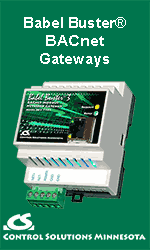 Byres notes that the cause of security problems is shifting from individual hackers and malcontents to organized crime, a much more formidable opponent. Increasingly these forces are the source of viruses. Byres adds, "And with Slammer, Nimad, Code-Red and Blaster, you do not even have to have e-mail running."
Byres discusses friction between automation departments and IT departments; two essential security technologies that must be employed by controls engineers; and the necessary conditions for getting budget approval for such measures.
Other topics in the interview include:
Corporate blackmail and extortionwhy industrial firms should be concerned

Ethernet making its way to the Sensor level

Reliability and software upgrade standards in IT vs. other segments of industry

The crucial differences between ordinary and industrial Ethernet switches, based on extensive testing: why "Performance" is not the thing you should be most concerned with
The interview is available for free download at www.ccontrols.com/byres.htm.
On the website, readers can also subscribe to the Contemporary Controls Extension Newsletter, which in past issues has featured interviews with industry luminaries like Dick Morley and Jim Pinto.
---


[Click Banner To Learn More]
[Home Page] [The Automator] [About] [Subscribe ] [Contact Us]