---
Tridium Delivers Increased Performance and Flexibility with Release of NiagaraAX®3.1
Latest software release includes new enhancements and expanded feature functions that offer users additional flexibility and increased performance











RICHMOND, Virginia—November 13, 2006. Tridium Inc. today announced the availability of NiagaraAX 3.1, an enhanced version of the company's industry leading Niagara Framework®. This new version gives users even more flexibility and more tools to further reduce the complexity and cost of building Internet based automation systems and device-to-enterprise applications.
With the release of NiagaraAX 3.1, Tridium continues driving device to enterprise automation software applications. The NiagaraAX comprehensive software infrastructure allows companies to model the data and behavior of diverse devices in a uniform way and make it easy to connect them to enterprise applications. This makes it possible to provide a normalized, seamless view of data from different systems greatly enhancing the user experience and enabling interoperability among different systems.
NiagaraAX 3.1 extends the library of pre-built tools in the current version of NiagaraAX and adds several expanded features including:
● Support for the Niagara Security controller, a 16-door access control appliance
● The addition of a provisioning tool that allows administrators to perform management tasks against entire networks of devices all at once instead of with each device individually
● Upgrades and improved performance of BACnet and LON communications protocol applications and tools
● Charting capabilities that makes it easier for users to interpret collected data and compare several histories on a single chart in multiple forms including line graphs as well as bar, area and pie charts
● Support for oBIX, the industry-wide initiative to define XML and Web services- based mechanisms for communications between building control systems and enterprise software applications
In addition to the NiagaraAX 3.1 software release, Tridium has also made several memory enhancements to its highly successful family of JAVA Application Control Engines (JACEs) to support the new release. The company's JACE-2, JACE-4 and JACE-5 series platforms are now available with increased RAM and Flash memory options. These new memory resources will allow users to handle more devices, more objects and larger databases.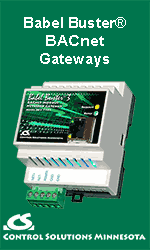 "With version AX 3.1, we continue our commitment to add value to the overall Niagara Framework, said Marc Petock, director of marketing for Tridium. These enhancements and expanded features are important additions to the Niagara platform and offer tangible benefits to our customers further cementing our leadership position in the device to enterprise automation software."
About Tridium Inc.
Tridium, a global software and technology company, is the inventor of the Niagara Framework®, a software framework that integrates diverse systems and devices - regardless of manufacturer, or communication protocol - into a unified platform that can be easily managed and controlled in real time over the Internet using a standard web browser. Niagara is an extensible platform that supports the rapid development of a wide range of Internet-enabled products and device-to-enterprise applications.
Manufacturers adopt the Niagara Framework technology to move their products to the web, reduce development time, migrate legacy systems, develop new service offerings, and open up new markets. System integrators use Niagara products to provide true open solutions without regard for specific protocols, products or technologies. Today, there are over 50,000 instances of Niagara operating in over 6,000 installations worldwide in applications that include: energy management, building automation, M2M, telecommunications, security automation, lighting control, maintenance repair operations (MRO), service bureaus, convergence retailing and total facilities management – all realizing improved operational efficiencies, reduced costs and greater returns.
Tridium markets its products to value-added resellers, original equipment manufacturers and a network of Tridium Systems Integrators. The company is an independent business entity of Honeywell International Inc. Additional information about Tridium is available at www.tridium.com.
---


[Click Banner To Learn More]
[Home Page] [The Automator] [About] [Subscribe ] [Contact Us]