---
ELUTIONS launches new Wizcon Supervisor 9.3
Major new features enable tighter integration to the enterprise Information Systems infrastructure and to video-based security systems











LYON, France and NUREMBERG, Germany – November 28, 2006 – ELUTIONS, the premier provider of wireless enterprise automation solutions, today announced the launch of Wizcon Supervisor 9.3, the newest version of its process automation software, at the SPS/IPC/Drives show in Nuremberg, Germany. The Wizcon Supervisor suite, which includes the new version SCADA/HMI application Wizcon® 9.3, is enhanced with many new features that improve application development productivity, extend integration with Enterprise Information Systems, and increase core platform performance and security. In particular, this release provides two major new features for secure integration into enterprise IT systems and for video security in facility management.
Integration with Enterprise Information Systems
Wizcon Supervisor now integrates support of Active Directory / LDAP, which gives administrators the option to use their IT infrastructure to control login to Wizcon applications, instead of only a Wizcon-managed local login control. This enables all user profile and authorization data to be centralized on one main database, thus providing a more secure and error-proof user management system.
Integration with Video-based Security Systems
A powerful new video management module enables building and facility managers to integrate video streams into their Wizcon application. A technical and marketing cooperation with Genetec Inc., a leading IP Security Solutions provider for homeland, public, enterprise, and process security, allows Wizcon 9.3 to interface with Genetec's Omnicast™ IP Video Surveillance Solution, to handle video streams and alarms as well as remote configuration of the video system. The Omnicast solution is fully integrated within Wizcon's UI, thus enabling easy control and visualization of video streams for Security and Access Control in facilities. Omnicast is the ideal solution for organizations requiring a unified management of security video, audio and data via IP networks using Wizcon Supervisor.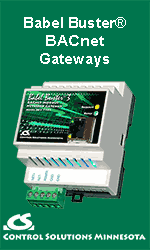 The combined offering provides excellence in Video Management extending Wizcon's natural capabilities, does not impose hardware (free choice of cameras, IT infrastructure), allows smooth transfer to full digital video management (camera, archive, matrix,…), features fast installation, enables a scalable and secure system, and eases premise management and maintenance through a single Wizcon user interface.
4th generation BACnet integration
Already the industry's most advanced software solution for the Building Automation industry, with a complete offering of drivers for standard protocols such as EIB/KNX, LonWorks and BACnet, Wizcon Supervisor further distances itself from competing products with a new set of BACnet integration enhancements. With an exceptionally high conformance to the BACnet Operating Work Station (BOWS) norm, Wizcon allows detecting online equipment and generating related tags automatically.
The new Tag Generator in Wizcon 9.3 automates the definition of Tags & Alarms both "online" and now also "offline", based on EDE or CSV device configuration files. This provides developers with the ability to work on the building supervision application while the devices are not connected (i.e. not yet physically installed), thus accelerating the development and simplifying the deployment of building management systems (BMS). This further positions Wizcon Supervisor as the Building Automation industry's most advanced building management software solution.

About ELUTIONS
ELUTIONS Inc. is the premier provider of wireless enterprise automation solutions, which help companies dramatically improve their asset performance, energy usage, and workforce productivity. ELUTIONS is headquartered in Tampa, Florida, and Lyon, France, for Europe and is a provider of real-time wide area solutions used by retail, commercial, government, and industrial companies worldwide. These solutions enable monitoring and control of fixed and mobile assets, machinery, and workflows through the use of advanced M2M technologies comprising communications-enabled end-devices, wireless backhaul services, automation software and enterprise / ASP hosted applications.

Further information is available at www.elutions.com and www.wizcon.com

---


[Click Banner To Learn More]
[Home Page] [The Automator] [About] [Subscribe ] [Contact Us]