---
2010 AHR Expo® Innovation Award Winners Announced















WESTPORT, Connecticut…November 11, 2009 — Nine companies offering a variety of exciting, new and innovative products have been selected as winners of the prestigious AHR Expo Innovation Award. The winners will be honored at a special ceremony during the industry's leading exposition in Orlando, on January 26th.

In addition, one of these nine category winners will be selected as the overall winner of the 2010 AHR Expo Product of the Year Award at the Show.

The 2010 AHR Expo Innovation Award winners are presented in their specific category:

Building Automation
Company: AIC Wireless
Product: WBT900 Wireless Device

Cooling
Company: Delphi
Product: Micro Channel Evaporator

Green Building
Company: Danfoss, Inc.
Product: Performer VSD

Heating
Company: Daikin AC (Americas), Inc.
Product: VRV® III – C Heat Pump System

IAQ (Indoor Air Quality)
Company: Samsung Electronics
Product: SPi Bacteria Eradication Technology

Refrigeration
Company: Muller Industries Australia Pty. Ltd.
Product: 3C Condenser

Software
Company: AEC Design Group
Product: ArtrA O&M

Tools
Company: LA-CO Industries, Inc.
Product: Cool Gel-Heat Barrier Spray

Ventilation
Company: DuraSystems Barriers, Inc.
Product: DuraDuct HP Blast Duct System

"We are honored that the AHR Expo is recognizing Delphi's innovative Micro Channel evaporator at this premier HVAC/R show. After pioneering the use of Micro Channel Condensers in the stationary HVAC market four years ago, Delphi is excited to introduce this product for both indoor residential and commercial settings at the 2010 Orlando Show," said Charlie Clevenger, product line director, Delphi Residential and Commercial Heat Exchangers.

"We are extremely pleased with the wide range and high quality of product submissions we received for the eighth year of the award program," said Clay Stevens, President of International Exposition Company (IEC), producers and managers of the AHR Expo. "It is a pleasure to recognize and honor manufacturers that have excelled in turning technology into useful and efficient products."

A panel of judges, made up of ASHRAE members selected for their exceptional knowledge of the industry and its products, reviewed and evaluated all submissions. Product entries were judged for innovation, application, value to user, and market impact.

Additionally, Honorable Mention will go to the following companies:

Building Automation
CAN2GO for Building Automation SCL Elements Inc.
ECB-VAV BACnet controller with Open-to-Wireless Solution Distech Controls, Inc
Technologic 502 Bell & Gossett
Terminator EvoFlo HCI (Hydronic Components, Inc.)
VBZS-BACnet Zoning System Viconics Electronics, Inc

Cooling
EcoFlow-Electronic Expansion Distributor Danfoss, Inc.
Free-Cooling, Chillers Motivair Corporation
Tranquility Split (TTP) Series ClimateMaster, Inc.
VRV®III Daikin AC (Americas), Inc.

Green Building
Daikin Altherma Daikin AC (Americas), Inc.
OptimumHVAC Optimum Energy, LLC
PIRO-Network Controlled Air Systems, Inc.
Thermera® GALCO-CLIMALIFE

Heating
ALPHA Grundfos Pumps Corporation
MATRIX NTI-NY Thermal Inc.
Phoenix Evolution Heat Transfer Products, Inc.
Triple-Flex Ultra-High Efficiency Condensing Hot Water Boiler Bryan Steam LLC
supraSchwank Schwank Ltd.

IAQ
EnviroGreen 8 Pleat by Dust Free Dust Free, LP
IAQ PuraGRID Filter With the GridBLOK Technology Purafil, Inc.
Quaternity™ Daikin AC (Americas), Inc.
Wireless TrueSTEAM Humidification Systems Honeywell International Inc.

Refrigeration
"Smart-Speed" Evaporators KeepRite Refrigeration
"TQ" Quiet Condensing Units Trenton Refrigeration

Software
eRouting Jonas Software
LoopLigix(tm) Heat Controller, Inc.
SunnyCad MC4 Software, LLC

Tools
EAGLE X C155KIT U.E.i.
K-33 ELG Data Logger CO2Meter.com

Ventilation
EE575 E+E Elektronik Ges.m.b.H.
Evergreen Zoning Arzel Zoning Technology, Inc.
Isis(tm) Big Ass Fans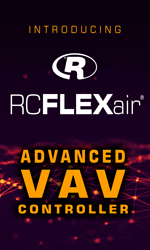 Entry Fees Benefit the Needy

In addition to recognizing outstanding product innovation, entry fees from the 2010 award competition will be used to benefit a charitable organization in the Orlando area. During the seven years of the program, thousands of dollars have been "given back" to the communities where the Show has been held.

"The AHR Expo Innovation Awards program has a very positive impact on the HVAC/R industry," said Clay Stevens, President of IEC, Show Producers and Managers. "It calls attention to innovative new technology and encourages manufacturers to pursue creative and practical solutions."

Winners of the AHR Expo Innovation awards will be recognized at the awards ceremony on Tuesday, January 26th at 1 PM in the New Product Technology Theater A on the Show Floor. Winners will also receive placards to display at their booths during the Show as well as an etched crystal award to be displayed at their company's headquarters. The ASHRAE Journal will also feature a special section on the winners.

The Innovation Awards are jointly sponsored by the American Society of Heating, Refrigerating and Air-Conditioning Engineers (ASHRAE); the Air-Conditioning Heating and Refrigeration Institute (AHRI); and International Exposition Company (IEC), producers and organizers of the AHR Expo. Only one product per company may be submitted in each category and winning products from previous years cannot be re-entered. For more information on the AHR Expo Innovation Awards, visit www.ahrexpo.com.

The 2010 AHR Expo is endorsed by 30 leading HVAC/R industry associations and is Co-sponsored by the American Society of Heating, Refrigerating and Air-Conditioning Engineers (ASHRAE) and the Air-Conditioning, Heating and Refrigeration Institute (AHRI). The Heating. Refrigeration and Air-Conditioning Institute of Canada (HRAI) is an honorary sponsor. ASHRAE's winter meeting is also held concurrently with the AHR Expo each year.

ABOUT THE AHR EXPO
As the largest and most comprehensive HVAC/R exposition, the AHR Expo attracts tens of thousands of attendees from all facets of the industry, including contractors, engineers, dealers, distributors, wholesalers, OEMs, architects, builders, industrial plant operators, facility owners and managers, agents and reps.

Since 1930, the AHR Expo has been the HVAC/R professional's best resource for new products, new ideas and new services. It's a hands-on, interactive event that showcases a wide spectrum of equipment, systems, and components. This unique industry forum creates a dynamic marketing environment unequaled in size and scope by any other industry event.

The AHR Expo is produced and managed by International Exposition Company, 15 Franklin Street, Westport, CT 06880; telephone: 203-221-9232; fax: 203-221-9260; e-mail: info@ahrexpo.com; website: www.ahrexpo.com.
---


[Click Banner To Learn More]
[Home Page] [The Automator] [About] [Subscribe ] [Contact Us]