---

Functional Devices, Inc. AHR Expo Booth 1219















November 25, 2009 - Functional Devices, Inc. is pleased to announce many new products to be highlighted during the AHR Expo in Orlando, January 25-27, 2010. Please visit us at Booth #1219 to see these new offerings from the manufacturer of the Original RIB® Relay In a Box:

EFC4045T Evaporator Fan Controller – EFC4045 is designed for use with evaporator fans in virtually all walk in coolers and freezers such as those found in grocery and convenience stores, liquor stores, school cafeterias, florists and fast food restaurants.

Air is cooled in these environments by the use of forced circulation evaporators containing fans which are powered by fractional horsepower motors. These fans usually run at a continuous speed even when the compressor is in the off cycle.

In order to save energy and money the EFC4045 will automatically set the fan speed to a lower level when the compressor is in the off cycle and then back to a higher speed when the compressor is in the on cycle.

Features
• Reduces energy consumption by 75 to 80% when compressor is off
• Can be used with ECM type motors
• UL Listed
• Automatically works with 120 or 240Vac systems
• Choice of two low speed settings
• Reduces heat load generated by fan motors
• Eligible for energy initiative rebates in certain states

RIBHX24BF Relay & Current Sensor Combo – This current sensor/20Amp relay combo delivers the same performance as our larger models. THE DIFFERENCE!! This combo unit gives the convenience of switching and sensing in one small 1.7"x 2.8"x 1.5" NEMA 1 nipple mount enclosure.

PSH550-UPS-STAT Uninterruptible Power Supply In Enclosure – Functional Devices provides a 550VA commercial UPS along with an enclosure and an interface board which allows the installer to hardwire line voltage to the provided UPS while giving the ability to hardwire the UPS to the final load. This makes for a much cleaner and neater use of a UPS, keeping the equipment off the floor and cords neatly tucked inside the enclosure. This product is also available with relay status outputs.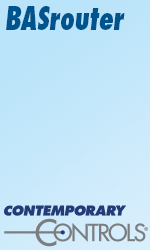 RIBMNW24B-BCAI BACnet Open Protocol Relay – Use the BACnet compatible 20 Amp 24Vac/dc relay with one discrete output, two discrete inputs, and one analog (or thermistor) input when a more expensive Multi-Output Controller is too much for the job.

AIC/RIB Long Range Wireless I/O Boards – Extend your LonWorks or BACnet building automation networks wirelessly with this line of seamless plug – and - play wireless communication devices. Switch or monitor remote loads throughout your network and send status back to the network wirelessly.

EnOcean Enabled Wireless Devices:
RIBXJF-EN Wireless Current Sensor Transmitter – Use this enclosed EnOcean Enabled Wireless Split Ring Remote Fixed 3-150Amp Current Sensor Transmitter with a Wirelss Relay Receiver for Interlocking Load Applications. A quick and easy retrofit solution.

RIBWE24TDC-EN Wireless Transmitter – Control a group of loads from a single controller output using this 315mHz Enocean enabled transmitter. Inputs are 24Vac/dc Power with Dry Contact Input and 5-25Vac/dc Control Input.

About Functional Devices, Inc.
Functional Devices, Inc. has been manufacturing quality electronic devices in the United States of America since 1969. Our goal is to provide high quality products, the most reliable and economical solutions to the needs of our customers, and world class support from our sales and engineering experts. Current product offerings include relays, current sensors, power control, enclosures, power supplies, transformers, and accessories. Functional Devices Inc. has established itself as a leader in the HVAC, Building Controls, and Energy Management industries. For more information visit www.functionaldevices.com
---


[Click Banner To Learn More]
[Home Page] [The Automator] [About] [Subscribe ] [Contact Us]