---
Distech Controls Brings Efficiencies to BREEAM NOR Pilot Project in Norway
A sophisticated Building Management System provided by leading manufacturer, Distech Controls and designed, programmed and commissioned by Authorised Partner ISI-Tech, is helping to limit energy usage and cut carbon emissions at an impressive new office building in Trondheim, Norway.

Brattørkaia 15 AB is located in Brattøra, part of the central harbour area of Trondheim city, which has seen vast improvements in recent years to become a connection point for both people and businesses. The new building offers 20,000m² of prime, high quality, commercial office space for multiple tenants, including the Norwegian Environment Agency. Designed by PKA Architects and inspired by its beautiful surroundings, the building has achieved an 'A' passive energy label and a BREEAM NOR rating of "very good". ISI-Tech designed and installed the new BMS for the building to help deliver this impressive performance, building their system around control products from Distech Controls.

"ISI-Tech has been using the free programmable VAV-controllers from Distech Controls for many years," comments Åsmund Holand, Manager at ISI-Tech. "They can be easily configured to take care of any individual room controls demand, and they required fewer cables and much less hardware than other solutions when all room functions are counted up."
"They are especially good value when the project specification is demand controlled ventilation, heating and cooling as well as dynamic optimising of the Air Handling Units (AHU)," adds Åsmund. "The Distech Controls solution is based on the real demand at the time, since the controllers can connect to local multi-sensors of different technologies, even wireless, as well as optimising AHUs performance, without any extra hardware or cabling."

For this project, ISI-Tech delivered more than 600 Distech Controls ECL-VAV programmable controllers, which are perfect for applications from single duct to fan powered VAV with re-heat and radiation heating. The company also specified Distech Controls' EC-NetAX Supervisor as the front end GUI for the project. This web-based, integrated building management platform allows seamless integration between heating and cooling within the HVAC plant, enabling scheduling, trending, alarming, historical data collection and advanced energy management functionality. The AHUs, heat pumps and other HVAC plant equipment for the development were delivered with internal controls from their respective manufacturers, and integrated into the EC-NetAX Supervisor to allow web-based monitoring and control.

The Brattørkaia 15 A/B office building also features more than 60 LonWorks energy meters for electrical, heating and cooling energy monitoring. The EC-NetAX Supervisor displays meter status and can export data from the meters, sending it to the customer's third-party energy management system. In future, the EnerVue will be an easy option to implement in the system, since all meters already are in the EC-NetAX solution.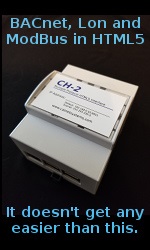 Nine Distech Controls' EC-BOS network controllers are connecting with the field devices and provide real-time control functions. Compact and easy to fit, the EC-BOS devices combine integrated control, supervision, data logging, alarming, scheduling and network management functions with internet connectivity and web-serving capabilities.
The result is a BMS system capable of effectively controlling all HVAC operations for individual offices and open plan zones within the building, whilst optimising energy usage according to real time demand. The main project was completed in May 2013.
For more information, visit www.distech-controls.eu or www.isi-tech.no
About Distech Controls
An innovation leader in energy management solutions, Distech Controls provides unique building management technologies and services that optimize energy efficiency and comfort in buildings, all the while reducing operating costs. We deliver innovative solutions for greener buildings through our passion for innovation, quality, customer satisfaction, and sustainability. Distech Controls serves multiple market segments through its worldwide business divisions, service offices and superior network of Authorized Partners. www.distech-controls.com.

---


[Click Banner To Learn More]
[Home Page] [The Automator] [About] [Subscribe ] [Contact Us]