---
Coe Group Integrates Agent Video Intelligence's Analytics Technology Into Its X-Net Mpeg-4/Mjpeg Codec Architecture
Collaboration Turns Codecs Into Intelligent Devices Enabling Next Generation Video Surveillance and Analytics For Enterprise Customers At Lowest Reasonable Cost











New York, October 16, 2006 – Agent Video Intelligence™ , Inc. (Agent Vi™), the global leader in enterprise-grade video analytics, today announced that COE Limited, the developer and supplier of advanced video surveillance systems, has integrated Agent VI's video analysis range into COE's X-NET MPEG-4/MJPEG codec architecture. With the addition of Agent Vi's codec-optimized edge code, COE's codecs are now fully armed to run best-of-breed video analytics. Also, system administrators can download this new feature quickly and easily onto existing COE codecs already used in the field.
COE was one of the first CCTV developers worldwide to offer an MPEG-4 codec and now has major installations of up to 7,000 cameras in the UK, Europe and Asia. The X-Net codec is integrated into a complete transmission, recording and software suite integrated by COE and partner companies.
In contrast to conventional video analysis systems that require costly hardware and consume extremely large amounts of bandwidth, Agent Vi's software is specifically designed to support the video surveillance needs for the enterprise worldwide. Its patented Image Processing over IP (IPoIP™) core technology is a standards-based distributed image processing architecture which uses low cost Vi-Agents™ in the field and a powerful centrally located Vi-Server™ to monitor and generate alerts on suspicious activities, security concerns, safety breaches and loss prevention.
Andrew Wallace, CEO of COE Ltd., said, "Agent Vi's next generation video analytics software together with the R&D team's reputation for engineering excellence made it an easy choice for COE. We have worked with the team for several months and firmly believe that our new collaboration will provide our codec platforms with a major leap forward in the area of advanced video analytics capabilities. COE's tradition of partnering with the best technologists and adopting open platforms is once again paying off with rapid time to market."
COE codecs are installed in major transport, urban and industrial sites worldwide handling up to 7,000 cameras. Rail network approved codecs are in train systems in several countries including on-board and safety critical applications. COE's X-Net G3 (Third Generation) codec exceeds rail standards and offers significant performance improvements over the COE X-Class G2 codec, with a highly optimized MPEG -4 algorithm, Dual Streaming and advanced Video Analytics. Additionally, G3 is fully backwards compatible with the G2, thus enabling existing users to easily add video intelligence in their networks without having to change the network topology.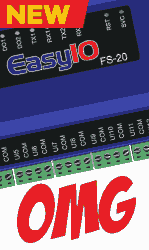 "Today's announcement marks an important milestone in the evolution of video analytics, stated Dieter Kondek, President and CEO of Agent Vi. "With the addition of our IPoIP distributed image processing architecture, COE is offering extremely sophisticated and intelligent codecs with all the benefits of leading-edge video analysis capabilities minus the expense of network infrastructure and additional field hardware to its customers in key transportation markets (traffic management, transport and passenger monitoring, mass transit system and transportation infrastructure)."
About COE
COE Limited is a leading developer and exporter of advanced video surveillance systems with a global installed base of large safety-critical systems, many in extreme environments. COE focuses on three sectors – traffic & transport, city-centre surveillance and industrial complexes. Since 1989, the company has developed a portfolio of innovative products for camera control, video transmission, scene analysis, operator display and recording which interface with most major third party systems. The company also provides services including system design, on-site test, commissioning and long-term maintenance. Headquartered in Leeds, UK, COE also supports its extensive analogue customer base with hybrid analogue/digital systems which allow users to obtain many of the benefits of digital technologies without the need to replace major investments. For more information, visit: www.coe.co.uk.

About Agent Vi
Agent Video Intelligence™, Inc. (Agent Vi™), is the global leader with the only enterprise grade solution in Video Intelligence and Video Content Analysis Technology with its patented Image Processing over IP (IPoIP)™ family of video surveillance software. Founded in 2003, Agent Vi is the first company to provide embedded and distributed artificial-intelligence video analytics software with the low bandwidth required by video surveillance networks to support extremely large numbers of distributed cameras at lowest industry cost. With headquarters in New York, regional sales offices in Pleasanton, CA; Atlanta, GA, and Madrid, Spain, and R&D in Tel Aviv, Israel, the company has over 3 years of successful field deployment worldwide. For more information on Agent Vi, visit: www.agentvi.com.

---


[Click Banner To Learn More]
[Home Page] [The Automator] [About] [Subscribe ] [Contact Us]