---
Digi Provides Migration Path for Analog Modem Devices to Cellular Data Networks











New Digi DialServ™ provides cellular IP connectivity to remote legacy devices with built-in modems
MINNETONKA, Minn. (Oct. 23, 2007) - Digi International (NASDAQ: DGII) today introduced the Digi DialServ, a phone line simulator that integrates with Digi's cellular gateways to allow legacy devices with built-in modems to easily drop-in to cellular IP networks. Remote legacy devices with built-in modems include devices like programmable logic controllers (PLCs), security panels, automated teller machines and point-of-sale devices. Digi DialServ extends the life of existing remote equipment by allowing devices to communicate with a centralized location as if they were TCP/IP devices. Replacing old phone lines with IP communications eliminates the cost of additional phone lines and speeds transaction times.
"The Digi DialServ provides a migration path for customers from old analog dial-up networks to more efficient, lower cost wireless IP networks," said Larry Kraft, senior vice president of global sales and marketing, Digi International. "Best of all, customers can get these benefits without changing their applications."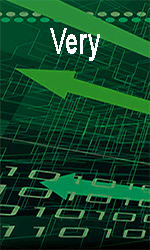 When used with Digi cellular gateways, the Digi DialServ works with both dial- in and dial-out applications by simulating the Telco network and converting the requested phone number to an IP address. It makes the device think it is still communicating over Plain Old Telephone Service (POTS). When coupled with a Digi cellular VPN gateway/router, the Digi DialServ is able to create a secure connection, even across public networks. The Digi DialServ is easy to deploy and requires minimal configuration.
Digi DialServ is designed to integrate with the Digi Connect® WAN family, ConnectPort™ WAN VPN and ConnectPort™ X family of cellular gateways. By facilitating wireless IP connectivity to legacy devices where wired connectivity no longer satisfies customer needs, the Digi DialServ also intelligently integrates with Digi's Drop-in Networking solutions. For more information about the Digi DialServ, please visit http://www.digi.com/products/cellulargateways/digidialserv.jsp.

About Digi International
Digi International, the leader in device networking for business, develops reliable products and technologies to connect and securely manage local or remote electronic devices over the network or via the web. Digi offers the highest levels of performance, flexibility and quality, and markets its products through a global network of distributors and resellers, systems integrators and original equipment manufacturers (OEMs).
---


[Click Banner To Learn More]
[Home Page] [The Automator] [About] [Subscribe ] [Contact Us]