---
Domosys Releases a New Generation of DIN PowerGate™











The multipurpose DIN PowerGate products can be used in various applications to simplify systems installations.
Quebec City, Canada – October 24, 2007 – Domosys Corporation, a leading provider of Power Line Communication (PLC) technology, today announced the release of a new generation of DIN PowerGate products. This new family of products supports Domosys' newest PowerBus RHINO™ Technology while being compatible with its predecessor, the original PowerBus™ Technology.
The DIN PowerGate family of products was designed to fulfill multiple needs of various markets within the PLC Control Networking industry. The new products are versatile while providing the "no-trade-off" reliability offered by the PowerBus RHINO™ Technology. The new DIN PowerGate products include new features and increased capability such as:
- 4 digital pulse inputs
- 2 programmable digital inputs/outputs
- 2 temperature probes ranging from -45oC to +110oC
- 2 analog inputs (4 to 20 mAmp)
- 32KB of memory dedicated to data capture
- 3 serial interfaces (RS-232 / RS-485 / RS-422)
- fully compatible with PowerBus RHINO™
With these new features, the domains of applications addressable with the DIN PowerGate products become virtually unlimited. They can be used as finished products or as solution components. As an example, the DIN PowerGate "Pulse Logger" can act as a: data logger in energy management or sub-metering systems, data concentrator component in AMR or street lighting system controllers, in SCADA networks and others.
Furthermore, using Domosys' PowerBus RHINO™ Pass-Through Protocol topology, a DIN PowerGate device can be configured to act as a simple PLC modem. Therefore, a pair of DIN PowerGate devices simplifies the installation of serial communication systems where they obliterate the need to run serial communication wires through walls, ceilings or concrete floors, using the power line (building's mains) as communication facilities.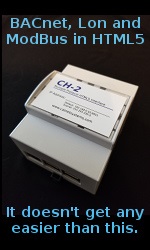 While designing these new products, Domosys' engineers took in consideration the needs of our customers as well as the requirements dictated by various markets. "This new DIN PowerGate family of products is another proof that Domosys is constantly working on solutions for the control networking industry as well as being dedicated in providing its customers the solutions they require to be successful" said Bernardino Camba, Sales & Marketing Director of Domosys. Mr. Camba also stated "Domosys has a constant products improvement development philosophy, consequently, this will not be the last version of this multipurpose product family."
About Domosys
Founded in 1994, Domosys Corporation is a leading provider of Power Line Communication (PLC) technology for the control networking market. Domosys' PLC technology transforms any stand-alone product into a device that can be controlled or monitored either locally or remotely over the Internet. Domosys is designing and manufacturing custom products for Original Equipment Manufacturers as well as marketing and selling generic products to system integrators. Domosys' products and solutions are used in a number of vertical markets such as but not limited to: Energy Management, Street lighting controls, Automatic Meter Reading (AMR), SCADA and Transportation.
Domosys Corporation is a privately held corporation based in Quebec City, Canada. To learn more about Domosys and its products and services, visit the company's Web site at www.domosys.com
---


[Click Banner To Learn More]
[Home Page] [The Automator] [About] [Subscribe ] [Contact Us]