---
IQinVision ASIS follow-up











(1) IQinVision Celebrates 10 Years of Megapixel Technology Leadership. "Time and again, IQinVision has led the market in innovation and then capitalizing on that innovation for increased sales. We've been producing megapixel network cameras longer than anyone in the world," says IQinVision President and CEO, Pete DeAngelis. What defines innovation? IQeye Megapixel network cameras have been 1st in:
• Power-over-Ethernet
• CMOS progressive scan
• Multi-stream video
• Live digital Pan-Tilt-Zoom
• Multi-user independent access
• Multi-megapixel (rest of list appears at end)
(2) IQinVision Receives 2nd Innovation Award for MCPS Project. Montgomery County Public Schools project recognized by ST&D for superior innovation, collaboration, and project scope. IQinVision took top honors in 2007 with its Loyola University submission and has earned a "Silver Medal" this year with the MCPS submission. The culmination of a six-year security rollout, the installation featured a host of technology and service providers.
(3) The IQinVision Complete Line-up of Megapixel Cameras. The IQeye PRO LINE is a full-featured, rugged industrial product line ideal for high-end professional installations. Every IQeye PRO LINE model can deliver up to 64 unique, independent video streams and include multi-zone motion detection, analog video-out, on-camera storage options, standard or day/night models, H.264 options and on-camera intelligence for video analytics. The IQeye BASIC LINE offers a robust operating system and industry leading image quality in a simple, easy to install, affordable package. Designed for cost-sensitive applications, these compact cameras are ideal when you don't require the complete feature set of the IQeye PRO LINE.
(4) New IQeye 4 Series Offers Affordable, High-performance IP Video. The new IQeye 4 Series is available in resolutions from VGA all the way up to high-definition 2-megapixel quality, and it sends power, video and camera management over a single network cable making the 4 Series easy to install (an IQeye hallmark) and simple to use. The IQeye 4 Series is the newest member of the IQeye BASIC LINE, which offers IQinVision's world renowned ultra-stable operating system and superior image quality in a clean, small package with a simplified user interface.
(5) IQeye Alliance Dome Series Now Includes H.264 and Exterior Models. In addition to the current indoor versions, the IQeye Alliance dome now includes added wide temperature range exterior IP66 models, and all models are be available with H.264 and bi-directional audio. IQeye Alliance domes come in resolutions from VGA all the way up to high-definition 2-megapixel resolution and are designed, as with all IQeyes, for hassle-free install. All Alliances are made from rugged die-cast metal with GEtm Lexan domes making them tough enough for the most demanding applications.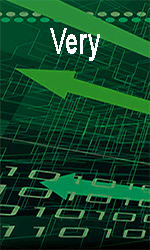 (6) IQeye Megapixel Images Make Sure the Bad Guys Don't Get Away. IQeye megapixel cameras were instrumental in detecting and prosecuting two recent major incidents of crime—a crime-ridden restaurant parking lot burglary and a jewelry store heist. Lee Brazzel of NAVCO Networks & Security and the integrator for the parking lot install, "With CCTV analog cameras, we would have been lucky if we could tell a pickup from a sedan! I've been looking at analog images for 20 years, there just isn't any comparison—the IQeye images are amazing."
(7) Massachusetts Anti-Dumping Program Deploys IQeye Megapixel Technology in Boston and Surrounding Towns. Since employing IQeye megapixel cameras, the rate of success has been impressive: the remote, camouflaged IQeye cameras have been directly responsible for catching six illegal dumpers, with two of the incidents serious enough to merit prosecution and the potential for large fines. The IQeye's low power draw allows DEP to keep the cameras on all the time, so they don't miss a thing. The cameras are running at about two frames per second, which is more than enough for the identification needed for investigation and prosecution.
(8) Bay 101 Casino Upgrades with Megapixel Cameras—IQeye cameras Read the Dice inside the Dice Cups. The IQeye cameras are installed above certain high limit gaming tables and to provide forensic detail for cash cage window views. Located at a height of 20 feet and with a viewing diameter of 12 feet, the superior megapixel technology enables managers to view the dice in the dice cups and read the serial numbers of the bills being passed back and forth at the cash transaction cages.
(9) Queen Mary, University of London Relies on IQeye Camera Quality. Smart CCTV recommended IQeye megapixel IP behavior-recognition smart cameras offering high-definition images. Having installed IQeye cameras with Milestone Systems' IP video management software at a previous university installation, Smart CCTV knew that the solution would work smoothly.
(10) IQinVision's NVR/DVR Partner Program. Since the program's launch in April 2008, IQinVision's NVR/DVR Partner Program has received great reviews from the security industry. A major component of this program is the NVR/DVR Supported Feature Matrix which currently lists 13 compatible NVR/DVR Partners. IQinVision is consistently testing new NVR/DVR solutions to add to the matrix and updates can be viewed on our website: www.iqeye.com.

(11) More IQinVision Firsts:
· Megapixel 360 immersive video
· People counting
· Multi-stream video
· 30 fps high-speed megapixel
· HDTV images
· Digital image cropping
· No-client-software recording/playback
· On-camera authentication
· Resolution-on-demand
· On-camera video alarm verification
· Wide dynamic range
· WVGA CMOS camera
---

[Click Banner To Learn More]
[Home Page] [The Automator] [About] [Subscribe ] [Contact Us]