Ebtron News
EBTRON Introduces New IAQ Brochure
"IAQ by Design" presents the titleís Challenges, Solutions and Rewards in a logical and self-directed manner
Myrtle Beach, SC As part of its 2002 marketing plan, EBTRON, Inc., a prominent South Carolina manufacturer of microprocessor-based airflow and temperature measurement devices, has produced a comprehensive, new brochure on Indoor Air Quality (IAQ) for commercial and institutional buildings. It is now available free upon request to qualified building operations staff, consulting mechanical engineers, mechanical / HVAC contractors and ABS controls contractors.












EBTRON focuses on dilution ventilation control, which is the primary method used by most designers for ventilation code compliance. It also touches upon the importance of proper building pressurization to help prevent the infiltration of humid air, which can condense within exterior walls and allow the growth of mold hidden to the occupants, until it is too late.
The new brochure first analyzes the practical Challenges to building owners and HVAC designers, when attempting conformance with the latest ASHRAE Standard 62 and to satisfy other motivations for providing "Ventilation for Acceptable Indoor Air Quality". This 4-color, 8-page brochure goes on to describe possible Solutions to the challenges, and the Rewards available to those that successfully use the proposed solutions. The structure of the content is similar to that used in EBTRONís successful 3-hour IAQ Seminar. The final page lists the answer to each of 10 of the most Frequently Asked Questions (FAQs) about Dilution Air Control and IAQ. Tuesday, September 3, 2002
---
EBTRONís newest transmitter is judged "Metasys Compatible"
Johnson Controls approves the GTN116ís integral communications capabilities for use on networks with their N2 protocol
Myrtle Beach, SC Ė EBTRON, Inc., a prominent South Carolina manufacturer of sophisticated electronic airflow sensors for HVAC control, announces the decision by Johnson Controls Inc. (Milwaukee, WI) to approve the latest Advantage transmitter model as compatible with their N2-bus network communications protocol for Metasys controls equipment.
The GTN116 transmitter is provided as a NO CHARGE option to EBTRONís base GTA116 model, which offers 2 standard dual analog outputs Ė one for airflow rate and the other for air temperature, either are field selectable as 0-10 VDC or 4-20 mA linear signals. The outputs are the correct mathematical average of all independent sensors used at a single measurement location.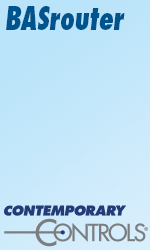 The GTN116 transmitter provides the user with up to 4 mapped data points on the N2 network via an RS-485 serial interface: air velocity, air temperature, differential pressure (with GTN116-B Only) and status. The accuracy of the equipment is insured by factory calibration of every sensor to standards traceable to NIST, and through a design that requires no periodic recalibration or maintenance. This provides an enormous savings potential for the building operator, compared to other ducted or fan inlet measurement technologies. The benefits for the contractor include very simple installation requirements with limited installation costs. Plus, contractors need only pull one wire for communications, and not the typical two or three, saving them material costs and effort.
---
Enhanced site is now also accessible at www.airflowmeasurement.com
Myrtle Beach, SC Ė EBTRON, Inc., a prominent South Carolina manufacturer of microprocessor-based airflow and temperature measurement devices, announces major changes at its internet site. The latest changes are designed to help make the site a major clearinghouse and IAQ resource for dilution air control topics. The additional portal (www.airflowmeasurement.com) should also make the site easier to find.
The changes to EBTRONís web site provide a wealth of support information for the new Advantage products, as well as access to all the technical information and literature for all discontinued models. It is much easier to navigate and more pleasing to use. Although the Web site content is similar to that previously published, there are some major changes.
---
For more information Email damiano@ebtron.com or visit the companyís new web site www.EBTRON.com or www.airflowmeasurement.com .
---


[Click Banner To Learn More]
[Home Page] [The Automator] [About] [Subscribe ] [Contact Us]