New Products - October 2002
Reliable Controls Products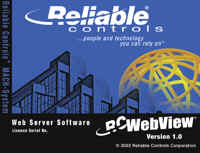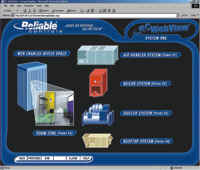 RC-WebView™ Web Server Software
RC-WebView™ enhances the Reliable Controls™ suite of building automation software by providing an Internet based system access solution that translates graphical system group information to an HTML form that can be accessed and viewed in Internet Explorer 5.0 or higher. The RC-WebView™ software resides on a server dedicated to providing access to the Reliable Controls™ MACH-Systems defined in the software's configuration. The number of simultaneous users connected to RC-WebView™ is only limited by the capacity of the server hosting the application.
Visit the live demonstration of RC-WebView™ at http://www.reliable-controls.com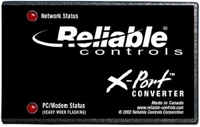 X-Port™ Converter
The Reliable Controls™ X-Port™ converter is a convenient communication device that provides an extra EIA-232 port to any MACH controller. The X-Port™ converter connects to the SMART-Net™ network and transfers information between the Reliable Controls™ MACH-System and any Reliable Controls™ software without compromising any existing SMART-Sensors™ on the network. Power is derived from the SMART-Net™ port of the controller. Visual indication of operation is provided by status LEDs.
For further information visit http://reliable-controls.com
---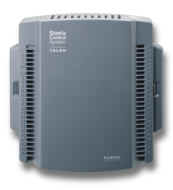 Staefa Introduces New Predator HVAC Four Loop Controller
Buffalo Grove, Ill., September 24, 2002 - A new Four Loop Controller has been added to the Predator® family of Staefa TALON® HVAC Controllers. Predators are an integral part of the open protocol TALON HVAC control system from Siemens Buildings Technologies, Inc.
The Predator Four Loop Controller meets requirements for LonMark interoperability and shares data with LonMark certified products from other vendors. It features a two-piece design to protect electronics during installation and wiring and snap-in terminal connections.
For more information, visit www.staefa.com
---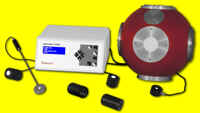 New Light Measurement Solution
Gigahertz-Optik's new bench-top P-2000 Optometer offers two channel parallel operation for universal use in any optical radiation measurement including radiometry, photometry, optical/laser power and integrating sphere applications.
Featuring a large blue fluorescent display, the P-2000 is designed for laboratory use but steals very little table space due its small 8x4x5.5 inch footprint and comes loaded with sixteen menu selectable modes of operation including CW, pulse energy (>1 microsecond pulse widths), dose plus datalogging and ratio (%/factor) functions.
For more information, visit www.gigahertz-optik.com
---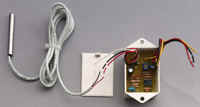 HAI Introduces Water Temperature Sensor to Monitor Temperature of Pools, Spas, Aquatic Ponds, and Greenhouses
HAI, a leading manufacturer of integrated security and automation products since 1985, has announced the addition of a water temperature sensor to its award-winning product line. The new sensor will be used to monitor temperatures for pools, spas, aquatic ponds, and greenhouses.
The new sensor's stainless steel probe is designed specifically to monitor the water temperature from the return/source and then report that information back to the HAI Omni Family controller. If the temperature gets too high or low, the controller can then take the appropriate programmed action to bring the temperature back to the desired level.
For more information, visit www.homeauto.com
---
Biometrics Fingerprint Door Lock System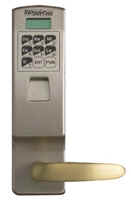 Secure your home or business with our unique biometric fingerprint solution that emphasizes security, ease of use, and functionality.
Key Benefits: Airport Security For Your Home or Office
Hassle Free Entry (Use Fingerprint)
Peace Of Mind Simplicity Yet Featured Packed
Stores 40 fingerprints
Tracks last 100 Events
Easy Installation Integration with Home Automation/Security
Weather Proof / Vandal Proof
For more information visit http://www.biometricscanada.com/home.htm
---
Jackson Systems, LLC - Temp-Stat™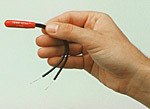 Temp-Stat™ is a low cost, non-adjustable, temporary construction thermostat preset to a given temperature. Warehouse and compressor lock-out versions are also available.
Key benefits for the contractor:
Reduces fuel bills during the construction process.
Low cost (about ˝ the cost of a conventional thermostat).
Available in many temperatures for both heating and cooling.
Rugged construction. Heat, moisture, paint and drywall dust do not affect its operation.
Mercury-free. Safe for the environment.
For more information visit http://www.jacksonsystems.com/temp_stat.html
---
New Products - September 2002












Contemporary Controls New Products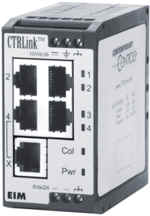 Miniature Ethernet Hub Combines Cost-Savings and Simplicity
Downers Grove, Illinois - Contemporary ControlsŇ EIM miniature repeating hub in the CTRLinkÔ family allows automation users to reduce costs and to save space in a hassle-free process. The Industrial Ethernet EIM4-10T, designed in a compact size, increases 10BASE-T node count or network distance up to 100 meters. It has four standard ports for attaching local devices and one uplink port for connecting two hubs without the need for a crossover cable. The unit mounts on TS-32 or TS-35 DIN-rail, can operate from a wide range of low-voltage AC or DC power and offers redundant power connections.
Contemporary Controls offers a free design guide, "10 Issues to Consider Before Installing Industrial Ethernet." To receive a copy, email info@ccontrols.com with your street address.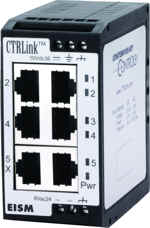 Industrial Ethernet Switch is World's Smallest
Downers Grove, Illinois - Contemporary ControlsŇ EISM miniature switching hub in the CTRLinkÔ family was recognized as being the "world's smallest Industrial Ethernet switch." It's ideal where space is at a premium because of shrinking panels and the space limitations of small machines. The EISM-100T is designated as a five-port switch designed for copper wire (10BASE-T and 100BASE-TX). Fiber optic versions offer immunity to EMI/RFI while supporting segment lengths up to 2 km, essential when interconnecting multiple buildings. Features include low-voltage AC or DC power sources, support for dual redundant power supplies, provisions for battery backup and UL 508 listed. For more information about our Industrial Ethernet products, visit www.ctrlink.com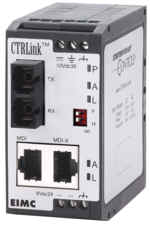 Media Converters Provide Smooth Connection to Fiber Networks
Downers Grove, Illinois - Contemporary ControlsŇ Media Converters in the CTRLinkÔ family provides smooth operation and data transfer when converting between copper and fiber media for building automation networking needs. These Industrial Ethernet Media Converters are available in three models, supporting either ST-style connectors or SC-style connectors. Two front-panel DIP switches set the operational mode - full-duplex, half-duplex or transparent. Their hardened design works in rugged environments. They are immune to interference caused by power transformers, lightening and the switching on and off of motors.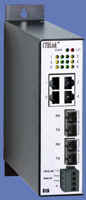 Industrial Ethernet Switching Hub Extends Distances to 15 km
Downers Grove, Illinois - In the expanding world of building automation and industrial controls applications, Contemporary ControlsŇ Industrial Ethernet fiber optic switching hubs address distance and immunity issues. Longer networking distances (up to 15 km) and immunity to EMI/RFI are key benefits of the EIS6-100T/FCS. It is designed with four 10/100 multi-mode or single-mode fiber portsľsupporting SC-style connectors. A high performance fiber backbone is essential when interconnecting multiple buildings or sites. With adaptable features like low-voltage AC or DC power, full and half duplex operation, loop detection of the network wiring, UL 508 listed and broadcast storm protectionľthe EIS6-100T/FCS is ideal for inter-building connections.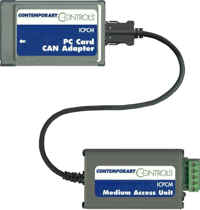 Intelligent PC Adapter Card Offers Real-Time Data Collection for CAN Networks
Downers Grove, Illinois - A PC Card CAN Adapter by Contemporary ControlsŇ has been introduced to help OEMs instantly connect building automation CAN networks to notebook computers.
Most CAN PC cards have no microprocessor and rely on the PC for all buffering and processing. This makes the application susceptible to the whims of Windows® and other non-Real Time Operating Systems. By integrating intelligence in the PC Card adapter, CAN traffic can be captured in real time to minimize the possibility of missed messages.
For real-time capture of high speed messages, the ICPCM adapter offers enhanced features such as 128 kB onboard CAN buffer. A 2 kB dual port RAM enables high-speed data exchange between the card and an attached PC.
For more information on all these products, visit www.ccontrols.com.
---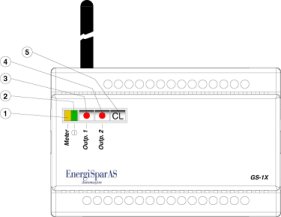 Internet Based Energy Administration System - EnergiSpar AS Norway
To track your building Energy performance and change:
Building Energy Tracking and Management
Data Automatic upload over the Internet
ET building performance graphs
Building Performance Energy Change track
Consolidated Building Energy Graphs
Graphing Wizard Energy
CUSM calculations
Data transferral from Data Logger GS-1X (GSM/GPRS Data logger)
Financal Energy Graphs and tables
Automatic Schedule Email for reports
Energy saving payback tracking
E-mail: admin@energispar.no Web: http://www.energispar.no/
---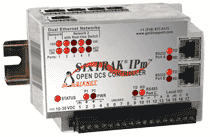 SIXNET IPm™ LINUX Product Line Now Available!
SIXNET IPm™ embeds LINUX into robust, industrial controllers to bring new flexibility and power to the plant floor. With SIXNET's IPm products you can free yourself from the hassle, expense and constraints of proprietary systems by using truly open systems. Current IPm product applications include the VersaTRAK IPm RTU, SixTRAK IPm DCS Controller, and custom OEM Solutions. For more information visit www.sixnet-io.us/html_files/main_linux4oems.htm
---
Greystone Energy Systems - Temperature Sensors / Transducers c/w LCD Readout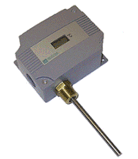 TE510 Series
LCD indication for both current and voltage models
Celsius or Fahrenheit display
Secondary Thermistor or Precision RTD sensing element
Integral Zero and Span adjustments
Custom logo application
Modular design allows several option configurations
Installer-friendly wiring access
Highest quality double-sided FR4 PCB's
For more information visit http://www.greystoneenergy.com/english/index.html
---
---


[Click Banner To Learn More]
[Home Page] [The Automator] [About] [Subscribe ] [Contact Us]