EMAIL INTERVIEW Dr. Kevin Klein & Ken Sinclair
Dr. Kevin Klein,
Standard Products Marketing Manager, 32-Bit Embedded Controller Division,
Transportation & Standard Products Group, Semiconductor Products Sector,
Motorola, Inc.
---
Motorola announces advances to the popular MPC500 family
Sinclair: What are some of the latest applications in which Motorola's customers are using embedded microcontrollers for building automation systems?
Klein: Increasingly, our 32-bit customers need chips that enable real-time control in cost-sensitive applications. Such applications include connecting energy meters, power line modems, uninterruptible power supplies, thermoelectric cooler temperature control, and small-office/home-office (SOHO) routers.

Other applications that require advanced computational and processing power but operate at a low cost include robotics, manufacturing equipment control, testing equipment, telecom line test equipment, elevator control, power control/monitoring, room control, and a variety of systems that require advanced motion control. Intelligent semiconductors, such as microcontrollers, are used in automated building systems that connect via local area networks (LANs) to maintain optimal communication between system components and the outside world. The microcontroller enables the connection of disparate devices by implementing Ethernet technologies and other networking protocols. Typically, Ethernet and other bus protocols can be integrated onto powerful 32-bit microcontrollers.

As the trend continues toward automated commercial building environments, the applications become more complex, and the building manager increasingly needs real-time information to diagnose and remedy problems. Motorola is responding to this market need with the introduction of the 32-bit MPC53x series of microcontrollers. Derived from Motorola's award-winning MPC500 family of embedded microcontrollers, the MPC53x chips are ideal for applications that require real-time access to information at a cost-effective price. Many applications in the building control market fall into this category.
Sinclair: What are the benefits of intelligent building automation?
Klein: Intelligent building automation means that the back-end devices and systems can communicate to the front-office managers automatically when a problem occurs and identify the location of the problem within the building. Building managers see benefits in energy conservation, increased systems/operations reliability and overall reduced costs when automation and control technologies are implemented.

A particular class of semiconductors - which Motorola dubs "housekeeping processors" - monitor and regulate the environmental and operating conditions of high-end servers, storage devices or networking appliances, which are typically found in any commercial building environment. The following tasks can be made more efficient with the implementation of high-end microcontrollers, such as the MPC53x series:

Monitor and regulate fan speeds

Manage control system hardware's temperature and environment

Run AC power supply validity and redundancy

Perform intrusion detection

Supervise hot swap products

Control and communicate diagnostics

Manage system load

Monitor performance degradation

Backup power supply

Monitor system information communications hub
Sinclair: There is a growing shift to replace mechanical components with electronics. What are the benefits of an electro-mechanical approach?
Klein: Mechanical technologies are the touchstone of the industrial and building control markets due to their typically high reliability. However, electro-mechanical applications have proved to provide much better economies of scale and cost- and resource-efficiencies over many mechanical applications.

Building control applications have been deeply impacted by the increasing use of electro-mechanical technologies. Such processes as temperature monitoring, voltage monitoring, power supply controls, diagnostics, AC/heating control, security monitoring and elevator management have all been greatly improved in terms of intelligence and functionality as systems increase in electro-mechanical content.

Electro-mechanical systems can also operate over a range of conditions and provide optimized outputs. The best example is an automobile engine. Previously the engine had to be "tuned" to operate over a particular range. With electro-mechanical content, engines can operate over all temperatures, fuels, and altitudes. Finally, electro-mechanical systems can decouple the controls from the actual mechanical parts, providing more flexibility in installation and often more reliability.
Sinclair: What types of products is Motorola developing to aid OEM design engineers in developing systems for automated buildings?
Klein: With the 32-bit PowerPC and ColdFire microcontroller families, Motorola offers a variety of cost-sensitive options for building automation, industrial control and embedded networking applications. The new MPC53x series of MCUs was developed for system designers needing a high-performance architecture for a growing range of cost-sensitive, real-time control applications, such as elevator control, room control systems, access control, monitoring systems, etc.

The new family of products is targeted at more computationally intensive control and automation applications, such as networking service processors, industrial control and health care diagnostic equipment. Service processors monitor and regulate the environmental operating conditions of high-end servers, storage devices and networking appliances. They perform a variety of functions including temperature monitoring, intrusion detection and system load management. For industrial control, these devices can be used in robotic machinery or equipment, including ovens used in the manufacturing process.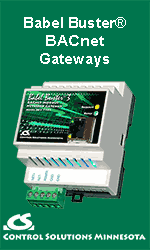 Sinclair: What is the advantage of flash memory?
Klein: Large amounts of flash memory are integrated onto the MPC53x devices (some MPC53x devices contain up to 1M byte of flash memory) so that design engineers can reprogram code in the field. This means that device designers (of a meter, fan or elevator, for example) have the flexibility to make cost-effective field upgrades to the product, even while the product is in use within the building's control systems. Furthermore, some devices in the series have two flash memory blocks, which make in-application programming of parameter tables, viewing diagnostic values and accessing application data easy.

Since there is an increasing intelligence within a commercial building system - for example, the HVAC control unit - and building automation managers are increasingly being required to monitor diagnostics of these devices, components designers need to be able to adapt the operations of the devices at any time, even if they are in operation throughout a building system. Currently, the market offerings do not allow for this. Offerings such as the MPC53x with integrated flash memory make real-time monitoring and diagnostic reporting within a building system possible.
Sinclair: From Motorola's perspective, what does the future hold for building automation? What trends will we see next?
Klein: As we have seen in the industrial networking environments, there is an expected increase in the convergence of back-end systems and front-office applications. This will enable building managers to better monitor conditions of building processes and remedy problems better and faster.

Through the use of integrated communications protocols, such as the controller area network (CAN), Ethernet and universal serial bus (USB), in combination with other sophisticated peripherals like floating point unites (FPUs) and large amounts of on-chip flash memory, the back-end systems throughout commercial buildings will become highly intelligent so that almost any given point-device within a system can communicate the health of the system at any given time to any remote location.
---


[Click Banner To Learn More]
[Home Page] [The Automator] [About] [Subscribe ] [Contact Us]