---

EMAIL INTERVIEW – Gary Ambrosino & Ken Sinclair
Gary Ambrosino, CEO,
Sensicast Systems, Inc
Gary Ambrosino brings to his role as CEO of Sensicast more than 25 years in the computer and communications industries and experience in venture-backed startups, as well as Fortune 500 organizations. Prior to joining Sensicast, Gary was EVP at Cognio—developer of cognitive radio solutions for unlicensed wireless solutions. Previously, he was President and Co-Founder of Secure Media, a San Francisco-based streaming media company. Earlier, Gary was VP of marketing for Xionics, where he played a key role in the company's growth from a start-up to a NASDAQ listed public company. Gary also spent 8 years at Hewlett-Packard, holding a number of marketing and product management positions. Gary holds an MBA from Harvard Business School and a BS in Electrical Engineering from Cornell.
---
Sensicast Gives Automated Buildings "The Wireless Advantage"
Sensicast's wireless sensor systems operate in buildings across North America and Europe providing robust and reliable monitoring of temperature, process, and energy as well as information for predictive maintenance.











Sinclair: Who is Sensicast?
Ambrosino: Sensicast designs and delivers complete wireless sensor network solutions that help facility managers have a better sense of what's going on inside their buildings in order to make operational improvements and reduce costs. Sensicast's wireless sensor systems give plant/building managers instant actionable measurements of key operational levels (temperature, power, voltage, steam, water, air, flow, and pressure).
Sinclair: Why should a building manager consider installing wireless sensors?
Ambrosino: Monitoring building environments using wired sensors is limited to installations where wiring is possible, practical, and cost effective. Providing coverage in "hard to reach" or harsh environments through wired sensor systems is often very impractical, and consistently costly. Sensicast's wireless sensor solutions are easy and inexpensive to deploy and integrate into web-based applications that let building engineers track levels in real-time with "anywhere, anytime" access. By remotely collecting, evaluating and analyzing this data, building managers can reduce operating costs, improve productivity, and more readily comply with regulatory requirements.
Sinclair: What benefits come from wireless monitoring and predictive maintenance?
Ambrosino: Once installed, wireless sensors continuously measure operating parameters like temperature, humidity, and energy usage. By storing the data, looking at trends, and applying predictive algorithms, Sensicast solutions can immediately alert and notify service personnel of unexpected and anticipated failures.

Benefits to building operators:

Reduced labor costs by eliminating cumbersome manual monitoring techniques

Reduced maintenance costs through deferred maintenance activities

Increased uptime and revenues through elimination of failures.

Avoidance of the need for costly "just-in-time" equipment replacements

Over 50% of US power consumption is related to industrial and commercial activity, and in particular the use of high powered electric motors. Commercial lighting is also a consistently high operating cost for building manager and tenants. Sensicast wireless solutions continuously monitor and report on energy trends and usage patterns. With this information in hand, plant and building managers can initiate programs and improve processes, in order to conserve energy.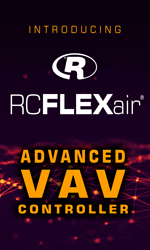 Sinclair: What are some of the "checklist" items to consider when evaluating wireless sensor systems?
Ambrosino: Building operators who are considering deploying wireless sensor systems should ensure that they pick a solution provider who meets the following criteria:

Easy and cost-effective to deploy and operate
Ask vendors to provide realistic estimates of how long it will take to set up the system and be certain to protect yourself from "hidden costs" (e.g. expensive installation or training fees).

Enhances and extends traditional sensor-network applications
Make sure that the wireless components work well with your existing systems and will be able to support your desired future capabilities (e.g. remote building
monitoring from any web-browser; concurrent operation of wireless sensor monitoring and operation of mobile Wi-Fi devices such as handheld scanners and PDAs).

Reliability
Building managers can't afford "down-time". Ask your solutions provider to provide you with customer references who'll verify that the systems work "as promised", with consistent reliability.

Industry standards
To ensure the long-term value of your investment, and avoid being locked into proprietary approaches, verify that wireless sensor solutions you are considering comply with industry standard protocols (e.g. IEEE)
---


[Click Banner To Learn More]
[Home Page] [The Automator] [About] [Subscribe ] [Contact Us]