---

EMAIL INTERVIEW – Leighton Wolffe & Ken Sinclair
Leighton Wolffe lwolffe@rcn.com
Leighton has been active in the energy and facility technology industries for 20 years serving as a consultant and as director of engineering and facility operations at Harvard University, Cedars-Sinai Medical Center, 20th Century FOX, Paramount, and Marriott Corporation. Understanding customer needs, he founded two control contracting and systems integration companies to implement LON, BACnet, and web based HVAC, security and energy management applications to government agencies and large institutions.
His entrepreneurial approach to providing new products and services to customers along with a deep interest in the convergence of emerging technologies has allowed Leighton to provide a balanced and integrated world view of current and future applications that increase business value and improve operational efficiency.
Leighton's recent activities include working with providers of intelligent building systems and enterprise level technologies to develop and implement national sales and marketing strategies and the creation of channel partner programs and other initiatives to generate growth.
---
IBB Back at BuilConn 2006!
The IBB seems to have taken on a life of its own with people interested in joining us on stage.











Sinclair: What can you tell us about the Interoperable Blues Band at BuilConn 2006?
Wolffe: This year should be better than ever. We have a number of new players and are already learning new material to support some surprise guests. The IBB seems to have taken on a life of its own with people interested in joining us on stage. It's easy! Give me a call or email and we can chat about the current set lists and the tunes you'd like to do.

Typically we'll send out a master CD to all participants so we can learn tunes and our parts on our own. Then, without the benefit of any rehearsal and true to the interoperable spirit, live and in front of our friends and colleagues, we'll try to make it sound great. Just like last year.
Sinclair: You guys had some great moments last year! It looked like everyone had fun and the audience was into it. Will Graham be back?
Wolffe: Yes. He's just wrapping up an around the world tour and vacation and is booked to be back in New England for a seven date tour just after BuilConn. So, we'll bring him along. You can check it out at: http://bandofwolves.com/pages/1/index.htm. We'll also see new faces in the form of our industry colleagues who saw the fun last year and asked, "How can I join in? This looks like a blast!" One call is all it takes.
Sinclair: Sounds like great fun and we're all looking forward to it!
Wolffe: We are too. We're also looking forward to getting you up for a killer rendition of that RAP tune you've been telling us about!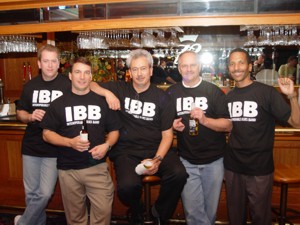 ---


[Click Banner To Learn More]
[Home Page] [The Automator] [About] [Subscribe ] [Contact Us]