---
EMAIL INTERVIEW Jerry Woodin & Ken Sinclair
Jerry Woodin, V.P. of Sales, Senva Inc.
Jerry is one of the founders of Senva Inc. and Cerus Industrial. Formerly he was one of the owners at Veris Industries, where he served as V.P. of Sales from 1992-2004.
---
New Current Sensing Ideas
We listened to the customers!















Sinclair: Why did you get back into the HVAC sensor market?
Woodin: We originally had no intention of getting back into the HVAC sensor market. However, we talked to a lot of HVAC customers while over at Cerus Industrial (manufacturer of Motor Starters & VFDís), and over 300 of them asked us to make sensors again.

After all of these requests, Kent Holce (former founding father of Veris Industries and Cerus Industrial), Rod Seely (former VP of Engineering at Veris Industries) and Forrest Hudson (former lead Engineer at Veris Industries) and myself sat down and examined what we could do better in terms of product quality, ease of installation, and product safety features It didnít take long to figure out that we could save companies a ton of time and money, while keeping the installers safer. And Senva Inc. was born.
Sinclair: How did you come up with the new current sensing ideas?
Woodin: Itís really pretty simple: We listened to the customers! We then took what we heard from the customers and turned their feedback into the products you see today. The team at Senva Inc, several of whom we worked with in the past, has always been known to change the rules of the game by seeing problems as opportunities. That philosophy has helped us set new standards for the HVAC sensor market.
Sinclair: Whatís Senva doing thatís innovative with current sensing?
Woodin: Current sensors are commonly used to monitor fans and pumps for proof of flow and proper operation. When a belt is lost, for example, current drops and the building control system is alerted. When the Senva team looked at common installation practices, we saw there were many opportunities to improve the installationósuch as self-calibrating or Pre-Set sensors. Most of the older technology sensors installed in a motor starter have to be calibrated ďliveĒ. That means the installer must return to the jobsite, make a second trip to each starter, defeat the disconnect switch, and stick his hands in an energized enclosure to calibrate the set point. That process is both dangerous and time consuming. Arc flash is a real threat to the installer!
Sinclair: Explain arc flash and how do your sensors reduce liability?
Woodin: Think of an arc flash as a short circuit through the air. In an arc flash incident, an enormous amount of concentrated radiant energy explodes outward from electrical equipment. This explosion creates pressure waves and a superheated ball of gas that can severely burn a workerís body and even melt metal. When working in a live enclosure, installers should be trained and wear proper protective equipment. Most donít and that is a real liability issue.

At Senva, we designed two different models of current sensors, the Auto-Set and the Pre-Set, to eliminate some of the dangers when the installers have to work around high voltage. Both the Pre-Set and Auto-Set current sensors are very simple to use and keep the installers safe from arc flash. The Pre-Set is calibrated when the power is off. All the installer has to do is look at the amperage on the name plate of the motor and set the dial accordingly to the name plate amperage. The Auto-Set is the easiest sensor on the market to use, as all you have to do is snap it on one of the conductors and the sensor will "learn" the motor curve and calibrate itself. That means our sensors save you installation time and money.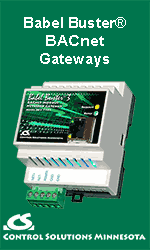 Sinclair: What are the benefits of Senva Sensors line of current sensors?
Woodin: The current sensors reduce installation time; the installer does not need to return to each starter to calibrate. We have an incredibly small current sensor available that will fit in tight places and often eliminate the necessity to install a larger enclosure. Our sensors are safer; you do not have to poke around in a live motor starter, so you reduce chances of injury from Arc Flash. The savings in terms of installation and calibration is up to Ĺ hour per unit, which means you can be more competitive on jobs. Most importantly though, it keeps your guys out of harm's way from potential Arc Flash Hazards.
Sinclair: Whatís next for Senva?
Woodin: Our mission is to provide superior sensors that make even the most challenging installation operate reliably, accurately, and profitably for the industry. We do this from deep customer involvement that begins by listening to application problems and then creating relevant and technically superior products. Our line of sensors is expanding: we also offer an industry best new CMOS chip on board humidity sensors, including a solar powered wireless outside air humidity/temp combo unit, and there is more in the works. Our new line of Pressure sensors will be out in Q2 of 2009 and will reset the market on ease of installation and flexibility. Our goal is to be the industry leader in terms of quality and service, and we focus on that goal every day.
Learn more about Arc Flash Hazards and the Senva Pre-Set and Auto-Set current sensors at: www.senvainc.com
Useful links about arc flash:
Technical Resources
Donít Get Burned by Arc flash ĖNEMA whitepaper (pdf)
Newsletter Links
Basics of Arc Flash
Who's at Risk from Arc Flash
Where Arc Flashes Occur
Regulations Pertaining to Arc Flash

Videos
480V Arc Flash Demonstration
Arc Flash Accident
---


[Click Banner To Learn More]
[Home Page] [The Automator] [About] [Subscribe ] [Contact Us]