---

EMAIL INTERVIEW - Daniel Drolet & Ken Sinclair
Daniel Drolet is Vice President of Business Development for PCN Technology, Inc. responsible for sales, marketing and business development activities for the company. He has a background in intellectual property asset management and business development related to communication, networking, internet, video and other technologies. Prior to PCN, he managed IP asset portfolios in excess of $100 million in value for numerous technology companies. He also is a co-founder of PCN, Chairman of the UPA and is the company's liaison to multiple standards related committees and organizations focused on commercial, industrial and smart grid M2M applications, technologies, and products.
---
IP- 485™ Technology?

IP- 485 Technology Seamlessly Advances RS485 Twisted Pair Networks into TCP/IP Enabled SCADA Networks
















Sinclair: What is IP-485 Technology?
Drolet: IP-485 technology and related products convert Installed Serial (SCADA) Networks into Fully IP Enabled Interoperable Ethernet-over-RS485 (IP-485) Solutions. IP-485 technology uses PCN's advanced open standard embedded communication and networking platform technology.
Sinclair: What are the primary benefits of IP-485 technology and products?
Drolet: IP-485 technology modules multiplex medium bandwidth Ethernet data simultaneously with the existing RS-485 serial data operations allowing continued use of legacy SCADA protocols without degradation of existing network signals or limiting system functionality.

With IP-485 technology, users can now expand and update existing legacy serial data buses using twisted pair networks and additionally transport Ethernet communication on the same twisted pair of wire. IP-485 minimizes RS-485 latency and guarantees "no serial packet chunking" during the transport of RS-485 data.

IP-485 technology guarantees contiguous RS-485 data packet and data bit integrity allowing usage for Modbus RTU and other timing critical serial network protocols. No more data tunneling artifacts or timing mishaps due to TCP/IP Serial Converter inefficiencies.

Existing twisted pair wiring within multi-drop RS-485 networks can now carry multiple-node communication signals simultaneously for legacy serial communication as well as Multi-Node Ethernet network communication. No additions of CAT5 cabling are required and full multi-drop support means that installations avoid adding bundles of Ethernet cables in conduit and wiring trays.
Sinclair: Why did PCN develop IP-485 technologies and products?
Drolet: PCN focuses on meeting the market needs of OEM commercial customers that need to solve embedded connectivity and networking problems using existing wires or networks in place; such as power grids, SCADA wires and other types of conducted mediums.

Many of our customers are in the Utility, Industrial and Commercial sectors and have been looking for ways to have complete IP enabled "smart grid" systems to offer new applications, or achieve new functionality. At the same time, they need to respect their existing infrastructure as well as the many types of protocols currently in place that may need to be sectioned off for security or other types of operational needs, but still need advancement.

PCN's open standard embedded Grid MicroCircuits™ platform allows multiple disparate networks to be connected all on the same wire and connecting wires ensuring connectivity of many types of networks without major network deployment costs or complete redesigns of their own products or platforms. Simultaneously, PCN products allow tremendous advances in functionality and capability.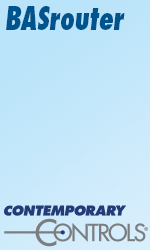 Sinclair: What applications will benefit most from IP-485 technologies?
Drolet: Applications include energy, commercial and industrial installations where added TCP/IP functionality is wanted, needed or required. Existing SCADA functionality and embedded firmware applications can remain the same for the legacy equipment while adding new Ethernet Networking capabilities.

IP-485 solutions provide a modulated carrier system that adds Ethernet router capabilities to existing twisted pair wires. Existing SCADA infrastructures no longer need to change or obsolete their serial twisted pair serial networks. IP-485 simply adds the desirable IP Enabled functionality while minimizing the associated costs of new wire, connectors, switches and other TCP/IP infrastructure needs that is often cost or labor prohibitive.
Sinclair: Where can OEM's and others obtain IP-485 technology products?
Drolet: PCN has just released the IP-485 to production so OEMs can obtain evaluation kits directly from PCN's website, or contact their local PCN representative. PCN has a global OEM sales force listed on its website. For more information directly on PCN's IP-485 technology, the can visit PCN website at: www.pcntechnology.com and click on the IP-485 link.
---

[Click Banner To Learn More]
[Home Page] [The Automator] [About] [Subscribe ] [Contact Us]