---
Across My Desk

snippets, blog bits, tweets, linkedIn posts, and url links that are about to fall off my desktop

Ken Sinclair

Founder, Owner, Publisher AutomatedBuildings.com
Every month there is a blizzard of information contained in the emails and newsletters that cross my desk on their way to AutomatedBuildings.com. Some of this information is not in the form of any type of content we can publish but I feel I should share with you these snippets, blog bits, Tweets, LinkedIn posts, and URL links that are about to fall off my desktop.
Daily LinkedIn shares and posting

Also, http://automatedbuildings.com/ maintains this LinkedIn online blog for the magazine, a great place to interact.
On a daily basis I tweet as @Ken_Sinclair https://twitter.com/Ken_Sinclair

I actually now have a few moments ;-) https://twitter.com/Ken_Sinclair/moments
Tweet links I think will be of interest and part of our rapid industry evolution.
I also write a column twice a month for Contractor Mag
https://www.contractormag.com/home/contact/20884391/ken-sinclair
And a column once a month for facilitiesnet Home of Building Operating Management & Facility Maintenance Decisions Magazines

But I still have stuff falling off my desk I feel I should share.
My Top Tweets, posts, podcasts, and video interviews
Video/Blogs/Podcasts
ControlTalkNow Feburary Episode 350 ControlTalk NOW features Ken Sinclair's Automated Buildings February, 2020 Editorial Theme: "Born Again Connected" It's an understanding that's completely changed my life, about how our thinking is separate from who we truly are. We are not our thoughts. Nope, quite the opposite. We have a constant stream of thoughts meandering through our minds. That's part of being human. However, we get to choose which of those to engage with."
ControlTalkNow January Ken Sinclair begins at the eve of angst on the night of Y2K, and takes us on a fascinating 20 year journey that will lead us to his "12 don't-miss breakouts" scheduled for 2/3 through 2/5/2020, at the 2020 AHR EXPO in Orlando, FL. Listen in, and enjoy the informational repast.

ControlTalk NOW Previews Ken Sinclair's Automated Buildings December Edition: "Building Wireless Inside Out!"
CT video Oct and Nov preview
CT Video Sept Issue join 29 mins
CT Video about August Issue
Recalibrate join at 27 mins
Discussion of June Issue
Your People Networks
Discussing our Cybersecurity Issue
How will AI Affect You?
Building Emotion at the AHR Expo
Collaboratory at AHR video
Open Hardware Software AHR
Digital Mindfulness in Smart Building
Mindful Machines
Digitally Mindful Buildings
https://twitter.com/Ken_Sinclair
https://www.linkedin.com/in/ken-sinclair-8246965/detail/recent-activity/posts/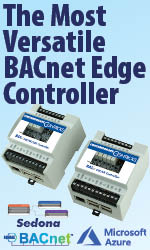 Desk Droppings
Nexus is a weekly email newsletter for people applying technology in buildings. Each week, I share my take on noteworthy news in the smart buildings space. You can sign up here. Stay up to date on the industry and any new article I write by subscribing to my weekly newsletter on smart buildings and analytics.

James Dice jamesdice.com
Top LinkedIn Post
Mike Newman, the father of BACnet, and an honorary member of the BIG-EU has passed away As prepared by Hans R. Kranz, March 7th, 2020 Please leave your best wishes and memories for his legacy of many I was very proud to call Mike a friend forever.
The Need for Better Building Management Systems Storytellers - Why the industry's labor shortage is not just an HR problem, but a marketing issue.
It is not the strongest of the species that survives, nor the most intelligent that survives. It is the one that is most adaptable to change. Let's understand, share and celebrate our adaption to the challenge
---


[Click Banner To Learn More]
[Home Page] [The Automator] [About] [Subscribe ] [Contact Us]