---
EMAIL INTERVIEW David Leimbrock & Ken Sinclair
David Leimbrock, Director of Engineering, Richards-Zeta
---
What is the Mediator™ platform?
The Mediator™ platform provides an integration framework, known as the Multi-Protocol Exchange (MPX™), which allows for the convergence of multiple disparate building systems onto an IP network.











Sinclair: David, can you tell me a little bit about your background?
Leimbrock: Certainly, Ken. I joined Richards-Zeta in October of 2005 as the Director of Engineering. I have direct experience with a number of building automation topics, ranging from the specification, installation, commissioning, trouble-shooting and management of Building Automation Systems, as well as with protocol development. Most recently with Cisco Systems, I was tasked with supporting the team responsible for the development of the Cisco Connected Real Estate program. Here at Richards-Zeta, I have been working on further developing the RZ Mediator™ platform.
Sinclair: What is the Mediator™ platform?
Leimbrock: Ken, the Mediator™ platform provides an integration framework, known as the Multi-Protocol Exchange (MPX™), which allows for the convergence of multiple disparate building systems onto an IP network.
Sinclair: Can you tell me what the fundamental differences are between the Mediator™ platform and the competitors?
Leimbrock: The Mediator™ is a middleware solution comprised of both hardware and software. This domain agnostic integration framework is able to communicate with a number of disparate protocols. The MPX™ software framework plays a central role in the integration process by normalizing both IP and legacy serial based protocols, which in turn allows for intra-protocol communication, the uniform application of services such as logging, and the common presentation of information that is sourced from the array of intelligent machines found in buildings.
Sinclair: Does the Mediator™ have the ability to provide custom web-sites for the customer?
Leimbrock: It certainly does, Ken. Using the embedded suite of tools, custom web-pages may be designed and hosted on the Mediator™ that are then used to present a window into the real-time condition of building systems. Alarms, logs, control sequences and other common features may also be configured using these tools. And since the Mediator™ abstracts and treats all data in the same manner, there is no special distinction or friction associated with creating user defined causal relationships between sub-systems. Any value or combination of values taken from the HVAC, Lighting, Electrical or any other system, can change the operation of others.
Sinclair: How about network security?
Leimbrock: We've all benefited from the prodigious growth and acceptance of large open networks. Along with that growth, a serious problem represented by the ever increasing number of miscreants wreaking havoc, has arisen. Network security is an extremely difficult problem to solve – RZ's approach isn't to try and fix all of these issues on our own, but instead leverage the billions of dollars in R&D that the IT industry is spending annually. As a result, the Mediator™ supports such well known and adopted security features as; Packet Filtering Firewall, Secure Shell (SSH), SSL (Secure Socket Layer), IPSec (Internet Protocol Security) and Extensive Logging.
Sinclair: Interesting
Leimbrock: On top of that Ken, by installing a Mediator™, the customer is future-proofing their building. It is no secret that The BAS world and IT have been on a technology collision course for some time – and the only thing consistent in the world of IT is change. It's important to place safe technology bets. The Mediator™ is built on an embedded Linux platform and uses Python extensively, leveraging two of the most widely accepted solutions on the market today. This affords us the opportunity to stand on the shoulders of the thousands of open source developers and corporate contributors (i.e. IBM) that are working daily to improve these technologies. So instead of rolling and testing our own IP stack, or having to track the technology du jour, we get to focus our attention on developing better applications.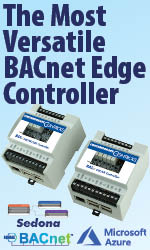 Sinclair: David, can you tell me more about Linux?
Leimbrock: Linux in particular has proven its merits by powering everything from distributed clusters for organizations such as Google and Fermilab to next generation handsets. RZ provides an installation of Linux, running on embedded hardware, which has been optimized for the specific purpose of running an Application Framework for BAS. So you have a rock solid system that's still nimble enough to evolve with the ever changing world of technology.
Sinclair: This being said, what is the value-proposition to the customer?
Leimbrock: The value of the Mediator™ can be highlighted in a number of ways. First of all, it creates a number of customer options for vertical and horizontal integration solutions. Second of all, it is a scaleable solution that can meet the needs of projects of various sizes, without requiring specialized hardware or software. The Mediator™ allows you to take advantage of the opportunities which exist to reduce both CAPEX & OPEX and at the same time provides a powerful software framework that aggregates disparate building information and links these systems to Target Applications, such as Centralized Facility Operations Centers.
Sinclair: How is Richards-Zeta and Richards-Zeta System Integrator Partners poised to assist Cisco Systems on Cisco Connected Real Estate (CCRE) Projects today?
Leimbrock: Richards-Zeta possesses nearly 20 years of BAS expertise, which is not only essential to understanding the market opportunity posed by migrating building systems to an IP centric solution, but is also critical to the development of this multi-billion dollar industry. As with core Cisco product sales into the IT domain, the building systems sales process has its own unique drivers and value propositions. By association with Richards-Zeta, Cisco's sales, marketing, engineering organizations and external Cisco Partners will have ready access to a wealth of industry expertise. Richards-Zeta's network of system integrators also stands ready to assist the regional and local sales teams of Cisco and their chosen partners, to deliver these innovative CCRE solutions.

To read more http://www.richards-zeta.com/News/RZ%20CCRE%20Brochure_Email.pdf
---

[Click Banner To Learn More]
[Home Page] [The Automator] [About] [Subscribe ] [Contact Us]