---



Across My Desk

snippets, blog bits, tweets, linkedIn posts, and url links that are about to fall off my desktop







Ken Sinclair

Founder, Owner, Publisher AutomatedBuildings.com
Every month there is a blizzard of information

contained in the emails and newsletters that cross my desk on their way to AutomatedBuildings.com. Some of this information is not in the form of any type of content we can publish but I feel I should share with you these snippets, blog bits, Tweets, LinkedIn posts, and URL links that are about to fall off my desktop.
Daily LinkedIn shares and posting I daily post links I feel are of interest and will shape our future.

Also, http://automatedbuildings.com/ maintains this LinkedIn online blog for the magazine, a great place to interact.
On a daily basis I tweet as @Ken_Sinclair https://twitter.com/Ken_Sinclair

We tweet links of interest and maybe become part of our rapid industry evolution.
I also write a column twice a month for Contractor Mag
https://www.contractormag.com/home/contact/20884391/ken-sinclair
But I still have stuff falling off my desk I feel I should share.
My Top Tweets, posts, podcasts, and video interviews
Video/Blogs/Podcasts
ControlTalk July Renaissance Thinking
Digital Wellbeing Festival 2020 - Lawrence and my preliminary rough cut no edit Zoom for the event Provides a peek into a part of one session.
CABA IBC meeting presentation COVID
ControlTalk June Not Normal/COVID
https://www.mondaylive.org/past-shows
Reboot ControlTalk May

ControlTalkNow April
Top LinkedIn post
3210 +views The Death of a Temperature Control Salesman - From pneumatics to IP WTF... can you explain it in your eyes?
1060 views Looking to Hire or Get Hired? - The BAS Job Market, summer 2020 - it's complicated!
Our Top Tweets
https://twitter.com/Ken_Sinclair/status/1278116758805573633?s=20
July - Enlightenment of our Renaissance. Reinvention, Rebirth, Renaissance delineates the significant, positive break with the old and issues a welcome to the new era. What follows a Renaissance? Enlightenment, a process we are working through now
https://twitter.com/Ken_Sinclair/status/1281275217986256896?s=20

Working on the Next chapter already "Communities of Trust" both will evolve into our August theme please provide your input.
Top Retweet

https://twitter.com/uibglobal/status/1279362304191213569?s=20
Desk Droppings
With Travel under question and working remote the new norm our industry "Leader of Trust" paves the way for virtual conferencing, ASHRAE's First-Ever Virtual Conference Is Proving to Be a Success - ATLANTA (July 3, 2020) – With an initial 2,505 registered participants, accessing 92 technical sessions, live forums with speakers, leadership updates and networking events, the 2020 ASHRAE Virtual Conference is proving to be a huge success.

This was my first time speaking remotely via Zoom as part of an international panel as part of a virtual global conference, Access audio and video recordings of the Digital Wellbeing Festival 2020, plus all the presentation slides. Includes video of discussion on digitized spaces in a post-COVID reality by Ken Sinclair and Nicholas Waern.

The conference was hosted in London UK by Lawrence Ampofo, Ph.D, I spoke from my home on the west coast of Canada, Nicholas from his home in Sweden, all attendees over 600 globally attended remotely. Recording of the complete conference was captured so now anyone can attend anytime. Our location and time restraints are no longer a concern.

The power of capturing this creates a timeless location free event for our new world of remoteness. This new evolving format will allow information from several conferences to be gathered during and rapidly after presentations are made. In the near future artificial intelligent conversion algorithms listening to presenters will distill their content and presentations into global subject matter and global opinion with the potential of virtual super real time conferences being built by AI.

Wow, that thought shakes the pillars of Trust.

This was my comment that I added to https://www.mondaylive.org/

Okay, willing to jump in. I'm working on this next article talking about building community trust. This is starting to become a big factor in whether occupants trust us that we've made the building safe. There's just a whole bunch of things going on. A while back, Theresa and I talked about communities of practice in our industry and how important they were, and I see them as the logical building blocks to build trust on. We need to pick up these communities of practice, and then turn them into communities of trust. We're starting to see that with ASHRAE but we need to build the trust of all existing organizations. We have built trust in the past, but I think it's, it's our job to continue that and increase the level of trust in all our communities.

Trust me! We been working on Trust for a while, In this Blast from the Past from Feb 2009 Andy McMillian tell us Trust: The Primary Currency in an Open Systems World

It takes work to earn it, care to nurture it and only one poor decision to lose it.
This CABA research will provide actionable information on how building technologies can be leveraged to create safer, healthier and more productive work environments in buildings post COVID-19.
Getting Ready for Building Re-opening: A commissioning perspective on preparedness for re-opening in response to COVID-19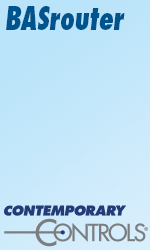 ---


[Click Banner To Learn More]
[Home Page] [The Automator] [About] [Subscribe ] [Contact Us]