---

EMAIL INTERVIEW Anto Budiardjo & Ken Sinclair
Anto Budiardjo is President of Clasma, Inc.,
the marketing and conference company organizing BuilConn 2005 in Dallas,
March 21-24 (www.builconn.com) and the BuilSpec Sessions www.builspec.com.
Please send comments and questions to antob@clasma.com.
---
Review of 2004 and Preview of 2005
Sinclair: It's been a while since we chatted. How is 2004 shaping up?
Budiardjo: 2004 is proving to be an incredible year for us as it is for the industry. I feel a lot of groundwork is being laid for real progress to be made in 2005 as far as convergence.












Sinclair: Give me an example.
Budiardjo: We came into 2004 with many questions about convergence; whether it is real, if it will happen, if companies are going to produce products, if education and the skill set will become available, and if new players from the IT space will start to participate in this space. During 2004, people are now talking about when, who and how – no one seems to be debating if this will happen or not.
Sinclair: Is this a widespread trend?
Budiardjo: Those who "get-it" are without doubt no longer using the "if" word. But more interestingly, those who are resisting it are starting to understand the inevitability of the integration and convergence of buildings and IT.
Sinclair: Did you see this at BuilConn Europe?
Budiardjo: Maybe not as well developed in terms of a widespread and consistent view, but there is definitely a feeling that it is happening in Europe as well. Our keynotes from Cisco, IBM, and SonyEricsson were talking about tangible projects, ideas, and initiatives in buildings.
Sinclair: How are the big traditional building automation players doing in this?
Budiardjo: Although most of the big traditional building automation players are holding their cards close, we can see by their actions that they are preparing their products, their channels, and their organization for a new world in buildings. 2004 has seen a few more M&A activities that support this trend; we are also noticing glimpses of strategic alliances and partnerships being forged at very high levels.
Sinclair: How has BuilSpec helped this?
Budiardjo: BuilSpec has been very interesting. In one day we set the scene of the industry for owners and consultants, and while they normally come apprehensive about the subject, they leave excited about the future and understand why convergence is inevitable. We still have a few BuilSpec sessions happening in December 2004; check out www.builspec.com.
Sinclair: The Enterprise seems to come up again and again!
Budiardjo: Yes, it does, and this is likely to be one of the most important drivers in the years to come. Once building and facility owners realize what they can now do with their buildings via their IT departments and their Enterprise systems as well as how managing their buildings can directly impact their bottom line, the impact upon the building industry will be very rapid and absolute.
Sinclair: What do you mean rapid and absolute?
Budiardjo: Rapid because the IT and Enterprise people move very fast – remember it used to be said that the Internet year is only three months! Absolute because what you will start to see are edicts and mandates from very high up in the corporate structure demanding IT be implemented within their buildings because that's the only way they will be able to truly manage their facilities in real-time.
Sinclair: Will this be financially driven?
Budiardjo: Oh, yes. When a mandate from high up in a multiple building owner organization, we're sure it will come with funding. The value to the organization at this level is huge. Just look at the huge sums of investments put into Supply-chain, CRM (Customer Relationship Management) and ERP (Enterprise Resource Planning) in the 90's. Remember that facilities have been a huge burden to organizations, one that could be turned into a huge asset by managing it well. IT is their way to do this.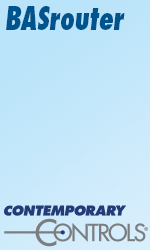 Sinclair: Will 2005 be the year of building-IT convergence?
Budiardjo: There is a high possibility of that, Ken. I think the stars are in alignment, building owners are truly starting to realize what is possible, the economy is steady, products are becoming available, and the distribution is primed. So, yes, and the first months of 2005 will be very telling.
Sinclair: What events do you have planned?
Budiardjo: The big event for us and for this subject is BuilConn this year again in Dallas, March 21-24. There will be much more content this year and I suspect lots of new products from vendors in this space. Before that we have the XML Symposium at AHR in Orlando again; this is going to be a path-setting event for the HVAC industry and how the IT subject (by way of XML and Web services) will play.
Sinclair: More content at BuilConn????
Budiardjo: At previous BuilConn events there has been a good array of subjects. This will continue with the addition of more depth in the subjects that matter to building owners, consultants, and integrators. We will have complete day-long tracks for key subjects like Wireless, LonWorks, BACnet, oBIX, Structured Cabling, Energy distribution and many others. The industry needs to get pragmatic now and learn how to make all of this happen; we are committed to make BuilConn shine a leading light into this new exciting space.
Sinclair: When will the agenda be available?
Budiardjo: In early December. Look out for it at www.builconn.com. And look out for a very special offer to sign up early; if you're going to attend, you may as well take advantage!
Sinclair: 2005 should be an exciting year!
Budiardjo: Yes, fasten your seatbelts!
---

[Click Banner To Learn More]
[Home Page] [The Automator] [About] [Subscribe ] [Contact Us]