---
| | |
| --- | --- |
| Stuff that crossed my desk in November | Ken Sinclair, Editor |
Highlights from Phoenix?
Thanks for the opportunity and here are my thoughts.











The event was extremely well attended and the synergy between the BACnet audience and the ES / BAC audience was unquestioned. In fact I talked with several people from the BACnet group and was told that this was their best meeting for both attendance and content in four years. The information provided seemed to be well received and though a number of the BACnet camp left after the second day, at least half seemed to stay. In a nutshell, this was a timely event and the insights provided on the state of the Building Automation industry, as well as it's relevance is the bigger picture of green buildings, carbon footprints and energy sustainability made it a must attend conference.
Energy: I could not miss the opportunity to mention this. As my last sentence in # 1 states, the fact that the BACnet committee asked me to speak on GridWise and Energy is significant. Now that may have just been Ken, and if so thanks Ken. Yet even so there was a large emphasis on the realization that energy is now a key issue, and perhaps energy may offer an opportunity for the automation business to again offer value and not just low bid. I think that this realization is still just dawning on the automation players, but there is movement in that direction and I believe it is positive.
Jack Mc Gowan, CEM
Energy Control Inc.
Office (505) 890 2888
Cell (505) 263 7930
jackmcgowan@energyctrl.com
---
LonWorld 2007 If you're interested in learning about the latest technologies used by "smart cities" from around the world, keep up to date at "Live from Amsterdam: Echelon@LonWorld 2007" by visiting http://echelon.typepad.com/lonworld/.
The theme of this year's conference is "Energy & Control". From smarter buildings, meters and street lights to home refrigerators and everything in between, LonWorks® control technology is embedded in nearly 100 million devices today.
---
Inaugural RealTech Middle East Exceeds Expectations
RealTech Middle East, a joint venture between Realcomm and Fleming Gulf, was a great success by every measure. The inaugural event, which was held October 28th and 29th in Dubai, attracting hundreds of Real Estate IT, Property and Facilities Executives from the region. The two day conference was held at the Habtoor Grand Resort and Spa in Dubai.
RealTech combined the domain expertise of Realcomm with the Middle East market experience of Fleming Gulf. Together, these two companies delivered an event which could likely become the signature Real Estate IT, Property Management and Facility Conference in the region.
The program, which had more than 50 speakers from over 8 different countries, was the joint effort of the Realcomm program team and the 12 Regional Advisors. The advisors, who represented the top IT executives from the largest real estate firms in the region, created a program of leading edge topics dealing with technology, automation, innovation and the commercial real estate industry.
http://www.realcomm.com/advisoryweb.asp?aid=292
---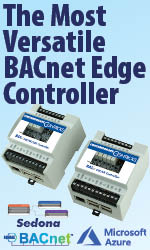 Getting Past the Alligators
By Toby Considine
There are similarities with the oBIX committee. I came to the oBIX committee having spent several years writing, and speaking on the benefits of allowing access to building operating information, of extracting more value from each ...
The New Daedalus - http://www.newdaedalus.com/articles/
IT is the One Department that Can't Afford to Miss This Boat.
By Toby Considine
oBIX, and even BACnet Web Services, reduce the cost of integration. Certainly, there some IT shops who still do not have an architecture. Many who claim to will say something nonsensical like [database vendor] is our architecture. ...
The New Daedalus - http://www.newdaedalus.com/articles/
---
BPG Properties Opens Its First NextGen Intelligent Commercial Property


One of the first fully automated, "intelligent" buildings in the U.S. just opened outside of Philadelphia. BPG Properties is one of those owners/developers who "gets it" and puts their money where their building IP backbone is. Green, LEED certified, automated systems, light harvesting, wireless, energy efficiency, remote operations - it's got it all! Today's Innovation Spotlight features 1000 Continental... a tribute to a brand new, truly intelligent building.
1000 Continental is a 200,000 s.f., Class A office building located along Route 202 in King of Prussia, Pennsylvania. It is the first new commercial building that BPG Properties, Ltd. (BPG) has designed, constructed, and engineered with an enhanced IP (Internet Protocol) "core and shell," which serves as the backbone for its intelligent building attributes.
"We are integrating technology solutions into our development projects from the ground up to meet the needs of the 'Digital Natives and Information Consumers,' who represent the current and future tenant base for our properties. With this technology, we are offering tenants increased services and amenities at rental rates that are competitive with traditional office buildings," explains Cory Hildebrand, Vice President of Technology for BPG.
http://www.realcomm.com/advisoryweb.asp?aid=290
---


[Click Banner To Learn More]
[Home Page] [The Automator] [About] [Subscribe ] [Contact Us]