---











Overview
There are several historical myths that linguistically unite humanity across the planet: the Tower of Babel, Enmerkar and the Lord of Aratta, Xelhua and Toltecs. Middleware deals with the babble between building automation systems and has a similar objective in bringing linguistic or communicative unity to disparate building technology systems. The benefits of middleware include:
Improving the functionality of existing systems. The bulk of systems the industry is dealing with are legacy propriety systems in existing buildings that have little or no integration, that generate little or no meaningful information about the performance of the building. Middleware can leverage those existing investments.

Allowing new construction to deploy the "best of breed" systems. New builds can select the best individual systems and middleware can still integrate these systems.

Allowing for multiple user interfaces (web, mobile, etc.) and standard interfaces for all systems. This minimizes training on managing and controlling several different systems.

Going wide, as in wide area enterprise deployment. Middleware is at the heart of enterprise building operations centers.

Provides for vertical as well as horizontal integration of systems. That is, the information and data of the building systems needs to flow up to and synchronize with facility management and business systems. The integration with business systems is important as executives in their corner offices are now more interested in the performance of their buildings. They're motivated to track energy use, analyze historical and real-time energy consumption, examine the types of work requests being generated, account for corporate assets, etc. Middleware can not only unite the subsystems horizontally, but also coordinate facility management and business systems vertically.

Permits the sharing of information between systems. Middleware provides the true software integration instead of hard contact point-to-point integration.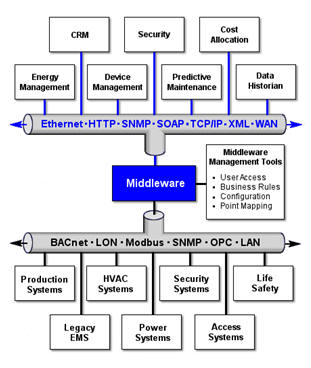 The alternative to middleware and a typical way to unify the building technology systems is to simply procure all the BAS, security and life safety systems from one manufacturer. This may result in the use of proprietary protocols and deployments, and lock a facility manager into procuring ongoing equipment and services from one company. It's one way, although not the preferable way, to integrate the systems.
The implementation of a middleware solution will normalize and standardize the data of building automation systems. In addition, these systems can extract and digest the data and control the systems, such as set device values or set points. The word "middleware" may conjure to some just software, but their implementation requires software and hardware. The hardware will involve subsystem controllers likely needed for the HVAC systems and some IT hardware, such as servers and workstations.
Strategy for Data Integration Processing
When applying data integration on a large project such as a college campus, airport, hospital or even a mixed use resort or commercial property there are many details that need to be evaluated. The first step should be listing the total number and types of systems that are going to be integrated at the building level and at the business level. These should be identified and organized per the 2004 CSI specification format. A next step is to calculate how much data can be integrated from each system and sub-system including physical devices and points, virtual values and calculated values.
You will discover the amount of data can add up quickly. When planning on using device data or values that are resident in field controllers or microprocessors embedded in an electrical or mechanical piece of equipment, exchanging that single piece of data or value between a business level system based on the business rules of that system can be a challenge.
Careful attention must be paid to system and sub-system communications structures and limitations of baud rates and bus scans to be able to design a fully converged network to access the data at the IP network level as fast as possible. A classic example is a Property Management System (PMS) or Facility Management System (FMS) enterprise level software platform that a building owner wants to use to automatically generate BTU/Hr tenant bills for the HVAC usage. Where the calculation is performed in the BAS system, how often the values are calculated, the data format of the values and the upload cycles between the systems are all details that need careful attention to assure accurate customer billing. Data throughput, data scan rates, communication rates, data exchange rules of system software plus the total amount of values and data are all part of designing the proper converged platform to meet the customer's demand for actionable information when they need it.
Providers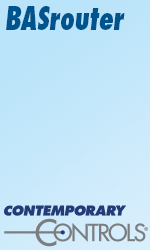 Here's a brief overview of the major players in the field:
Central Data Control (CDC)
CDC provides the software platform Integra which is designed to run on Microsoft NT4 and Windows2000 Server and Client platforms. Integra utilizes 'Data Agents' to translate protocols from different building system components into single management system. Integra allows for logical items to be mapped to physical locations and manages real time alarms via pre-defined response plans. CDC markets the product to property managers and also has modules related to high technology security and life-safety management. One of the software modules is the Major Incident Module which provides assistance for response, communications and collaboration during incidents and disasters. Another module is enTrust which records incidents and crime to produce meaningful data and identify problem areas and trends. Finally, there's CDC's Black Box. This is a device similar to the "Black Box" in airplanes which captures, collects, logs, stores and analyses data from systems. This can be connected to a fire alarm panel, security system, CCTV, etc.

Elutions
Elutions' product, Control Maestro has a SCADA (Supervisory Control And Data Acquisition) heritage. SCADA may be best known for industrial processes, but is also deployed for infrastructure (i.e. water treatment plants, gas pipelines, etc.) as well as facility systems. Control Maestro is web-based, using Human-Machine-Interfaces (HMI) and is able to deliver real time and historical information. The software design is object-oriented, supports Windows Vista, and is offered with an AutoCAD convertor and an application generator. Enterprise data management is performed with Database Logger. Elution also has some solutions for wireless telemetry, probably stemming from its SCADA origins and influence

Gridlogix
Gridlogix's main product offering is EnNET Server. This is a software application that can run on Windows or Linux, which normalizes data from sensors, devices and other system equipment. It supports a range of protocols and has an open interface allowing third party development of specific applications. EnNET also supports functions such as alarming, data logging, scheduling and file transfer. EnNET scales up to the enterprise or down to individual sites. At the enterprise level it can provide centralized integration and receive, process and archive all site data files. EnNET at the site can collect, store and deliver device and meter data to the central location. The companion product to EnNET is the Automated Enterprise Management (AEM). AEM is a front-end web client that can aggregate, analyze and archive data and provide fault detection and diagnostics. Gridlogix was recently acquired by Johnson Controls, so it will be interesting as to how the product will be melded into the array of JCI offerings.

Richards Zeta
Richards-Zeta (RZ) middleware solution is a combination of system controllers and software. The controller is the RZ M2, something of a combination of the best of two other RZ products; the Mediator and Mosaic, running a Linux operating system. The M2 allows all connected system points to be accessible over an IP network and provides for two-way communications between systems with different protocols. The M2 is used in conjunction with RZ's perfectHost user application, a supervisory control platform. perfectHost creates logic and programs for building automation systems through graphical symbols and templates that represent the functions and inputs/outputs of the connected points. perfectHost provides and manages input to the M2s, in the form of protocol-specific control algorithms and logic for devices and sensors. In addition, RZ has Omega. Omega is a set of web-based software tools which reside on the M2 which allows control system data onto an IP backbone.

Tridium
Tridium provides the Niagara software and JACE hardware controllers. The Niagara platform provides protocol translation for a range of systems and the tools to build applications. Niagara has open APIs to all Nigrara services and an extensible component model (XML) that enable development of applications by third parties. It also provides support for web-services data handling and communications with enterprise applications. Tridium also provides a controller or physical connection to the device network; it's called JACE, the Java Application Control Engine. Interestingly, Tridium provides a SoftJACE, a software application that will run on a server with a Microsoft Server 2003 operating system, providing all the capabilities of a programmable JACE hardware device.
The largest obstacle to managing the performance of a building is the lack of data. One cannot manage what one does not monitor. Using a typical BAS terminal from one of the major system manufacturers is likely to provide sparse raw data rather than useable, actionable information. The need for middleware is growing as managers demand more information from their buildings. Middleware is likely to be part of the solution in very large new construction projects as well as with those who own a portfolio of real estate.
It is safe to assume that the current global financial crisis will dampen new construction over the next couple years. If true, the focus of many property managers will be containing or reducing a building's operating costs while at the same time improving the performance of their building by certifying the building as a LEED property. That path means generating better information on the building for improved management of building costs and performance. In that case, middleware may be one of the few solutions where the return on investment is evident.
For more information about smart buildings, technology design or to schedule a Continuing Education program for your office contact us at jsinopoli@smart-buildings.com or ngifford@smart-buildings.com .
---

[Click Banner To Learn More]
[Home Page] [The Automator] [About] [Subscribe ] [Contact Us]